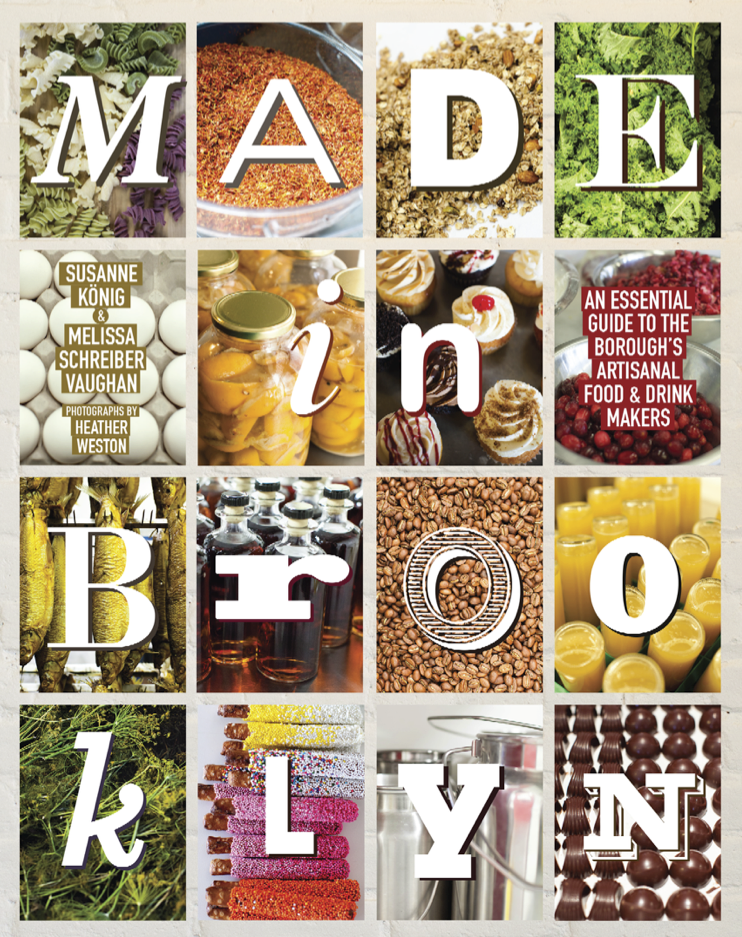 Thursday Oct 29, 2015
7:00 pm - 9:00 pm
THE POWERHOUSE ARENA [Dumbo]
37 Main Street
Brooklyn, NY 11201
For more information, please call 718.666.3049
RSVP appreciated: RSVP@powerHouseArena.com
-or-
Please fill out the "Bookings" form at the bottom of this page.
---
With over 1,100 original photographs and 110 profiles of local Brooklyn artisans, readers will get an in depth view of food, drink, and more in this trailblazing borough. This official NYC book launch party will include a panel talk featuring the authors as well as representatives from BAKED, Butter&Scotch and People's Pop. Gaia DiLoreto of By Brooklyn will moderate the conversation. Join us for tasting selections from Baked, Barrows Intense, Brooklyn Brine, Brooklyn Cupcake, Brooklyn Delhi, Dough, Good Batch, Jomart, Joyva, Mama O's Kimchi, NY Distilling, Pelzers Pretzels, Regal Vegan, Salty Road, Whimsy and Spice, White Moustache, and beer courtesy of Brooklyn Brewery and Sixpoint, plus music by DJ Kheedim Oh of Mama-O Kimchi.
About Made in Brooklyn:
"Everywhere you go, whether you're in Australia or England or Paris even, they're referencing Brooklyn in some way…arguably, we're looking at the Brooklynization of the world at this point."-Anthony Bourdain, chef, author and TV host.
"If Smorgasburg and Brooklyn Flea are the food-scene stage, then Made in Brooklyn is the behind-the-scenes all-access pass, revealing the inspiring stories of our homegrown makers and showing the world what makes real
Brooklyn tick." -Eric Demby, co-founder of Brooklyn Flea and Smorgasburg.
"Made In Brooklyn is a great source book for locally-made food and beverages and makes a perfect gift not only for visitors, but also for any new or native Brooklynite. A wonderful whirlwind tour of the best out there in Brooklyn."—Francine Stephens, Proprietor franny's, BKLYN Larder, and Rose's Bar & Grill.
Over the past decade, Brooklyn has emerged as the epicenter of the craft food and drinks movement. Made in Brooklyn is a gorgeously photographed and selectively curated catalog of the wondrous variety of food and drink available in the trailblazing borough, featuring more than 110 different Brooklyn makers and over 1,100 original photographs, from old-school favorites such as Acme Smoked Fish and Fox's U-Bet to newer makers whose products are destined to become classics in their own right, such as Salty Road and Van Brunt Stillhouse. Each maker is profiled in depth, depicting the artisans' craft and methods along with personal histories.
Made in Brooklyn includes a list of shops, markets, and liquor stores that feature an extensive range of Brooklyn-made foods and goods, along with an informal walking tour where a variety of makers offer tours, tastings, and workshops.
About the Authors:
Susanne König is the director of and buyer for The POWERHOUSE Arena in Dumbo, Brooklyn, renowned for hosting eclectic cookbook parties for many Brooklyn-based chefs and makers including Pok Pok, Fleischer's, Kings County, Ample Hills, Sunday Suppers, franny's, BAKED, and many more. She also curates an extensive collection of Brooklyn-made products. After spending her childhood and formative years in Germany, Belgium, and Paris where she worked at Sotheby's and for French art book publishers, she moved to New York in 2000. She works and lives in Brooklyn with her husband and son.
---
Melissa Schreiber Vaughan is the co-author of The New Brooklyn Cookbook and a recipe developer and tester, whose work has appeared in national food magazines and more than 20 cookbooks. Melissa curates food events throughout Brooklyn and lives in Park Slope with her two budding foodies, Roan and Dory.
---
Heather Weston takes pictures. Whether in the studio or on location she loves to photograph people and food. Heather lives in Brooklyn with her husband and daughter and is a proud ballet mom. To see more of her photography visit www.heatherweston.com.
RSVP
Bookings are closed for this event.