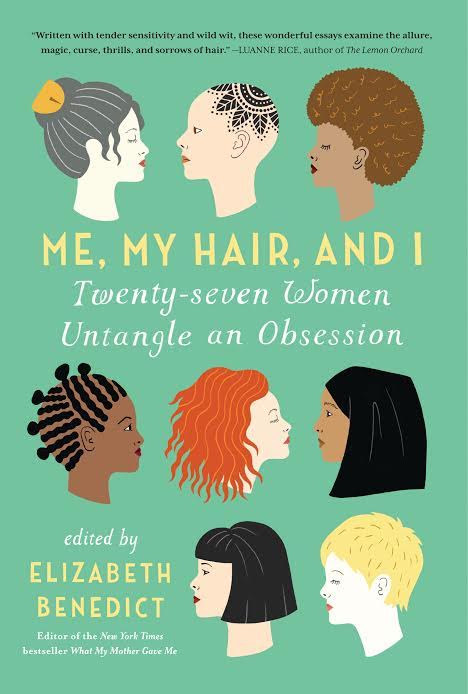 Tuesday Sep 29, 2015
7:00 pm - 9:00 pm
THE POWERHOUSE ARENA [Dumbo]
37 Main Street
Brooklyn, NY 11201
For more information, please call 718.666.3049
RSVP appreciated: RSVP@powerHouseArena.com
-or-
Please fill out the "Bookings" form at the bottom of this page.
---
A dynamite cast of women writers candidly share the stories of their lives through the hair on their heads. Representing women from all walks of life, these essays show just how tightly our identities are tied up in our tresses.
About Me, My Hair, and I:
"[A] splendid collection … By turns wry, tender, pointed, and laugh-out loud funny, the selections take us along on the contributors' tangled, complicated, and thoroughly engaging journeys."—Publishers Weekly
"This collection is not only unique for the subject matter it addresses. It also provides cultural commentary that is by turns insightful, humorous, and moving … Surprisingly engaging reading."—Kirkus Reviews
Women spend enormous amounts of money and time on their hair, agonizing over every decision.  Variations on these themes are tackled with candor, wit, insight, and emotion by Benedict's 27 eloquently entertaining contributors . . . [An] irresistible, pithy, and right-on anthology." —Booklist
Elizabeth Benedict's fresh and evocative compilation of essays brings a noteworthy list of twenty-seven women writers together to share their personal hair stories. Featuring remarkable essays from the likes of Anne Lamott, Adriana Trigiani, Suleika Jaouad, and Jane Smiley, Me, My Hair, and I: Twenty-seven Women Untangle an Obsession renders diverse perspectives and backgrounds on a subject that every woman can relate to, even when the story may be drastically different from her own.
From angst-filled teenaged fights, to honoring Hindu Bengali traditions, to the struggles with going gray, the contributors to Me, My Hair, and I, share a wide range of personal narratives. Marita Golden writes about her grief over what so many African American women still endure to obtain "good hair." Patricia Volk opens the cabinet under her sink for us–and itemizes her many hair care products, each with a price tag. Anne Kreamer writes about how she came to go gray and love it. Deborah Feldman reveals why she left the Hasidic Jewish community that required her to cover her hair. Alex Kuczynski foregoes the topic of her publicly visible hair entirely to discuss "ladyscaping," and the amount of work and styling that a modern woman can invest in below her waistline. Myra Goldberg tells of how ill equipped she was to tend the hair of her adopted biracial daughter. And Suleika Jaouad describes the ravages of chemotherapy and the empowerment of shaving designs onto her head.
These writers know that a woman's hair is her glory, her nemesis, her history, her sexuality, as well as her religion, her self-esteem, and her mortality. Layered into these essays you'll find surprises, insights, hilarity, and the resonance of common experience. Each journey comes with its own unique history and wisdom. Me, My Hair, and I: Twenty-seven Women Untangle an Obsession unveils a range of personal narratives that every woman will be sure to find herself in.  Women know that there are many things in life that matter more than hair, but few that bring as much pleasure as a really great hairdo.
"Elizabeth Benedict has gathered such wonderful writers to examine the allure, magic, curse, thrills, seductions, and sorrows of hair," says Luanne Rice, bestselling author of The Lemon Orchard. "Written with tender sensitivity and wild wit, these essays may start with the external, but they go deep into the lives of the writers, into what appearance means, and into how they see themselves and their place in the world."
About the Editor and Contributors:
Elizabeth Benedict is a graduate of Barnard College and the author of five novels, including the bestseller Almost and the National Book Award finalist Slow Dancing. She is the editor of the New York Times bestselling anthology What My Mother Gave Me: Thirty-one Women on the Gifts that Mattered Most and Mentors, Muses & Monsters: 30 Writers on the People Who Changed Their Lives. Her journalism, short fiction and essays have appeared in The New York Times, Boston Globe, Esquire, Harper's Bazaar, Huffington Post, Narrative Magazine, Tin House, The Rumpus, Salmagundi, Daedalus and Playboy (Japan). Two of her essays were selected as Notable Essays in Best American Essays collections. She has taught widely and works as a writing coach and editor.
Suleika Jaouad is a writer, health advocate and the author of the Emmy Award-winning New York Times Well column "Life, Interrupted." She lives in New York City with her rescue dog Oscar, where she is recognizable by her frequently changing hair tattoos.
Siri Hustvedt has a PhD in English literature from Columbia University. She is the author of three books of essays, Mysteries of the Rectangle: Essays on Painting, A Plea for Eros, and Living, Thinking, Looking; a work of nonfiction, The Shaking Woman or A History of My Nerves; and six novels, including What I Loved, The Summer Without Men, and The Blazing World.
Emma Gilbey Keller was born and raised in London, England. She is the author of two books, The Lady: The Life and Times of Winnie Mandela and The Comeback: Seven Stories of Women who Went from Career to Family and Back. She has contributed to The New York Times, The New Yorker, Vanity Fair, The Guardian and The Daily Telegraph.
Anne Kreamer is the author of Going Gray: What I Learned About Beauty, Sex, Work, Motherhood, Authenticity, and Everything Else That Really Matters. Her latest book is the just-published Risk/Reward: Why Intelligent Leaps and Daring Choices Are the Best Career Moves You Can Make. She has worked as a columnist for Fast Company and Martha Stewart Living, and is a frequent blogger on HarvardBusinessReview.org.
Rosie Schaap is the author of Drinking With Men: A Memoir. She has also been a bartender, a fortuneteller, a librarian at a paranormal society, an English teacher, an editor, a preacher, a community organizer, and a manager of homeless shelters. She is the drink columnist for The New York Times Magazine, and a contributor to This American Life.
RSVP
Bookings are closed for this event.