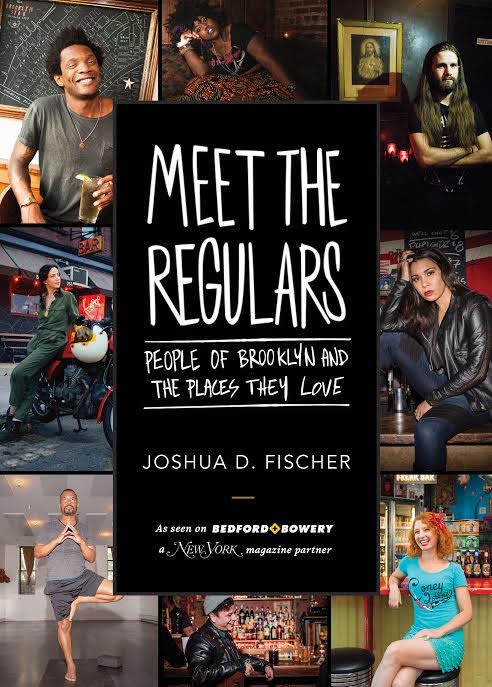 Tuesday May 17, 2016
7:00 pm - 9:00 pm
THE POWERHOUSE ARENA [Dumbo]
37 Main Street
Brooklyn, NY 11201
For more information, please call 718.666.3049
RSVP appreciated: RSVP@powerHouseArena.com
-or-
Please fill out the "Bookings" form at the bottom of this page.
---
Originally an interview series on the New York magazine partner Bedford + Bowery, Meet the Regulars captures an entertaining and previously unseen portrait of the people of Brooklyn and the places they love.
About Meet the Regulars:
"It's a sense of continuity. You thread your history through a place. . . . That's what makes me a regular." —Jad Abumrad, host of public radio show Radiolab, regular at Splitty
"Once you have the cell phone number of the bar owner, then you're a regular." —Twin comics the Lucas Brothers, regulars at Tutu's "I can tell if a person is cool if their vibe mixes with this place." —Sasheer Zamata, Saturday Night Live cast member, regular at Enid's
In talking with the regulars at bars, restaurants, and shops in the world-famous borough, author Joshua D. Fischer delivers deep and delightful stories presented alongside stunning snapshots from accomplished photographers. Meet the Regulars introduces us to a diverse and changing Brooklyn through the people who know it best: the blogger who fixes her hair and heart at her cherished salon; the lady so loyal to her local bar she has its logo tattooed on her arm; and the burgeoning filmmaker who walks twenty blocks for sage advice from a legendary bartender at a bowling alley bar.
Familiar faces include party rocker Andrew W. K. spicing things up at a Thai joint from his early days, Saturday Night Live performer Sasheer Zamata reliving a breakup at her go-to brunch spot, Radiolab host Jad Abumrad sippin' whiskey to Black Sabbath, beloved NY1 news anchor Pat Kiernan chowing down on meatballs, actor Jessica Pimentel (Orange Is the New Black) championing her local metal venue, and actor Kevin Corrigan (Goodfellas, Pineapple Express) contemplating a Guinness at his secluded spot inside an Irish pub.
About the Author and Moderator:
Joshua D. Fischer received his master's in journalism from the Cultural Reporting and Criticism program at New York University. He has been published in the New York magazine partner Bedford + Bowery, Nylon, and Salon. Originally from the Detroit area, Joshua has lived in the same apartment in Greenpoint, Brooklyn, for twelve years. He now shares the place with his wife, Suzanne, and their crazycute dog, Ernie.
Nicole Disser is a journalist and photographer whose work has appeared in Bedford + Bowery, Brooklyn Magazine, and VICE, among others. She has a master's in global journalism from New York University, with a focus on Russian and Slavic culture. A current resident of Bed-Stuy, Nicole reports on various aspects of Brooklyn life, ranging from underground artists to the hot topic of gentrification. She is also one of the contributing photographers to the book and interview series Meet the Regulars.
RSVP
Bookings are closed for this event.