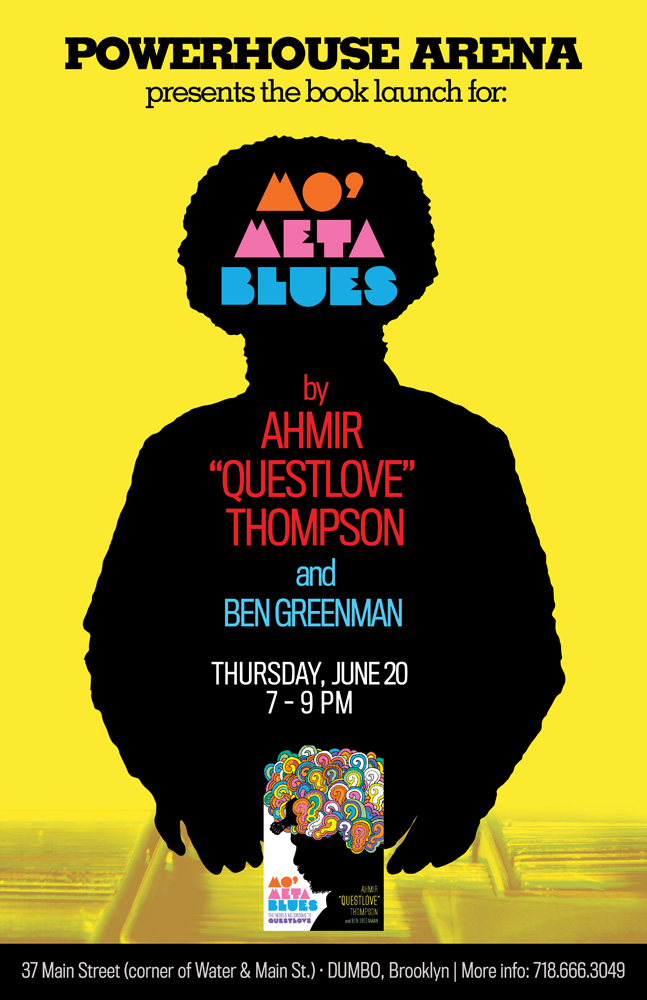 Thursday Jun 20, 2013
7:00 pm - 9:00 pm
THE POWERHOUSE ARENA [Dumbo]
37 Main Street
Brooklyn, NY 11201
For more information, please call 718.666.3049
We're extremely excited about the overwhelming response to Questlove's book launch tomorrow, June 20, 7pm at The POWERHOUSE Arena. 
Purchase of a book before the event will grant attendees pre-seating opportunities. For everyone else, spots are available on a first-come, first-served basis.
Can't make it to the event? Pre-order a signed copy of the book here. 
---
Ahmir "Questlove" Thompson, one of our most ubiquitous cultural tastemakers, discusses his memoir with co-writer and New Yorker editor Ben Greenman.
About Mo' Meta Blues:
In this punch-drunk-on-culture memoir, Ahmir Thompson, better known as The Roots' drummer Questlove, tells his own story while expounding on his vast and opinionated knowledge of music—from the greats, the lates, the fakes, the headliners, and the almost-weres—as well as important themes in black art and culture. His stories will be filtered through the eyes of one of our most recognizable cultural chameleons in Thompson's passionate, stream of consciousness style. His book will reveal his own formative experiences, such as growing up in '70s Philly with '50s doo-wop singers as parents and finding his way through music, as well as random musings about his run-ins with celebrities and playing with some of his idols. MO' META BLUES is a tripped-out amalgam of memoir, pop culture, black culture, white culture, and music, and, like its creator, is absolutely one-of-a-kind.
Ahmir Thompson, also known as Questlove, is the drummer and co-founder of the Grammy award-winning hip hop band The Roots.  He is also a world-renowned producer, arranger, and songwriter. In 2009, The Roots became the house band on Late Night with Jimmy Fallon. Questlove has over 2.4 million followers on Twitter and has been known to DJ damn near every night of his life. Ahmir "Questlove" Thompson lives in New York City.

Ben Greenman is an editor at the New Yorker and the author of several acclaimed books of fiction, including Superbad, Please Step Back, and What He's Poised to Do. As a journalist and critic, he has written widely on music and pop culture. His most recent novel is The Slippage. He lives in Brooklyn and has never been known to DJ, ever.
---
For more information, please contact
Justin Levine
email: justin@powerhousearena.com
powerHouse Arena, 37 Main Street, Brooklyn, NY 11201
tel: 212-604-9074 x109