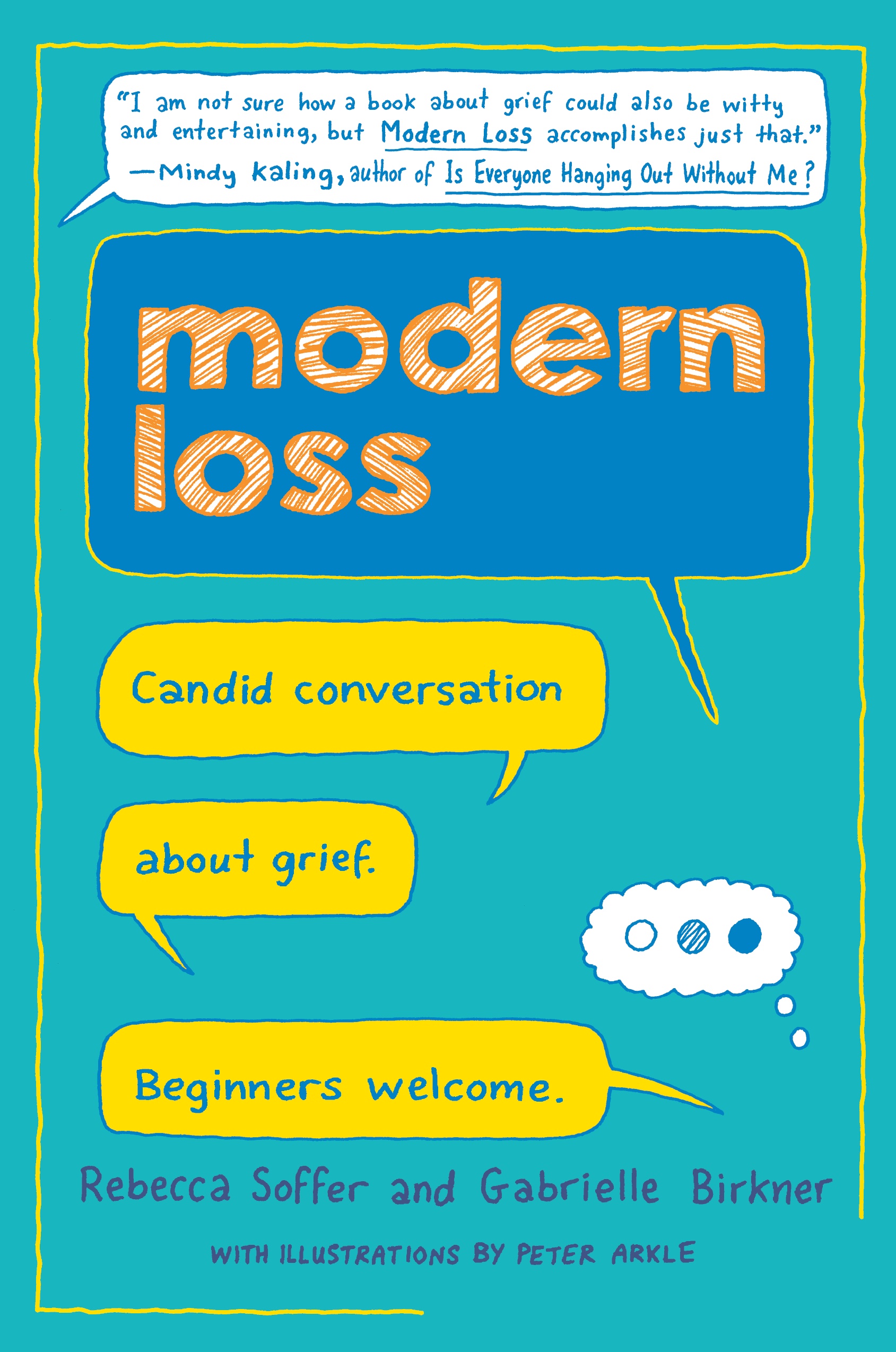 Tuesday Jan 23, 2018
7:00 pm - 9:00 pm
POWERHOUSE @ the Archway
28 Adams Street (Corner of Adams & Water Street @ the Archway)
Brooklyn , NY 11201
RSVP appreciated:
Please fill out the "Bookings" form at the bottom of this page.
-or-
Send the name of the event and number of attendees to our RSVP email.
PLEASE NOTE: Submitting an RSVP for this event DOES NOT guarantee entrance. This is a free-access event — entrance will be on a first-come, first-served basis.
---
Modern Loss coauthors Rebecca Soffer and Gabrielle Birkner will host an evening of provocative storytelling on the complex, gut wrenching, illuminating, and hilarious mess we all know formally as "living with loss."
Featured storytellers:
Emily Rapp Black, New York Times bestselling author of The Still Point of the Turning World
Alexandra Silber, actor, singer, and author of After Anatevka
Jamie Stelter, traffic anchor, NY1
Rachel Ward, podcaster, Gimlet Media
More TBA!
About the Book:
Let's face it: most of us can't handle talking about death. We're awkward and uncertain; we blurt out platitudes or say nothing at all; we send sympathy bouquets whittled out of fruit. We can all do better. In a book hailed by Stephen Colbert and Mindy Kaling , and that StoryCorps' Dave Isay is calling "raw, charming, witty and funny," MODERN LOSS: Candid Conversation About Grief. Beginners Welcome. by Rebecca Soffer and Gabrielle Birkner is here to normalize the conversation around death and grief.
MODERN LOSS grew out of Rebecca and Gabi's experiences with sudden loss as young adults—when Rebecca's mother was killed in a car accident; shortly thereafter, her dad died of a heart attack. Gabi's father and step-mother were brutally murdered in a home invasion. Both women bonded over their pain and search for resources that spoke to them—ones that were not too clinical, patronizing or, well, cheesy. They didn't want to be assured their loved ones were "in a better place" and had no interest in chicken soup metaphors in book form, thank you very much. So in 2013 they created a website about the messy and darkly hilarious experience of loss in the long haul. Its essential message of resilience and hope quickly turned into a movement. The goal? Opening up the conversation about grief and empathy.
Social mores surrounding death are evolving. People are engaging with grief on their own terms and the country is connecting over tragedies both private and public: the loss of a parent, a celebrity's death, a mass shooting, a terrorist attack or police brutality incident. MODERN LOSS offers the roadmap we need for navigating this shifting landscape with a remarkable, life-affirming message in mind: you're not broken, life will go on, and it can actually be pretty great—even if that message is sometimes hard to believe.
Soffer and Birkner, along with more than forty contributors, including Lucy Kalanithi (widow of When Breath Becomes Air author Paul Kalanithi), stylist Stacy London, rocker Amanda Palmer, "Girls" writer and comedian Yassir Lester, CNN's Brian Stelter, WNBA All-Star Chamique Holdsclaw and Kim Goldman (sister of Ron Goldman ), share their provocative stories on themes including sex and intimacy after loss, technology, and the secrets we harbor and uncover . The essays are accompanied by colorful illustrations by artist Peter Arkle and cartoons on topics such as navigating your work life while grieving and repurposing your loved one's belongings. There's also a glossary of terms that therapists probably don't use but most of us should. ("Sadbooking," anyone?)
Inspiring and brutally honest, MODERN LOSS is the invitation we all need. It's time to talk about loss in the way we do about love: intimately, humorously, and with a desire to confront the humanity (read: mortality) we all share. Beginners welcome.
About the Authors:
Rebecca Soffer is the cofounder and CEO of Modern Loss. She is a former producer for the Peabody Award-winning Colbert Report. Rebecca has spoken nationally on the themes of loss and resilience at venues including Chicago Ideas Week, HBO, and Kripalu. She is a Columbia University Graduate School of Journalism alumna and contributes regularly to books, magazines, and other media. Rebecca lives in New York City and the Berkshires with her husband and two children.
Gabrielle Birkner is the cofounder and executive editor of Modern Loss. She is a graduate of Northwestern University's Medill School of Journalism and writes regularly for national newspapers and mag­azines. She has served as managing editor at the Jewish Telegraphic Agency, director of digital media at the For­ward, and features editor at the New York Sun. Gabrielle lives in Los Angeles with her husband and two children.
RSVP
Bookings are closed for this event.