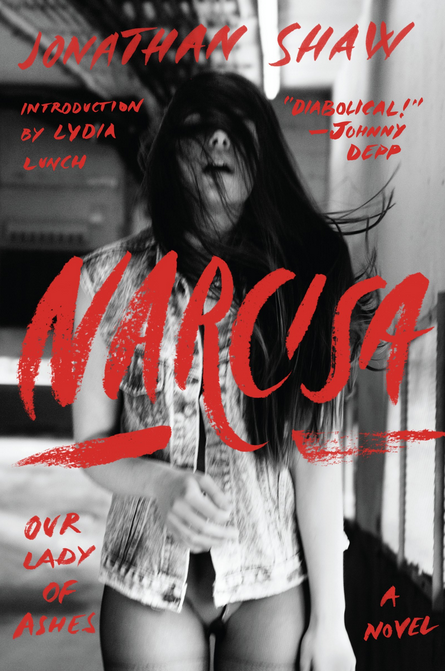 Wednesday Apr 15, 2015
7:00 pm - 9:00 pm
THE POWERHOUSE ARENA [Dumbo]
37 Main Street
Brooklyn, NY 11201
For more information, please call 718.666.3049
RSVP appreciated: RSVP@powerHouseArena.com
-or-
Please fill out the "Bookings" form at the bottom of this page.
---
Drug addiction and sexual dependency collide in master tattoo artist Jonathan Shaw's chaotic tale that follows a dysfunctional pair all the way from New York City to Rio De Janeiro.
About Narcisa: Our Lady of Ashes:
From Johnny Depp and Infinitum Nihil, in partnership with Harper Perennial, comes the first trade edition of Narcisa: Our Lady of Ashes, a subterranean cult classic by Jonathan Shaw, the writer described by Iggy Pop as "the great nightmare antihero of the New Age." This powerful debut of destructive love and addiction by the legendary tattoo master and outlaw artist is "a wild ride through the bizarre netherworld of his own damaged consciousness," says Jim Jarmusch. "His experiences are real and his language and insights kinetic and brutal… Shaw's writing certifies him as a subversive and criminal inhabitant of the world of human expression."
Johnny Depp himself has suggested that Shaw is like the "diabolical, reprobate spawn" of such renegade artists as Hubert Selby Jr., Jack Kerouac, Dr. Hunter S. Thompson, the Marquis de Sade, Iggy Pop, and all of the Three Stooges. And, Narcisa is undeniably the literary progeny of such inventive, original voices as Burroughs, Bukowski and Henry Miller. Unfolding in the wild backwaters of Rio de Janeiro (where Shaw spends most of his time) and New York, it is the story of motorcycle-riding, nomadic outlaw poet Ignacio Valencia Lobos and his unhinged lover, Narcisa, a crack-smoking philosopher prostitute. As their doomed shipwreck of a love affair spirals downward in a vortex of insanity, dysfunction, and vice, the pair hold onto to their irrepressible passion.
While Narcisa is a work of fiction, Shaw has lived its truths. As the child of the 1950s, the product of a brief, violent and unhappy marriage between jazz legend Artie Shaw and the beautiful and glamorous Hollywood starlet Doris Dowling, his particularly surreal world-view was largely shaped during the tumultuous Vietnam era, and by his own admission marked by massive teenaged LSD consumption and close personal interactions with some of the weirdest minds of a weird time, including Frank Zappa, Jim Morrison, the Manson Family and Charles Bukowski. Shaw's delinquent past and far-flung adventures inform his work and have inspired his motto: "Born to lose. Live to win."
Narcisa "is a heartbreaking tome of diseased lust that oozes a tortured poetry of bloody sweat and sperm," says Lydia Lunch in her introduction. "[It is] a grotesquely beautiful love song steeped in the perpetual twilight horror of an unbearable trauma bond….an overwhelming sex-magick magnet to the darker forces of our own primordial essence."
About the Author and moderators:
Jonathan Shaw is a world traveling outlaw artist, novelist, blogger, head doctor, anti-folk hero, whorehouse philosopher, legendary tattoo master and notorious innovator and creator of underground art. The bastard product of a brief, surreal, violent and unhappy alcoholic marriage between big band legend Artie Shaw and movie star Doris Dowling, the Vietnam War and massive preteen LSD consumption. After running with the likes of Jim Morrison, the Manson Family and Charles Bukowski, he fell prey to heroin addiction and a life of crime. He finally left 1970's Hollywood to travel the world by thumb and tramp freighter and is still out there somewhere.
Joe Coleman is a painter, performer, and collector of oddities. Coleman's paintings have been exhibited in Museums and galleries across the United States and Europe.  His performances range from the seminal 1970s punk band The Steel Tips, his 1980s exploding geek act as Professor Mombooze-o, to his more recent roles in feature films by Asia Argento and Julian Hobbes.
Alessandra De Benedetti is an accomplished writer, curator, publisher, and was also the editor or the original Heartworm edition of Narcisa. Local to NYC, Alessandra is the co-founder of UNTAME and is Partner and Director of Creative Development at Wallplay.
RSVP
Bookings are closed for this event.