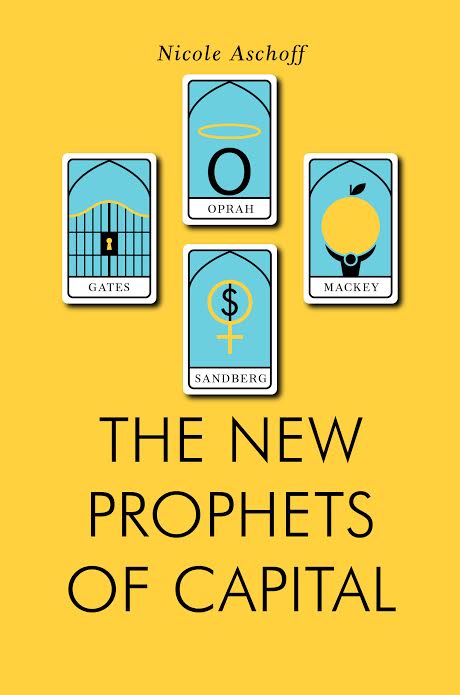 Monday Apr 20, 2015
7:00 pm - 9:00 pm
THE POWERHOUSE ARENA [Dumbo]
37 Main Street
Brooklyn, NY 11201
For more information, please call 718.666.3049
RSVP appreciated: RSVP@powerHouseArena.com
-or-
Please fill out the "Bookings" form at the bottom of this page.
---
Aschoff deftly exposes the flaws of our capitalist system and the new prophets who bolster it, calling out big name "ethical capitalists" such as Bill Gates and Oprah Winfrey.
About New Prophets of Capital: 
"Nicole Aschoff expertly dissects the magical thinking behind America's idolatry of the invisible hand. In a series of lively and closely argued case studies, she lets readers see the threadbare state of our rationales for the market's uncontested sovereignty. And just as impressively, she urges us not to be daunted by the challenges ahead." —Chris Lehmann, author of Rich People Things
Mythmaking is as central to sustaining our economy as proft-making, particularly as severe environmental degradation, breathtaking inequality, and increasing alienation among youth push capitalism against its own contradictions.
Enter the new prophets of capital. In this moment of crisis, a new generation of wealthy mythmakers, masquerading as progressive thinkers, has emerged to reinvent the free market as the solution to society's problems. With Oprah rallying the poor to bootstrap their way into the middle class; Sheryl Sandberg calling on women to "lean in" to the unequal demands of a sexist world; and Bill and Melinda Gates offering the generosity of the 1 percent as the solution to a persistent, systemic inequality, the new prophets of capital buttress the exploitative system, even as the cracks grow more visible.
If we are serious about addressing the miseries and anxieties on which these prophets prey, Nicole Aschoff argues we must give up our belief in the inevitability of the capitalist system that they mythologize.
About the Author:
Nicole Aschoff is an Editor at Jacobin magazine and a lecturer in Sociology at Boston University.
Liza Featherstone is a journalist based in New York City. Her work on student and youth activism has been published in The Nation, Lingua Franca, the San Francisco Bay Guardian, Left Business Observer, Dissent, The Sydney Morning Herald and Columbia Journalism Review. Featherstone has also written for the New York Times, the Washington Post, Newsday, In These Times, Ms., Salon, Nerve, US, Nylon and Rolling Stone. She is the co-author of Students Against Sweatshops: The Making of a Movement (Verso, 2002) and author of Selling Women Short: The Landmark Battle for Worker's Rights at Wal-Mart (Basic, 2004).
RSVP
Bookings are closed for this event.