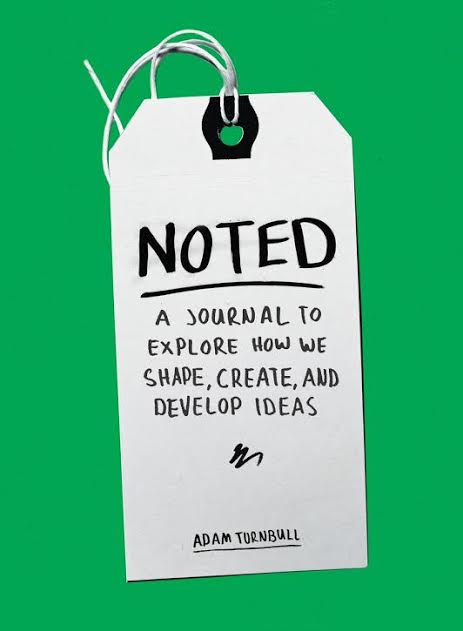 Wednesday Oct 07, 2015
7:00 pm - 9:00 pm
THE POWERHOUSE ARENA [Dumbo]
37 Main Street
Brooklyn, NY 11201
For more information, please call 718.666.3049 RSVP appreciated: RSVP@powerHouseArena.com
-or-
Please fill out the "Bookings" form at the bottom of this page.
---
This interactive journal explores how the medium of what's around you can define the message you didn't even know you were creating.
About Noted:
Adam Turnbull is young in years, but in his short career, he has already become one of the busiest artists and graphic designers in New York City. And maybe that's possible because he knows: taking note of what is around you is what separates the people who make things from the people who don't.
What started as a documentation of his creative ideas on any piece of paper that inspired him—a photograph, a postcard, an envelope—became bound pieces in small books, and those "canvases" helped inspire even more concepts.
Noted is not a craft workbook. It's not a "feel good" journal. It's a modernist, take-it-with-you aesthetic jump-start, perfect for:
Recording travel observations closer to how they were meant to be – on whatever's around, matchbooks, napkins, and found objects.

A portable secret antidote to writer's block.

A tool kit for the very start of the creative process: A brick wall could elicit a rendering of street art or a piece of poetry about the Berlin Wall; a cross-section of a skull could become the brain of a fictional character or an analysis of your own thoughts; the list goes on.
Subtle inspiration through open-ended and random prompts, facts, and quotes.
About the Author:
Adam Turnbull is an artist and graphic designer who has worked with clients worldwide, including Cirque du Soleil, Samsung, The Washington Post, VISA, Bloomberg Businessweek, Harvard Business Review, Wrangler Jeans, Adidas, and the United Nations. He is the illustrator of The Book of Doing by Allison Arden. A native of Australia, he lives in Brooklyn.
Valerie Cortes is Executive Director of the Baffler Foundation, where she is in charge of implementing all non-editorial policy, including printing and publishing the Baffler magazine, the website, fundraising, and events. Born in Spain and immigrating to the US as a child, she has a BA in Biological Sciences from the University of Chicago and an MA in Literature from NYU.  She has worked at Penguin, Artforum and Bookforum. At Bookforum she created an innovative and successful project to bring in new younger readers to a traditional publication by doing campus and social media outreach. Before the Baffler she was publisher of the Boston Review, where she oversaw a redesign of the magazine and a complete transformation of the magazine's circulation operation. She lives in New York.
RSVP
Bookings are closed for this event.