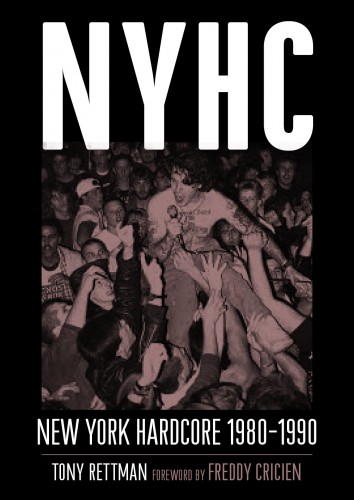 Thursday Dec 11, 2014
6:00 pm - 9:00 pm
THE POWERHOUSE ARENA [Dumbo]
37 Main Street
Brooklyn, NY 11201
For more information, please call 718.666.3049
RSVP appreciated: RSVP@powerHouseArena.com
-or-
Please fill out the "Bookings" form at the bottom of this page.
---
Tony Rettman shares NYHC: New York Hardcore 1980-1990, an oral history capturing ten years of breakdowns, broken bones, and DIY spirit. Tony will be in conversation with Paul Bearer (Sheer Terror), Richie Birkenhead (Youth of Today, Underdog, Into Another) and artist Sean Taggart. Additionally hardcore purists Radio Raheem Records and Pitchfork Clothing will be on-site selling their goods. Howie Abrams (of In-Effect Records fame) will be here to spin the hardcore classics.
About NYHC: 
"One of the greatest things ever for me was having a full belly of macaroni and meatballs, standing in front of CBGB at a hardcore matinee, and seeing my grandfather's pigeons flying over."—Vinnie Stigma, Agnostic Front
Known for its glamorous 1970s punk rock scene, New York City matched the grim urban reality of the 1980s with a rawer musical uprising: New York hardcore. As bands of misfits from across the region gravitated to the forgotten frontier of Manhattan's Lower East Side. With a a backdrop of despair, bands like Agnostic Front, Cro-Mags, Murphy's Law, and Youth of Today confronted their reality with relentlessly energetic gigs at CBGB, A7, and the numerous squats in the area.
Tony Rettman's ambitious oral history captures ten years of struggle, including the scene's regional rivalries with D.C. and Boston, the birth of moshing, the clash and coming to terms of hardcore and heavy metal, the straightedge movement, and the unlikely influence of Krishna consciousness.
With a foreword by Freddy Cricien of Madball, who made his stage debut with Agnostic Front at age 7, NYHC slams the sidewalk with savage tales of larger-than-life characters and unlikely feats of willpower. The gripping and sometimes hilarious narrative is woven together like the fabric of New York itself from over 100 original interviews with members of Absolution, Adrenalin O.D., Agnostic Front, Antidote, Bad Brains, Bloodclot, Bold, Born Against, Breakdown, Cause for Alarm, Citizens Arrest, Cro-Mags, Crumbsuckers, Death Before Dishonor, Even Worse, False Prophets, Gorilla Biscuits, H20, Heart Attack, Inhuman, Into Another, Irate, Judge, Kraut, Leeway, Life's Blood, Major Conflict, Murphy's Law, Nausea, Nihilistics, Nuclear Assault, Numskulls, Outburst, Pro-Pain, Quicksand, Raw Deal, Reagan Youth, Rorschach, S.O.D., Sacrilege, Savage Circle, Sheer Terror, Shelter, Shok, Sick of it All, Side by Side, Skinhead Youth, Straight Ahead, the Abused, the Cryptcrashers, the Mad, the Misfits, the Misguided, the Mob, the Psychos, the Ritz, the Stimulators, the Undead, Token Entry, Underdog, Urban Waste, Virus, Warzone, Youth of Today, and many, many more.
MOSH IT UP!
About the Author: 
Tony Rettman is a freelance music journalist whose work has appeared in the Village Voice, Vice, The Wire, Philadelphia Weekly, Cleveland Scene, Arthur, Swindle, Signal to Noise, Mean, and Thrasher. At age 14 in the 1980s, he was the coeditor of Common Sense zine. He has provided liner notes for such artists as Hackamore Brick, Bored Youth, Beyond and many more. He is a contributing editor to DoubleCrossXX.com. In 2010, Revelation Records released his acclaimed first book, Why Be Something That You're Not: Detroit Hardcore 1979-1985.
RSVP
Bookings are closed for this event.