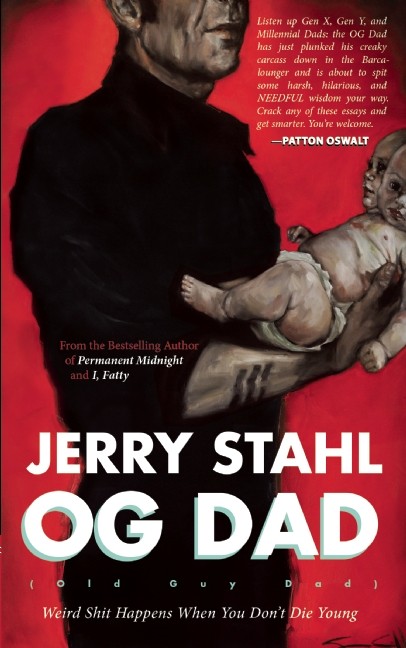 Saturday May 30, 2015
6:00 pm - 8:00 pm
THE POWERHOUSE ARENA [Dumbo]
37 Main Street
Brooklyn, NY 11201
For more information, please call 718.666.3049
RSVP appreciated: RSVP@powerHouseArena.com
-or-
Please fill out the "Bookings" form at the bottom of this page.
---
In Old Guy Dad, Pushcart Prize-winning author Jerry Stahl confronts a terminal disease, not to mention the soul-crushing weirdness of preschool drop-offs with parents half his age as he navigates late in life parenthood.
About Old Guy Dad:
Old Guy Dad recounts the adventures of a man who, in the proverbial autumn of his years, or at least the pre pre-autumn, discovers his girlfriend is pregnant. And having a baby. Whereupon hijinks, cosmic and mundane, ensues. A collection of celebrated columns on The Rumpus with new material and never-before-told tales, Old Guy Dad is Jerry Stahl at his finest and most domestic.
About the Author and Moderators:
Jerry Stahl is the author of nine books, including the memoir, Permanent Midnight, made into a movie with Ben Stiller, as well as a short story collection and seven novels, among them bestseller I, Fatty, optioned by Johnny Depp, and recent novels Happy Mutant Baby Pills and Bad Sex On Speed. His non-fiction and journalism have appeared in a variety of publications, including Esquire, Details, the New York Times, Tin House and The Believer. His most recent movie and television work includes the HBO film, Hemingway & Gellhorn, and he is currently a consulting producer and writer on the IFC series, Maron. His newest book, OG Dad: Weird Shit Happens When You Don't Die Young,  is a collection of columns originally appearing in the online magazine, The Rumpus.
---
Lydia Lunch is passionate, confrontational and bold. Whether attacking the patriarchy and their pornographic war mongering, turning the sexual into the political or whispering a love song to the broken hearted, her fierce energy and rapid fire delivery lend testament to her warrior nature. She has released too many musical projects to tally, has been on tour for decades, has published dozens of articles, half a dozen books and simply refuses to just shut up. Brooklyn's own Akashic Books have published her recent anthology Will Work For Drugs, as well as her outrageous memoir of sexual insanity Paradoxia, A Predator's Diary, which has been translated into seven languages.  Ms. Lunch has also contributed to Akashic's just released Heroin Chronicles edited by Jerry Stahl.In 2012 Rizzoli released her sassy, sexy cookbook The Need To Feed, proving that even food in the right hands can be a dangerous thing.
---
Nicole Blackman is always listening. Her performance work includes a commission for the Royal Shakespeare Company, Bloodwork at The Kitchen, The Courtesan Tales (PS122, Andy Warhol Museum, international festivals, etc), Beloved (Fierce Festival UK and LIFT/London), and Stay Away From Lonely Places (British Arts Council).  Blackman's work is published in her book Blood Sugar, as well as anthologies including Aloud: Voices From The Nuyorican, Brooklyn Noir, Live Through This. Her recorded work includes collaborations with The Golden Palominos, Recoil, KMFDM, Bill Laswell, Scanner, Firewater, and Space Needle.  She would like you to know that everything you say can and will be used against you.
RSVP
Bookings are closed for this event.