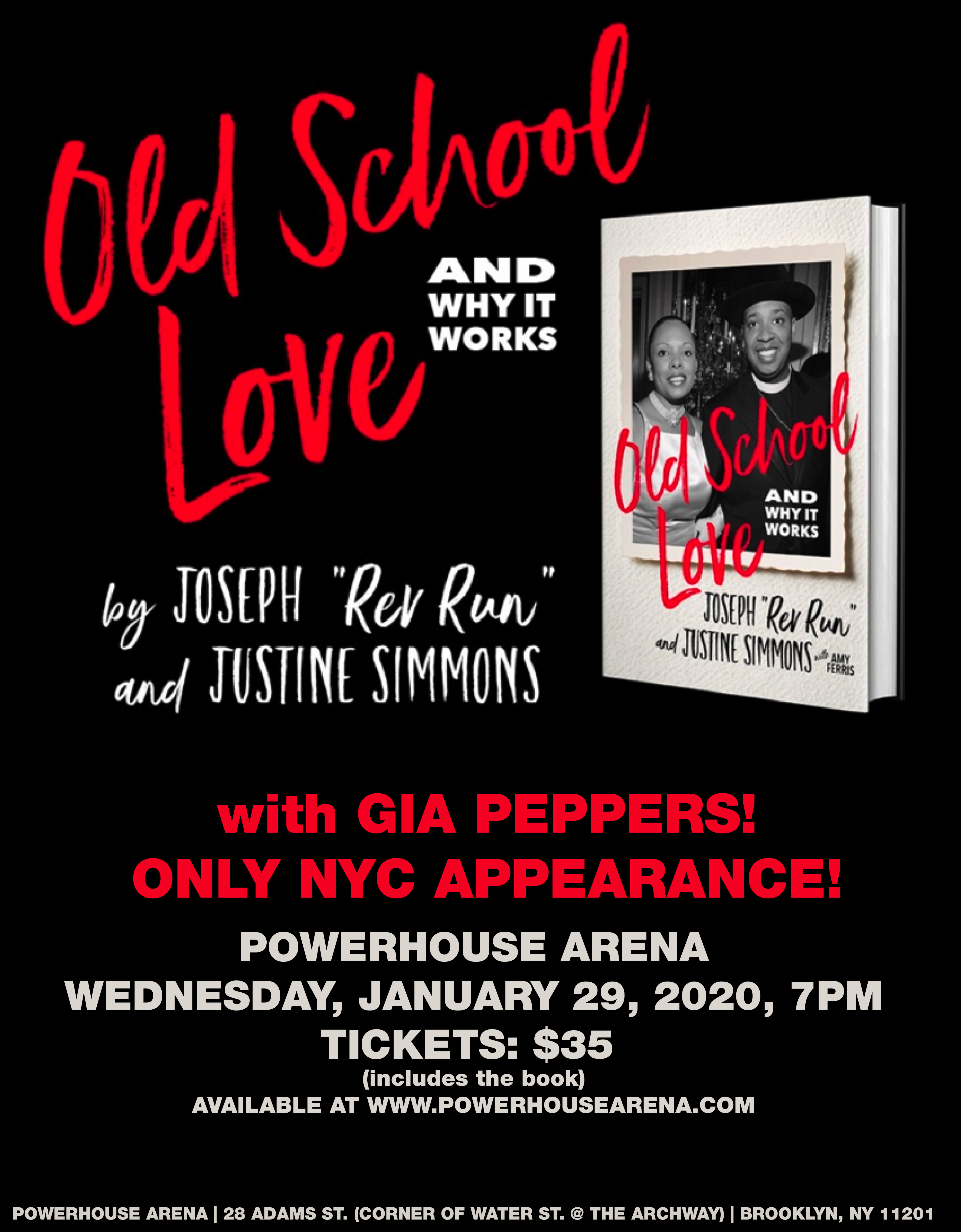 Wednesday Jan 29, 2020
7:00 pm - 9:00 pm
POWERHOUSE @ the Archway
28 Adams Street (Corner of Adams & Water Street @ the Archway)
Brooklyn , NY 11201
THIS IS A TICKETED EVENT.
Tickets are available here – $35 and they include a copy of the book!  Note: Charlamagne Tha God is no longer able to moderate this event; it will be moderated instead by Gia Peppers.
---
About the Book.
This is a book about love.
The kind of love that will keep you warm at night—that will keep you feeling safe and sound.
The kind of love that will get you through some dark times; get you through some hard and yes, some tough times. The kind of love that will make you laugh, that will make you smile, that will make you nod knowingly.
The kind of love that is nurtured and watered and grows—from a seedling to a flower.
The kind of love that is desperately needed in the world right now, shared and sprinkled everywhere.
OLD SCHOOL LOVE is a book to help you find the kind of soul-filling love you desire, written by a couple who has built a strong and joyful relationship amid the pressures, pitfalls, and temptations of the entertainment industry. Rev Run and his wife, Justine, have been blessed with a devoted partnership that has inspired others. In this homage to classic courtship, Rev and Justine reveal the secrets to their marriage's longevity and happiness.
Each chapter of OLD SCHOOL LOVE offers stories, anecdotes, and memories of Rev and Justine's marriage, their family, their experiences, their passion, and their deep faith and belief in God. Some will make you laugh, some will make you think, and some will make you cry. Yet all will make you wiser—more beautiful for the wear—and encourage you to be a kinder, more generous, and better human. Their reflections are bookended by a verse or line from scripture, a saying, or a favorite quote and a sampling of personal wisdom.
Over two decades strong, Rev and Justine's partnership is an inspiration. OLD SCHOOL LOVE they are spreading their message of positivity and creating a legacy for all of us to embrace and share. Powerful and life-changing, this little gem of a book is about magic, and miracles, and yes, the irrefutable power of love.
OLD SCHOOL LOVE includes 8 pages of photos from Rev and Justine's personal collection.
About The Authors.
Joseph "Rev Run" Simmons, the front man of the seminal hip-hop group RUN DMC, has sold tens of millions of records around the world and is widely credited for ushering rap music into mainstream culture. Recently inducted into the Rock & Roll Hall of Fame, the group was also the first rap act to earn a Grammy Lifetime Achievement Award. Rev Run remains a dynamic figure in entertainment today, and along with his wife of more than twenty-five years, Justine, has starred on shows including Run's House, All About the Washingtons, and Rev Run's Sunday Suppers. Through their television endeavors, and their book Take Back Your Family: A Challenge to America's Parents, they strive to make their family values, humor, and spirituality as visible as possible. Family remains their biggest focus, and their playful, loving relationship is an inspiration to many.