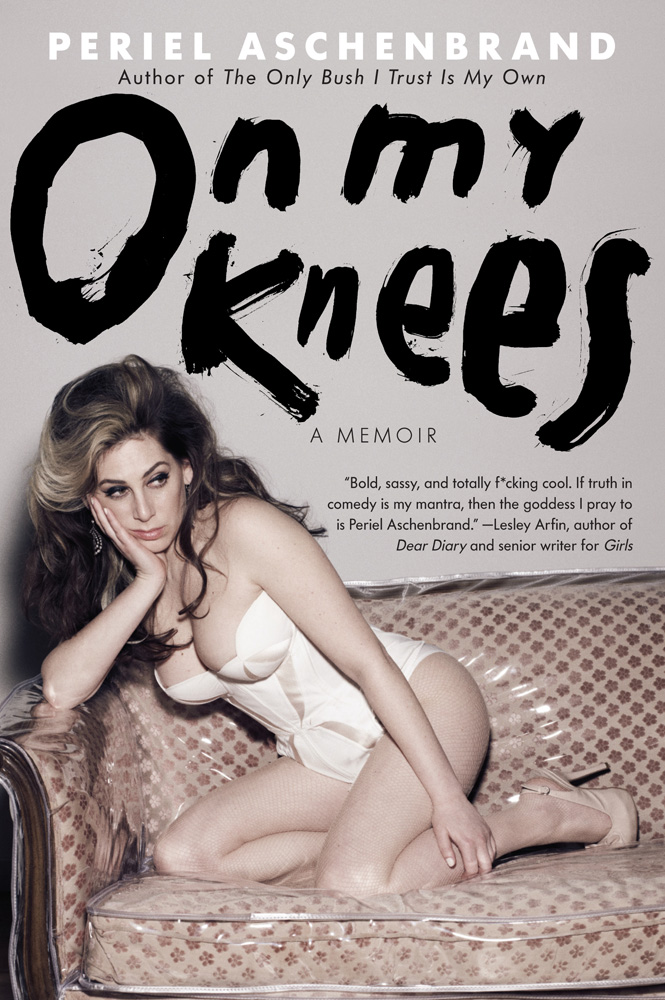 Wednesday Jun 19, 2013
7:00 pm - 9:00 pm
THE POWERHOUSE ARENA [Dumbo]
37 Main Street
Brooklyn, NY 11201
For more information, please call 718.666.3049
RSVP appreciated: RSVP@powerHouseArena.com
-or-
Please fill out the "Bookings" form at the bottom of this page.
---
Bad benders, a run-in with Philip Roth, ill-advised hookups, a trip to Israel—Periel Aschenbrand's memoir Is readable, ribald, and laugh-out-loud funny. Drinks will be served.
About ON MY KNEES:
Periel Aschenbrand is well on her way to becoming a household name. Her signature wit won national attention when she coined the phrase "The only bush I trust is my own." Those eight words became the title of her nationally-acclaimed first book, and now she's back with ON MY KNEES.  A dark, dirty yet poignant comedy, ON MY KNEES chronicles the despair of a breakup, the self-destructive behavior that follows,  and the discovery of self and unexpected love—with plenty of obscenities along the way.
ON MY KNEES opens with Aschenbrand—still reeling from a split with her longtime boyfriend—squatting in her deceased grandmother's apartment and chain-smoking her days away on a plastic-covered couch whilewatching reruns of Law and Order. Where The Only Bush I Trust Is My Own found her indomitable and fearless; in ON MY KNEES, Aschenbrand is broken and demoralized, wondering if she will ever bounce back and find love again.
Armed with her wicked wit and a motley cast of characters that includes her hovering Jewish mother, an eccentric uncle, and her neurotic best friend/wing woman, Aschenbrand embarks on her journey into the many circles of single-girl hell—crazy one night stands; an unhealthy attachment to a dental hygienist; a run-in with Phillip Roth;l and, in the end, a trip to Israel and an encounter with a man who helps her regain her footing and find her heart.
In the spirit of funny women such as Chelsea Handler and Sara Silverman, Aschenbrand strips herself bare – literally – in this shocking, addictive, and hilarious tale.
About the Author:
*photo: Michael Webber
Periel Aschenbrand is the author of the critically acclaimed book The Only Bush I Trust Is My Own. Heralded as "feisty, foxy, and smart" by Paper magazine and a "femme fatale" by the New York Post, Aschenbrand is living up to the New York Times' prediction that "with these eight words (the only bush I trust is my own) Periel Aschenbrand will be famous." She has become a true modern day voice for her whole generation.
---
For more information, please contact
Justin Levine
email: justin@powerhousearena.com
powerHouse Arena, 37 Main Street, Brooklyn, NY 11201
tel: 212-604-9074 x109
RSVP
Bookings are closed for this event.