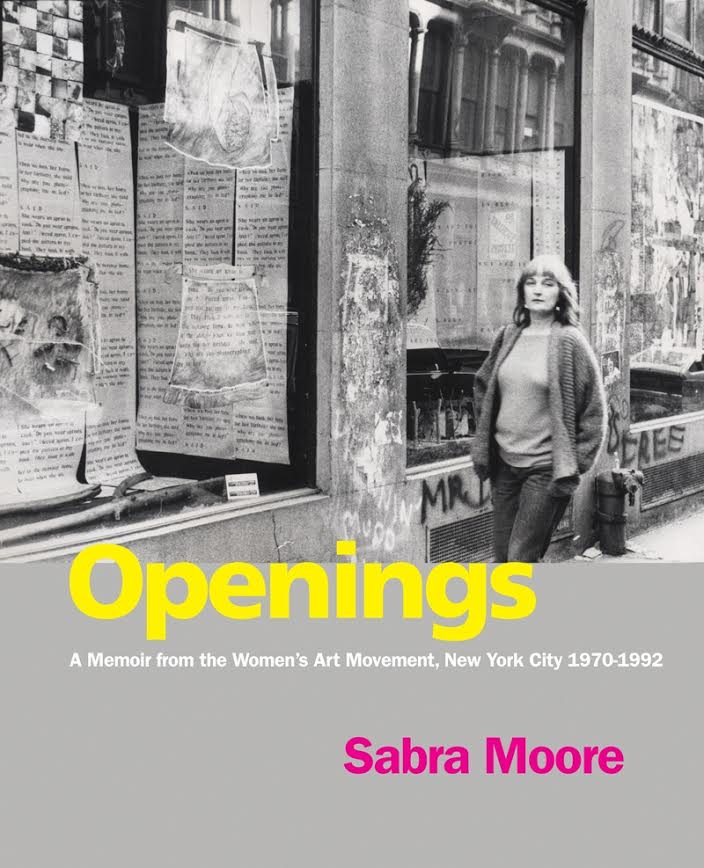 Wednesday Oct 26, 2016
7:00 pm - 9:00 pm
POWERHOUSE @ the Archway
28 Adams Street (Corner of Adams & Water Street @ the Archway)
Brooklyn , NY 11201
For more information, please call 718.666.3049
RSVP appreciated: RSVP@powerHouseArena.com
-or-
Please fill out the "Bookings" form at the bottom of this page.
---
Sabra Moore's vividly illustrated memoir chronicles twenty-two years of her life, art, and collaboration with other women artists at the center of New York City's "second feminist wave."
About Openings:
Through Moore's witty, nuanced, and poignant narration, readers follow the stories of these bold, trailblazing women as they find ways to create personally and politically meaningful artworks, exhibitions, protests, and institutions in response to war, environmental degradation, violence against women, struggles for reproductive freedom, and racial tension—all while fighting for greater opportunities for women in the art world.
Moore brings the complexity of this era alive thanks to meticulous journals she kept and her generous inclusion of fellow artists. Gracefully mixing detailed historical accounts, poignant personal narratives, and thoughtful introspection about art, writing, identity, family, and dreams, she illuminates the breadth of women's struggles and triumphs. Among her stories are particulars of her work as a counselor in New York City's first legal abortion clinic (including organizing union contracts for the clinic workers), her own nearly fatal abortion in Guinea, and her abuse and attempted murder by her former art teacher. She writes about organizing protests against the Museum of Modern Art, creating politically charged exhibitions with her peers in New York and beyond, and editing the collaborative feminist art journal, Heresies, with the Heresies Collective.
About the Author:
Sabra Moore is an artist, writer, and activist. After moving to New York City in 1966, she became an integral creative force within the feminist art movement. Moore was president of the NYC/Women's Caucus for Art, a key organizer of the 1984 demonstration against MoMA for excluding women and minority artists, a core member of the influential Heresies Collective, an active member of Women Artists in Revolution and Women's Action Coalition, and a leading organizer/creator of several large-scale women's exhibitions in New York City, Brazil, Canada, and New Mexico. Her artistic and political involvement was showcased in the feature length film The Heretics (2011). Moore also worked for thirty years in NYC as a freelance photo editor for publishers such as Doubleday, Harper Collins, American Heritage, and Random House. Her most recent major solo show, Out of the Woods, was at the Harwood Museum in Taos (2007).  Moore authored and illustrated the trade book Petroglyphs: Ancient Language/ Sacred Art (1997), and her artist's books can be found in several museum collections, including the Brooklyn Museum and the Museum of Modern Art in NYC.
RSVP
Bookings are closed for this event.