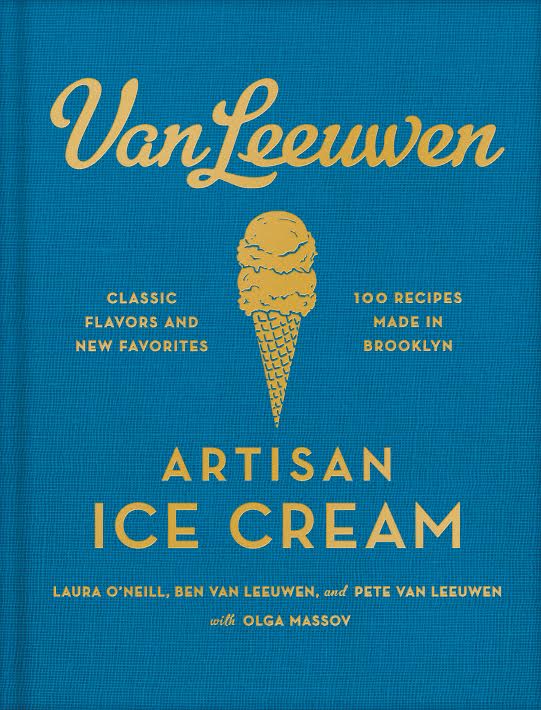 Wednesday Jun 24, 2015
7:00 pm - 9:00 pm
THE POWERHOUSE ARENA [Dumbo]
37 Main Street
Brooklyn, NY 11201
For more information, please call 718.666.3049
RSVP appreciated: RSVP@powerHouseArena.com
-or-
Please fill out the "Bookings" form at the bottom of this page.
---
Laura O'Neill, Ben Van Leeuwen and Peter Van Leeuwen are known for combining delicious ice cream with a dedication to real ingredients and simple, sustainable process. Their new book recounts how they built their venture from the ground-up and provides the framework for their unique recipes.
The Van Leeuwen ice cream truck will be parked outside of The Arena during the event.
About Van Leeuwen Artisan Ice Cream:
In 2008, the Van Leeuwens started their ice cream business in Greenpoint, Brooklyn with a pair of buttercup yellow ice cream trucks. They did this with a clear mission in mind: to revitalize traditional ice cream making while using only whole, natural ingredients sourced from the finest small producers in the world. Less than a decade later, Van Leeuwen Artisan Ice Cream is a widely recognized name in quality ice cream – a fixture on the streets of New York and Los Angeles.
Van Leeuwen Artisan Ice Cream includes ice cream recipes for every palate and season, from beloved favorites like Vanilla to adventurous treats inspired by a host of international influences such as Masala Chai with Black Peppercorns and Apple Crumble with Calvados and Crème Fraiche. Each recipe – from the classic to unexpected, from the simple to the advanced – features intense natural flavors, low sugar, and the best ingredients available.
The Van Leeuwens have created a highly recognizable local brand with national reach. Combining the nostalgic simplicity of delicious ice cream with a dedication to real ingredients and simple process that is an important part of the local, sustainable food movement. Laura O'Neill, Ben Van Leeuwen and Peter Van Leeuwen have a keen understanding of all sides of their business and remain involved in every aspect of it. The quirky, inspiring and even romantic story of how they built their venture from the ground-up provides the framework for the unique recipes included in the book.
Richly illustrated, told in a whimsical style, and filled with invaluable, easy-to follow techniques and tips for making old-fashioned ice cream at home, Van Leeuwen Artisan Ice Cream includes captivating stories – and explanations of the basic science behind these delicious creations.
About the Authors:
Laura O'Neill left behind her life in Melbourne, Australia, to move to Greenpoint, Brooklyn, in 2007, after meeting Ben on a trip to London. Her experience in event production armed her with an eye for design and marketing which she handles for the company.
Ben Van Leeuwen has been passionate about good food as long as he can remember. The mad genius of ice cream recipe testing and recipe development, Ben is also the point person on the day-to-day number crunching. He oversees and guides the growth of Van Leeuwen as a business.
Peter Van Leeuwen wears many hats, bouncing back and forth between Van Leeuwen's Brooklyn home base and Los Angeles, where he oversees the entire West Coast expansion operation.
Olga Massov is a cookbook writer who has written books with chefs Marc Forgione and Marc Murphy, as well as coauthored a book on kimchi. Her food blog, Sassy Radish, has been recognized across various media, and her work has been featured in the Wall Street Journal, Huffington Post, and the New York Times, among other publications.
RSVP
Bookings are closed for this event.