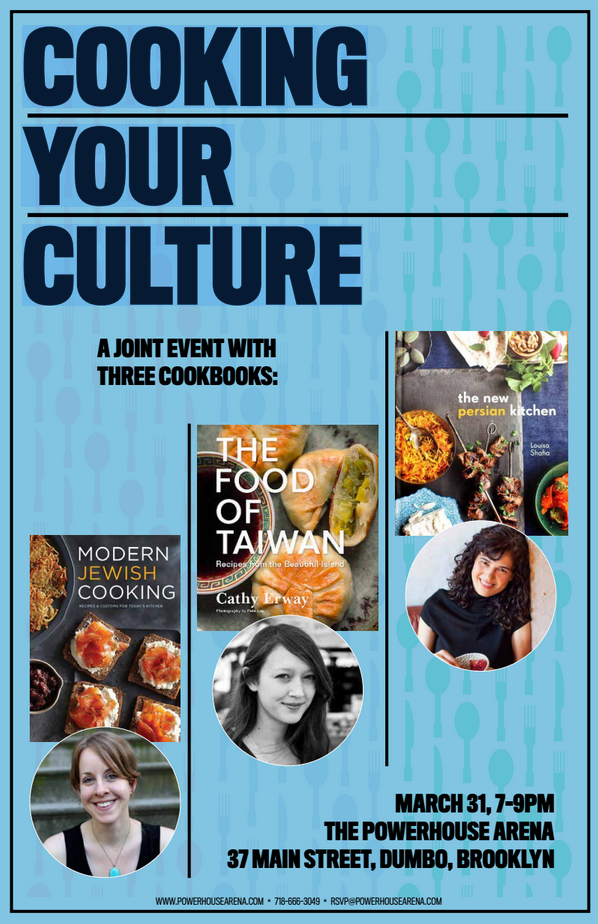 Tuesday Mar 31, 2015
7:00 pm - 9:00 pm
THE POWERHOUSE ARENA [Dumbo]
37 Main Street
Brooklyn, NY 11201
For more information, please call 718.666.3049
RSVP appreciated: RSVP@powerHouseArena.com
-or-
Please fill out the "Bookings" form at the bottom of this page.
---
Three New York cookbook authors – Leah Koenig (Modern Jewish Cooking), Louisa Shafia (The New Persian Kitchen), and Cathy Erway (The Food of Taiwan) join Wall Street Journal Food & Drinks editor, Beth Kracklauer for a panel about choosing to explore their food heritages and the joys, challenges, and responsibilities that come with it.
About Modern Jewish Cooking:
There's a new way with the Jewish cooking we all love — it's handmade and grounded in tradition, while looking toward the future. Matzoh balls can be light and flecked with jalapeño. The pickles, charoset, and challah on your table can be handmade, by you; and vegetables can be the center of your holiday feasts.
In Modern Jewish Cooking, Leah Koenig shares 175 recipes showcasing handmade, seasonal, vegetable-forward dishes. Classics of Jewish culinary culture – such as latkes and hamantaschen – are updated with smart techniques and vibrant spices. Approachable recipes go beyond the traditional, incorporating regional influences from North Africa to Central Europe. Koening also includes a primer on Jewish holidays accompanied by suggested menus, sidebars on the new crop of restaurateurs, food purveyors, and farmers breathing fresh life into Jewish cuisine.
About The New Persian Kitchen:
In The New Persian Kitchen, acclaimed chef Louisa Shafia explores her Iranian heritage by reimagining classic Persian recipes from a fresh, vegetable-focused perspective. These vibrant recipes demystify Persian ingredients like rose petals, dried limes, tamarind, and sumac, while offering surprising preparations for familiar foods such as beets, carrots, mint, and yogurt for the busy, health-conscious cook. The nearly eighty recipes—such as Turmeric Chicken with Sumac and Lime, Pomegranate Soup, and ice cream sandwiches made with Saffron Frozen Yogurt and Cardamom Pizzelles—range from starters to stews to sweets, and employ streamlined kitchen techniques and smart preparation tips. A luscious, contemporary take on a time-honored cuisine, The New Persian Kitchen makes the exotic and beautiful tradition of seasonal Persian cooking both accessible and inspiring.
About The Food of Taiwan:
"A fresh voice, a fascinating new culture (at least for most of us), and bulletproof recipes. Cathy Erway writes as well as she cooks, which is great." —Peter Kaminsky, author of Culinary Intelligence
Fluffy pork buns, rich brothy beef noodle soup, fried rice with pork and tea leaves –food lovers in-the-know have long been ravenously seeking out these delicious dishes. Many eaters may not know that these are Taiwanese dishes and they will be even more surprised to realize how easily they can be made at home. In The Food of Taiwan, Cathy Erway wants to "universalize" this cuisine and bring it into the homes of those who love to eat it out. Taiwan is an island obsessed with good food, and all kinds of it. Erway brings into focus the wild array of flavors that define Taiwan. She explains how the country's cuisine has been shaped by its people, history and region. Now, anyone looking to learn how to cook Taiwan dishes can do so with The Food of Taiwan.
About the Authors and moderator: 
Leah Koenig is a writer and cookbook author whose work has appeared in the New York Times, the Wall Street Journal, Saveur, Gastronomica, Modern Farmer, Food Arts, CHOW, Every Day with Rachael Ray, Tablet, and The Jewish Daily Forward. Her first cookbook, The Hadassah Everyday Cookbook: Daily Meals for the Contemporary Jewish Kitchen, was named one of the Best Books of 2011 by Library Journal. Leah lives in Brooklyn, New York, with her husband Yoshie Fruchter, and leads cooking demonstrations around the country. Visit her at www.leahkoening.com.
Louisa Shafia's first cookbook, Lucid Food: Cooking for an Eco-Conscious Life, is a collection of seasonal recipes that was nominated for an IACP award. Louisa has cooked at restaurants in San Francisco and New York, including Millennium, Aquavit, and Pure Food and Wine. She has created original recipes for Whole Living, Food Network Magazine, Prevention, and Better Homes and Gardens. Look for her on the Cooking Channel's Taste in Translation series, making Persian kebabs. Learn more about Louisa and watch her cooking videos at lucidfood.com.
Cathy Erway is the author of The Art of Eating In: How I learned to Stop Spending and Love the Stove (2010), based on her blog "Not Eating Out in New York" and in response to America's—and in particular, New York's—proclivity for dinning out. Erway emphasizes the fun and ease of cooking at home, the health and savings benefits of being your own chef. She has written for publications such as Saveur, PAPER magazine, and Serious Eats. Cathy is the host of Heritage Radio Network's "Eat Your Words" and co-founded the supper club The Hapa Kitchen. She lives in New York City.
Beth Kracklauer has been food editor for the Off Duty section of the Wall Street Journal since 2012. Prior to joining The Wall Street Journal, she was an editor at Saveur, Gourmet and other publications.
RSVP
Bookings are closed for this event.