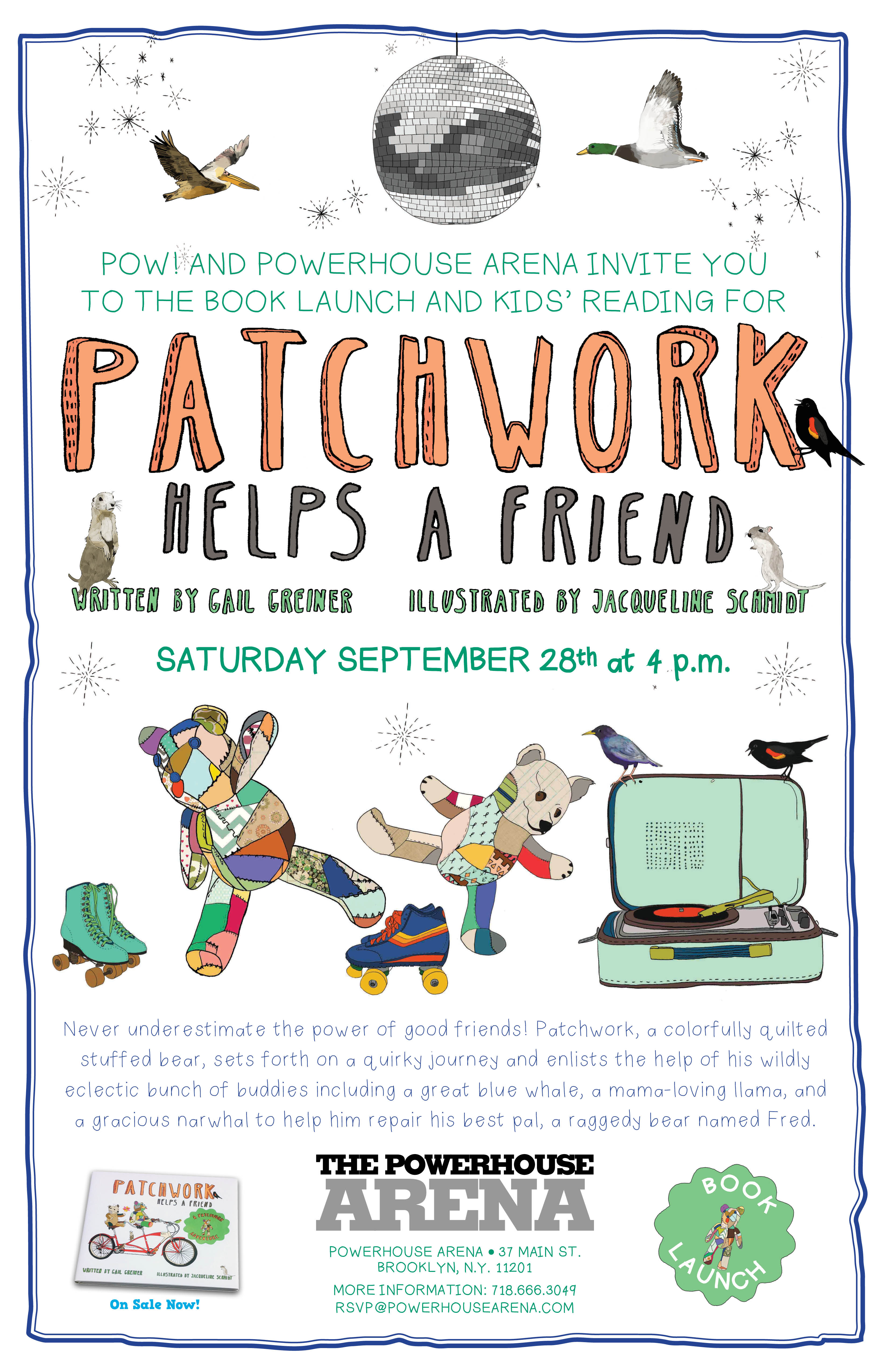 Saturday Sep 28, 2013
4:00 pm - 5:00 pm
THE POWERHOUSE ARENA [Dumbo]
37 Main Street
Brooklyn, NY 11201
Category(ies)
For more information, please call 718.666.3049
RSVP appreciated: RSVP@powerHouseArena.com
-or-
Please fill out the "Bookings" form at the bottom of this page.
---
About PATCHWORK HELPS A FRIEND:

Never underestimate the power of good friends! Patchwork, a colorfully quilted stuffed bear, sets forth on a quirky journey and enlists the help of his wildly eclectic bunch of buddies including a great blue whale, a mama-loving llama, and a gracious narwhal to help him repair his best pal, a raggedy bear named Fred.
Patchwork Helps a Friend is the debut picture book from artist and designer Jacqueline Schmidt of Screech Owl Design. Schmidt's charming illustrations bring to life the endearing tale written by Gail Greiner. As this imaginative story unfolds, we learn that anything can be accomplished with the help of trusted friends.
This sweetly illustrated story celebrates the value of friendship and the love of a good adventure while including always-captivating children's book staples like talking animals, surprises, and even some dancing! For those who fell in love with Laura Vaccaro Seeger's Dog and Bear, Patchwork Helps a Friend is a no-brainer must-have that promises to be read aloud over and over again!
Patchwork Helps a Friend is the introductory book in the series, Patchwork's Adventures, taking youthful readers (ages 3 to 7) on highly visual, emotionally-driven adventures led by the oh-so loveable stuffed bear and his menagerie of animal comrades.
About the Authors:
Jacqueline Schmidt loves combining the urban and natural, the real and the fantastic, the familiar with the unknown. She holds degrees in visual arts, modern dance and an M.A. in Creative Arts Therapy. Jacqueline's illustrations and artwork have been featured in numerous national publications and her paper-goods company Screech Owl Design can be found in hundreds of stores nationwide. A lifelong New Yorker, Jacqueline lives in Brooklyn with her husband David, son Finn, and kitty Mister.
---
For more information, please contact
Justin Levine
email: justin@powerhousearena.com
powerHouse Arena, 37 Main Street, Brooklyn, NY 11201
tel: 212-604-9074 x109
RSVP
Bookings are closed for this event.