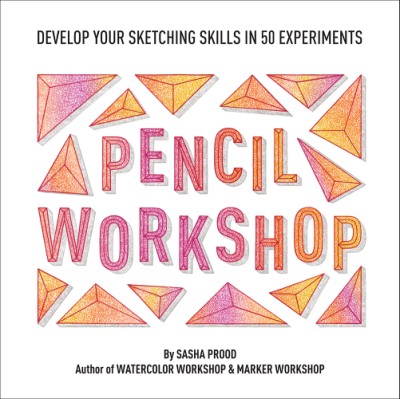 Tuesday Feb 11, 2020
7:00 pm - 9:00 pm
POWERHOUSE @ the Archway
28 Adams Street (Corner of Adams & Water Street @ the Archway)
Brooklyn , NY 11201
RSVP encouraged & appreciated.
Please fill out the form at the bottom of this page if you plan on attending. Facebook event found here.
PLEASE NOTE: Submitting an RSVP for this event DOES NOT guarantee entrance. This is a free-access event — entrance will be on a first-come, first-served basis.
---
About the Book.
Explore the creative possibilities of the artist's most accessible tool with Pencil Workshop: Develop Your Sketching Skills in 50 Experiments, where the humble pencil—the most readily available and affordable of art supplies—produces such exciting and sophisticated effects. In Pencil Workshop, author and artist, Sasha Prood brings a sense of experimentation and fun to sketching with graphite, colored, and watercolor pencils.
Through 50 different experiments, you'll learn traditional techniques like hatching, contouring, and stippling; develop your skills by creating composition; and try out the unique effects that you can achieve with blenders and water-soluble pencils. This unique instruction book is structured so that you have space to do pencil test swatches and draw directly on the pages next to the author's examples. Pencil Workshop provides everything you need to explore the limitless creative potential of this versatile medium!
About The Author.
Sasha Prood, author of Watercolor Workshop, is an illustrator and graphic designer based in Brooklyn, New York. She is an alumnus of Carnegie Mellon's School of Design, The Cooper Union, and the School of Visual Arts. She has received awards and recognition from national design magazines (PRINT, HOW) and her work has been featured in books, magazines, and blogs, including ELLE Interiors, Apartment Therapy, and Oh Joy! She has exhibited her art internationally.
Visit sashaprood.com for more.
RSVP
Bookings are closed for this event.