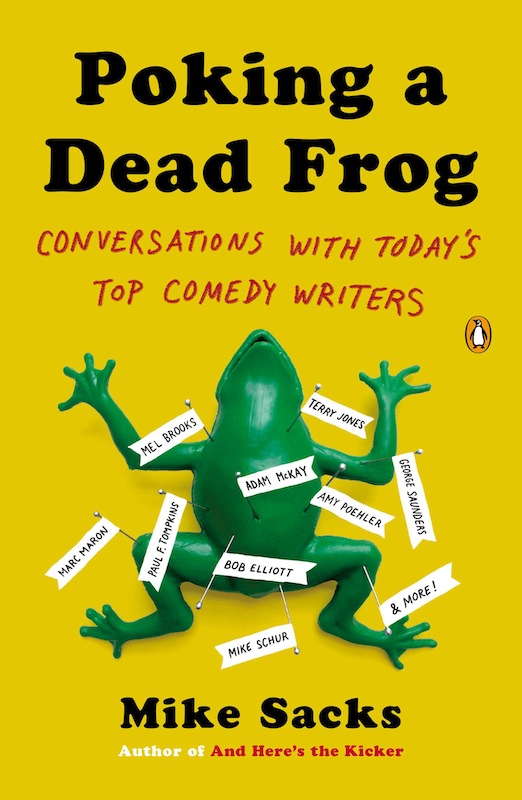 Saturday Jul 12, 2014
6:00 pm - 8:00 pm
THE POWERHOUSE ARENA [Dumbo]
37 Main Street
Brooklyn, NY 11201
For more information, please call 718.666.3049
RSVP appreciated: RSVP@powerHouseArena.com
-or-
Please fill out the "Bookings" form at the bottom of this page.
---
Sacks' latest book examines the art of comedy with the help of some legendary humorists. SNL alum Bill Hader will share his insight into the comedic process during this in-conversation program.
About Poking a Dead Frog:
There's never been a better time to be a comedy writer. With the advent of platforms like Twitter, Tumblr and YouTube and television's new Golden Age, more fresh young writers have a shot at making us laugh than ever before. Despite these new opportunities, the road to comedic stardom is still notoriously long and arduous. But the reward for traveling it can be enormous: those  who succeed become part of our cultural lexicon, with generations of people able to recall a certain movie, show, book, or even line that made them laugh. In POKING A DEAD FROG: Conversations with Today's Top Comedy Writers, Vanity Fair writer Mike Sacks sits down with some of the most widely recognized comedy writers of the last six decades to offer an inside look at their creative influences and processes, their hard times and breakthroughs, and how they managed to succeed in one of the most competitive and uncertain industries around.
These never-before-seen interviews cover every facet of the industry, from a typical day in the writers' rooms of The Onion or The Colbert Report to why a sketch does or doesn't make it onto Saturday Night Live. From comedy legends like Mel Brooks and Monty Python's Terry Jones, to the hottest comedy writers working today, including Paul Feig, Adam McKay, and Mike Schur, POKING A DEAD FROG covers comedy writing in all mediums: television, movies, radio, cartoons, and even Twitter. Interspersed throughout the book are original essays from Amy Poehler, Diablo Cody, and Marc Maron, among others, and "Ultra-Specific Comedic Knowledge" including the character bible from "Freaks and Geeks" and Bill Hader's list of two hundred movies every comedy writer should see.
POKING A DEAD FROG is a bible for budding comedy writers and comedy buffs, but it's also an essential read for anyone who wants a behind-the-scenes look at some of pop culture's biggest moments: how the BBC almost destroyed the tapes of the first season of Monty Python, just to save about $150 per reel; the origins of "double-dipping" and "shrinkage," made infamous by Seinfeld; and what it was really like when Andy Kaufman's lizard-lounge character Tony Clifton would make an appearance on the set of Taxi.
Bios:
Mike Sacks is the author of three previous books including And Here's the Kicker: Conversations with 21 Humor Writers About Their Craft. Currently on the editorial staff of Vanity Fair, he has also written for the New Yorker, Time, the New York Times, the Washington Post, Esquire, GQ, McSweeney's, the Believer, Maxim, Women's Health, and Salon.
Originally from Tulsa, Oklahoma, Bill Hader joined the cast of Saturday Night Live in the 2005–2006 season and spent eight years on the show. He plays a lead role in the drama feature The Skeleton Twins, which premiered at the 2014 Sundance Film Festival and will hit theaters in September 2014. He'll also play a lead in Judd Apatow's upcoming comedy Trainwreck opposite Amy Schumer. He can next be seen in The Disappearance of Eleanor Rigby, with James MacAvoy and Jessica Chastain, set for release in summer 2014.
His other film credits include Superbad, Knocked Up, Forgetting Sarah Marshall, Adventureland, Tropic Thunder, Pineapple Express, Night at the Museum: Battle of the Smithsonian and Men in Black III. He also lent his voice to the hit animated movie Cloudy with a Chance of Meatballs and its sequel.
Hader works as a creative consultant and producer on South Park and was one of the producers to win the 2009 Emmy Award for Best Animated Series. His other TV acting credits include Portlandia, The Mindy Project and Larry David's Clear History. 
---
For more information, please contact
Hal Hlavinka
email: hal@powerhousearena.com
powerHouse Arena, 37 Main Street, Brooklyn, NY 11201
tel: 212-604-9074 x109
RSVP
Bookings are closed for this event.