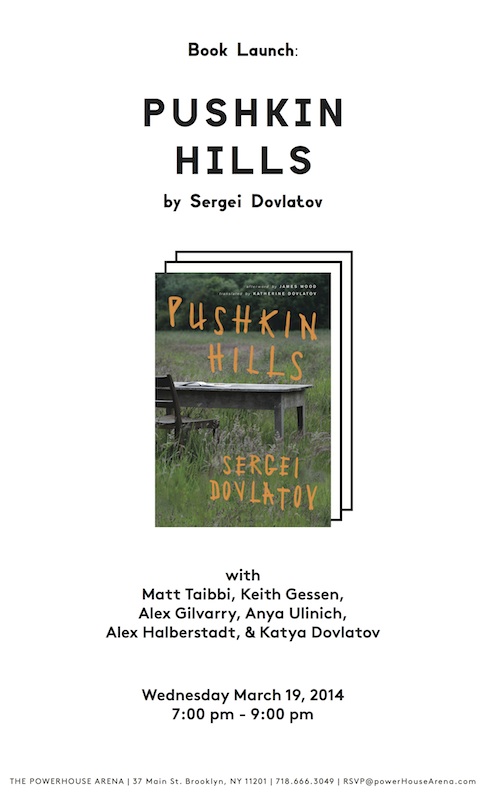 Wednesday Mar 19, 2014
7:00 pm - 9:00 pm
THE POWERHOUSE ARENA [Dumbo]
37 Main Street
Brooklyn, NY 11201
For more information, please call 718.666.3049
RSVP appreciated: RSVP@powerHouseArena.com
-or-
Please fill out the "Bookings" form at the bottom of this page.
---
This all-star panel will discuss the first English-language edition of Pushkin Hills and the other renowned works of Sergei Dovlatov.
About Pushkin Hills:
An unsuccessful writer and an inveterate alcoholic, Boris Alikhanov has recently divorced his wife Tatyana, and is running out of money. The prospect of a summer job as a tour guide at the Pushkin Hills Preserve offers him hope of regaining some balance in life as Tatyana makes plans to emigrate to the West with their daughter Masha, but during Alikhanov's stay in the rural estate of Mikhaylovskoye, his life continues to unravel.
Populated with unforgettable characters—including Alikhanov's fellow guides Mitrofanov and Pototsky, and the KGB officer Belyaev—Pushkin Hills ranks alongside Dovlatov's renowned works The Suitcase and The Zone as his most personal and poignant portrayals of the Russian attitude toward life and art.
About the Author and Contributors:
SERGEI DOVLATOV was born in Ufa, Bashkiria (U.S.S.R.), in 1941. He dropped out of the Leningrad State University after two years and was drafted into the army, serving as a guard in high-security prison camps. In 1965 he began to work as a journalist, first in Leningrad and then in Tallin, Estonia. After a period of intense harassment by the authorities, he emigrated to the United States in 1978. He lived in New York until his death in 1990.
Masha Gessen is a Russian-American journalist. She is the author of Words Will Break Cement: The Passion of Pussy Riot and The Man Without a Face: The Unlikely Rise of Vladimir Putin. She is also the co-editor of Gay Propaganda: Russian Love Stories and a frequent contributor to The New York Times, Vanity Fair, The Guardian, and Slate, among other publications.
Alex Gilvarry is the author of the novel From the Memoirs of a Non-Enemy Combatant, which received a 2012 New York City Book Award. He teaches fiction at Wesleyan University and Manhattanville College.
Anya Ulinich grew up in Moscow, Russia, and immigrated to Arizona when she was seventeen. She holds an MFA in visual arts from the University of California, Davis. Her first novel, Petropolis, was published in 2007, and has since been translated into ten languages. Her graphic novel, Lena Finkle's Magic Barrel, will be published this summer. Ulinich's short stories and essays have appeared in The New York Times, Zoetrope: All-Story, n+1, and PEN America Journal. She has taught writing at NYU and Gotham Writer's Workshop. She lives in Brooklyn with her two daughters.
Katherine (Katya) Dovlatov moved from St. Petersburg, Russia to New York City at the age of 11, when her mother decided to emigrate. She worked in marketing and promotions in the music industry in NYC. In the mid-1990s she moved to Russia to rediscover her roots, working as a translator for multinational companies.  She then moved to London to study Russian Literature at School of Slavonic and East European Studies at UCL. Translating her father's Pushkin Hills is her first attempt at literary translation. She currently lives between NYC and London, working as an interior decorator.
Matt Taibbi was a contributing editor at Rolling Stone for ten years and is the author of six books, including New York Times bestsellers The Great Derangement and Griftopia, and the forthcoming The Divide. He is currently leading the launch of First Look Media's second digital magazine. He lives in New Jersey with his wife and son.
Alex Halberstadt is the author of Lonely Avenue: The Unlikely Life and Times of Doc Pomus and is working on a family memoir titled Young Heroes of the Soviet Union. His writing has appeared in The New Yorker, The New York Times Magazine and The Paris Review.
---
For more information, please contact
Justin Levine
email: justin@powerhousearena.com
powerHouse Arena, 37 Main Street, Brooklyn, NY 11201
tel: 212-604-9074 x109
RSVP
Bookings are closed for this event.