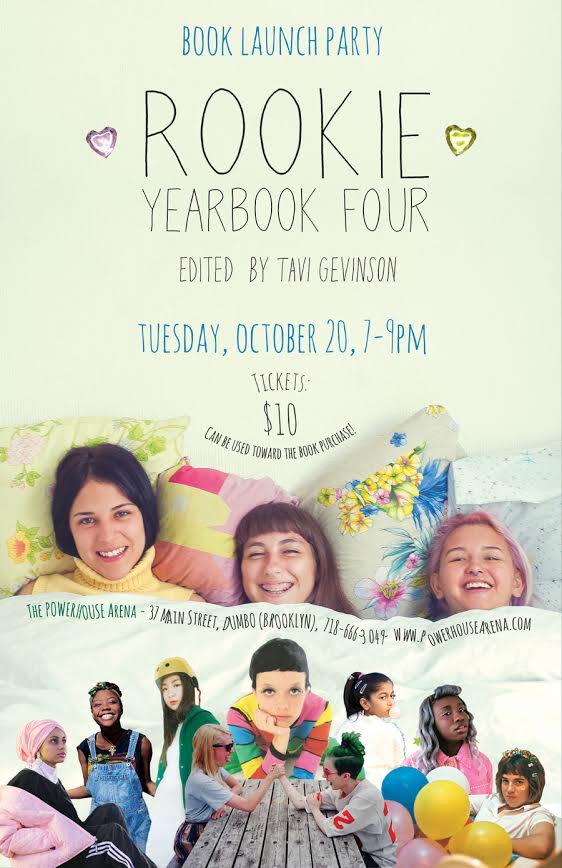 Tuesday Oct 20, 2015
7:00 pm - 9:00 pm
THE POWERHOUSE ARENA [Dumbo]
37 Main Street
Brooklyn, NY 11201
For more information, please call 718.666.3049
Tickets are $10 and can be used towards the book purchase. Click here to order a ticket!
---
Celebrate the fourth annual installment of Rookie Yearbook, chock full of DIY tutorials, posters, and exclusive interviews. Guest readers include: Gabby Noone, Estelle Tang, Tyler Ford, Tayler Montague, Amy Rose Spiegel, Jamia Wilson, Brittany Spanos, Lucy Betz, and Sage (Britney) Franco.  Raury will lead the discussion.
About Rookie Yearbook 4:
"Stories and inspiring visuals for girls with old souls." —Entertainment Weekly
 
Rookiemag.com is a website created by and for young women to make the best of the beauty, pain and awkwardness of being a teenager. When it becomes tough to appreciate such things, we have good plain fun and visual pleasure. When you're sick of having to be happy all the time, we have lots of rants, too. Every school year, we compile the best from the site into a print yearbook. Behold: our Senior year!
 
In Rookie Yearbook Four, we take a good, long look at stuff like friendship, crushes, speaking out, taking action, and learning about yourself. Our Senior year is full of beautiful art and photographs, playlists, DIY tutorials, advice ranging from how to get over trauma to how to write a college admissions essay, interviews with Rookie role models like Marina and the Diamonds, TLC, Laverne Cox, and FKA twigs, and exclusive content from Willow Smith, Ariana Grande, Solange, Charli XCX, Lorde, Ezra Koenig of Vampire Weekend, Florence Welch of Florence + the Machine, Hayley Williams of Paramore, and Donna Tartt, PLUS a sticker sheet, posters, pizza banner, teen bedroom diorama, and collage kit. School's out, but Rookie is immortalized right here, in print, forever.
---
About the Editor:
Tavi Gevinson is the editor-in-chief and founder of Rookie, an online magazine for teenage girls. Tavi's career in media began when she created the blog Style Rookie in 2008 at age 11. She was profiled by The New Yorker in 2010, and in 2011, at 15, launched Rookie. Six days after its debut, Rookie received more than one million pageviews. Tavi has since spoken at TEDxTeen, the Metropolitan Museum of Art, the Sydney Opera House, the New Yorker Festival, the Commonwealth Club of California, the University of Wisconsin's Distinguished Lecture Series, the Brooklyn Museum, the Melbourne Writers Festival, and the Economist's The World in 2011. Tavi is also an actress, having most recently starred in Kenneth Lonergan's Tony-nominated This Is Our Youth on Broadway alongside Michael Cera and Kieran Culkin.