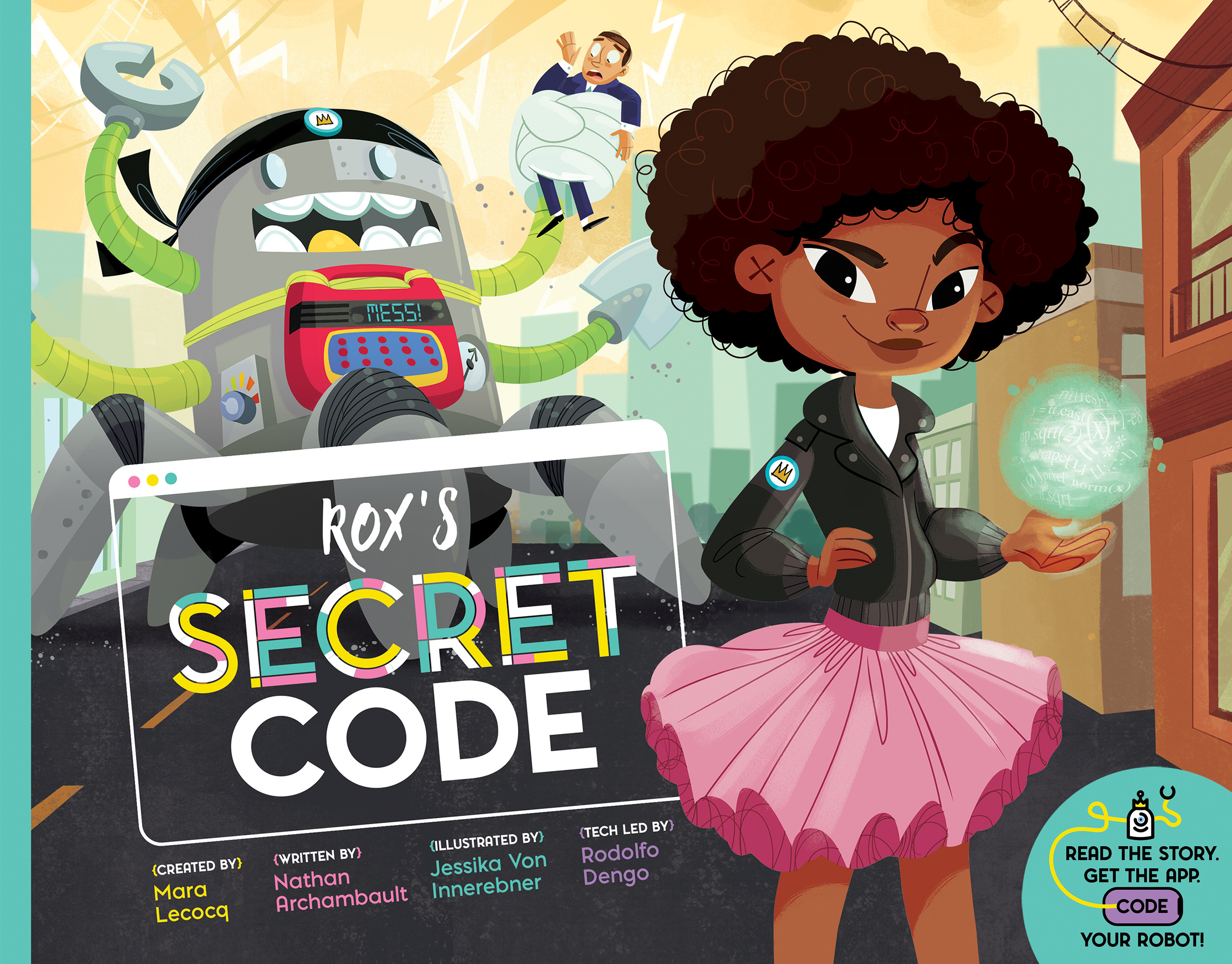 Monday Nov 12, 2018
7:00 pm - 9:00 pm
POWERHOUSE @ the Archway
28 Adams Street (Corner of Adams & Water Street @ the Archway)
Brooklyn , NY 11201
RSVP encouraged & appreciated.
Please fill out the form at the bottom of this page if you plan on attending. Facebook event found here.
PLEASE NOTE: Submitting an RSVP for this event DOES NOT guarantee entrance. This is a free-access event — entrance will be on a first-come, first-served basis.
---
About the Book.
Rox is happy to spend the whole day on her laptop inventing awesome robots, but her dad wants her to clean up! When the Chorebot she designs gets a mind of its own and tries to organize not just her room but the whole city, Rox and her neighbor Amar race to recode Chorebot in time to save the day.
Read the story, get the app, code your robot!
After you've read Rox's story, look to the last page for instructions on how to download the app Rox's Secret Coding, made by the creative development studio Electric Factory. Readers will be able to customize their own robot reality and see it come to life in augmented on the front cover of the book! Through these custom creations, children from age 4 will be introduced to the basics of coding by playing with coding values and actions. Rox's Secret Code takes inspiration into action with its app, uniting traditional and digital storytelling with educational entertainment. Rox's Secret Code and its coding game will inspire children to become makers of technology and open up a world full of creative possibilities for their futures.
About the Authors.
Mara Lecocq is an award-winning Creative Director formerly at AKQA New York, building apps and interactive experiences mixing storytelling and technology for brands like Nike, Starbucks and Verizon. She is the founder of Secret Code, a customizable children's media company that makes girls see themselves as heroes of powerful industries—the premise behind Rox's Secret Code. Lecocq is passionate about bringing diversity to male-dominated industries and believes in the power of storytelling and representation in children's formative years. For her work on Secret Code, Lecocq won a Girlboss Foundation Grant, and a spot at the startup accelerator program Project Entrepreneur by the Rent The Runway Foundation. Lecocq was named a Next Creative Leader by the One Club for Creativity and was a Cannes Lions "See It, Be it" winner.
Nathan Archambault is a Creative Director and Author who splits his time between making ads, writing books, and inspiring his two young daughters Winter and Aurora to discover their own superpowers.
RSVP
Bookings are closed for this event.