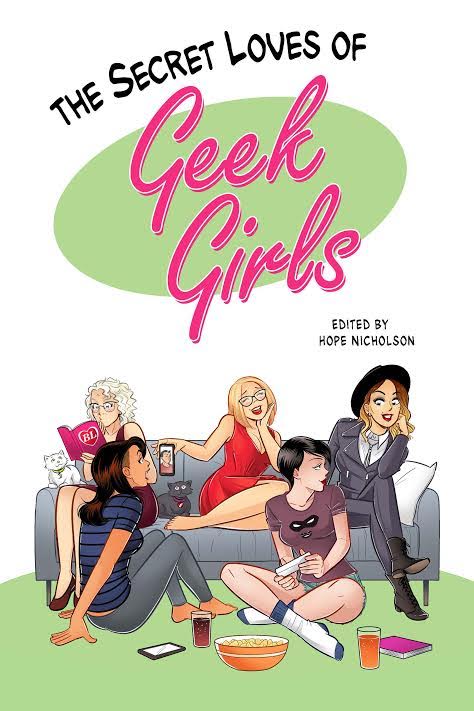 Monday Jan 11, 2016
7:00 pm - 9:00 pm
THE POWERHOUSE ARENA [Dumbo]
37 Main Street
Brooklyn, NY 11201
For more information, please call 718.666.3049
RSVP appreciated: RSVP@powerHouseArena.com
-or-
Please fill out the "Bookings" form at the bottom of this page.
---
Four female voices of fandom showcase this compilation of non-fiction comic and prose stories about love, sex, and dating.
About Secret Loves of Geek Girls:
Secret Loves of Geek Girls – featuring true tales of romance comic and prose stories by Mariko Tamaki, Margaret Atwood, Sam Maggs, Marguerite Bennett and many more!
Bedside Press is pleased to present Secret Loves of Geek Girls, an anthology collection of stories from a diverse range of women in fandom sharing their experiences in love, sex, and dating. Successfully funded in 2015 via Kickstarter, the book has been sent to over 2,800 backers excited to see stories that reflect their own experiences.
"These are the stories we bond over when we get together at a comic con, play video games, and marathon Star Trek," said Hope Nicholson. "They are stories about the loves of our lives (both real and fictional!), and our embarrassing moments as we grow and learn more about the complex worlds of love and dating, especially as it relates to our fandom obsessions."
The Secret Loves of Geek Girls includes: 
Cartoons by award-winning novelist Margaret Atwood that detail her personal experiences as a young woman.

A comic on what it's like being a trans woman trying to figure out romantic/sexual inclinations while entrenched in comics by Fionna Adams & Jen Vaughn;

A story by Mariko Tamaki (Skim) & Fiona Smyth (Sex is a Funny Word) in which a 17 year old Mariko Tamaki arrives with the dream of being Montreal's first chubby Asian Frankenfurter.

Marguerite Bennett (A-Force) story "MINAS TIRITH", a story on the bonds of fandom and how it allows us to say what we feel to our loved ones.

New comics by: Meaghan Carter, Megan Kearney, ALB, Meags Fitzgerald, Gillan G., Diana Nock, Roberta Gregory, Laura Neubert, Sarah Winifred Searle, Natalie Smith, Jenn Woodall, Mariko Tamaki/Fiona Smyth, and Irene Koh.

Illustrated stories by: Janet Hetherington, Sam Maggs/Selena Goulding, Megan Lavey-Heaton/Isabelle Melançon, Cherelle Ann Sarah Higgins/Rachael Wells, Annie Mok, and Stephanie Cooke/Deena Pagliarello.

Prose stories by Brandy Dawley, Diana McCallum, Jen Aprahamian, Katie West, Adrienne Kress, Soha Kareem, Loretta Jean, J.M. Frey, Trina Robbins, Twiggy Tallant, Hope Nicholson, Crystal Skillman, Emma Woolley, Gita Jackson, Natalie Zina Walschots, Alicia Contestabile, Tini Howard, Cara Ellison, Hope Nicholson, Jessica Oliver Proulx, and Erin Cossar.
About the Editor and Contributors:
Hope Nicholson is a Winnipeg-based comic book publisher and owner of Bedside Press. She has previously championed the awareness of 1940s Canadian comic book history with her projects Nelvana of the Northern Lights & Brok Windsor, and as a producer and researcher on the documentary Lost Heroes. Recently, she was the editor of the aboriginal comic book anthology Moonshot and publisher of the anthology collection The Secret Loves of Geek Girls. She is the consulting editor on the upcoming Margaret Atwood & Johnnie Christmas series Angel Catbird (Dark Horse, 2016) and publisher of the upcoming reprint collection Fashion in Action by John K Snyder III (Bedside Press, 2016).
Kristen Gudsnuk is a comic artist and writer. She is the creator of the series Henchgirl, and the illustrator for Little, Brown's VIP series
Fionna Adams is a 26 year-old fat poly queer intersex trans girl from Long Island. "Pop Culture Metaphor" is her first published piece.
Crystal Skillman is an award winning Brooklyn based playwright. Another Kind of Love played at the Chopin Theater in 2015 with Infusion Theater Company earning Critics Picks in the Tribune and Reader.  King Kirby, co-written with her husband Fred Van Lente, Geek! and Cut, earned Critics Picks from The New York Times and have regional productions scheduled for 2016. Awards include this year's Clifford Odets Ensemble Play Commission to write her new play, Pulp Vérité, directed by Shaun Peknic at NYU in Fall 2015, as well as the 2010 New York Innovative Theatre Award for Outstanding Full-Length Script (The Vigil or The Guided Cradle). Her musicals with award-winning composer Bobby Cronin include: (Un)Lucky in Love (Co-Bookwriter), and the musical theater adaption of the film Mary and Max.
Megan Lavey-Heaton is a comic book writer, letterer, book designer, bibliophile, and sonic screwdriver-wielder based out of Pennsylvania. Alongside Isabelle Melançon, she is the co-creator of the fantasy comic Namesake and co-editor of Valor anthology. She penned a script for Womanthology: Heroic and contributed an essay and book design to The Secret Loves of Geek Girls. She has also written several one-shot comics and is developing a second on-going fantasy series with Isabelle. When she's not working on comics, she is a producer for PennLive.com/The Patriot-News.
RSVP
Bookings are closed for this event.