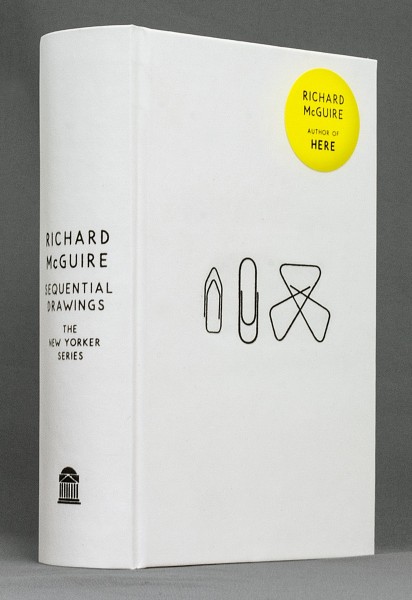 Wednesday Nov 16, 2016
7:00 pm - 9:00 pm
POWERHOUSE @ the Archway
28 Adams Street (Corner of Adams & Water Street @ the Archway)
Brooklyn , NY 11201
For more information, please call 718.666.3049
RSVP appreciated: RSVP@powerHouseArena.com
-or-
Please fill out the "Bookings" form at the bottom of this page.
---
Richard McGuire compiles a decade's worth of witty and inventive spots from his work in The New Yorker, as a sequential text.
About Sequential Drawings:
From the author of the widely acclaimed graphic novel Here, awarded the 2016 Prix D'or for best graphic album at Angoulême, a new graphic work that celebrates another aspect of his incomparable genius.
Sequential Drawings gathers together more than a decade of McGuire's witty and endlessly inventive spots—a veritable short-story collection—each drawing given its own spread, which, in turn, assures for the reader the experience of surprise and delight that the drawings unfailingly deliver. Richard McGuire's first series of "spot" drawings debuted in The New Yorker in February 2005 for the magazine's 80th anniversary issue. Spot drawings, scattered among the magazine's text, had been a long-running feature of The New Yorker, and over the years, many artists had contributed them. But McGuire was the first to conceive them as a sequence, and his drawings were something altogether new: deceptively simple images that imbued the series with movement and narrative, telling their own unexpected stories.
About the Author:


RICHARD McGUIRE is a regular contributor to The New Yorker. His comics have appeared in The New York Times, McSweeney's, Le Monde, and Libération. He has written and directed two omnibus feature films: Loulou et Autre Loups (Loulou and Other Wolves, 2003), and Peur(s) du Noir (Fear[s] of the Dark, 2007). He designed and manufactured his own line of toys, and is the founder and bass player of the band Liquid Liquid. Here was based on his six-page comic that appeared in RAW magazine in 1989 and was quickly acknowledged as a transformative work that expanded the possibilities of the comics medium.
RSVP
Bookings are closed for this event.