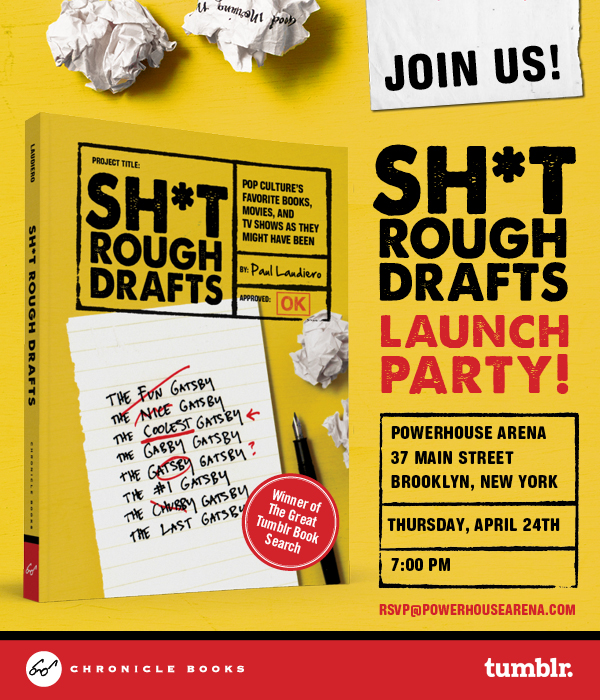 Thursday Apr 24, 2014
7:00 pm - 9:00 pm
THE POWERHOUSE ARENA [Dumbo]
37 Main Street
Brooklyn, NY 11201
For more information, please call 718.666.3049
RSVP appreciated: RSVP@powerHouseArena.com
-or-
Please fill out the "Bookings" form at the bottom of this page.
---
Based on the popular Tumblr, this hilarious collection features imagined misguided early drafts of classic books, screenplays, and contemporary literature. The program will be hosted by Tim Manley (Alice in Tumblr-land) and feature readings from Ben Jurney, Melinda Taub, Andy Ross, Bob Powers, and author Paul Laudiero.
About Sh*t Rough Drafts:
Sh*t Rough Drafts collects imagined misguided early drafts of classic books, screenplays, and contemporary literature, creating visions of alternate works that would exist had the authors not come to their senses. What if F. Scott Fitzgerald had gone with the title The Coolest Gatsby? How would The Hunger Games change if Peeta were armed only with blueberry muffins? If the Man of Steel's S stood for Sexyman? MacBeth, Moby Dick, Harry Potter, Sense and Sensibility, The Lord of the Rings, and many more are each presented as if they were the actual typed or handwritten pages by the authors themselves, revealing the funny and frightful works they might have been with a little less capable judgment.

About the Author and Participants:
Paul Laudiero is a writer and comedian. He lives in New York City.
James Folta is a writer, comedian, and carpenter living in Brooklyn. His work has been published in McSweeney's Internet Tendency, CollegeHumor, Narratively, Esquire, Splitsider and more.  Find out more at www.jamesfolta.com or on Twitter: @JamesFolta.

MELINDA TAUB, author of Still Star-Crossed, The Best of McSweeney's Internet Tendency
ANDY ROSS, The Onion News Network, MAD Magazine, Real Characters
BOB POWERS, Author of Happy Cruelty Day, The New Yorker, McSweeney's, Steamboat
HOSTED BY TIM MANLEY of Alice in Tumblr-land. He is hilarious and darling and great.
---
For more information, please contact
Justin Levine
email: justin@powerhousearena.com
powerHouse Arena, 37 Main Street, Brooklyn, NY 11201
tel: 212-604-9074 x109
RSVP
Bookings are closed for this event.