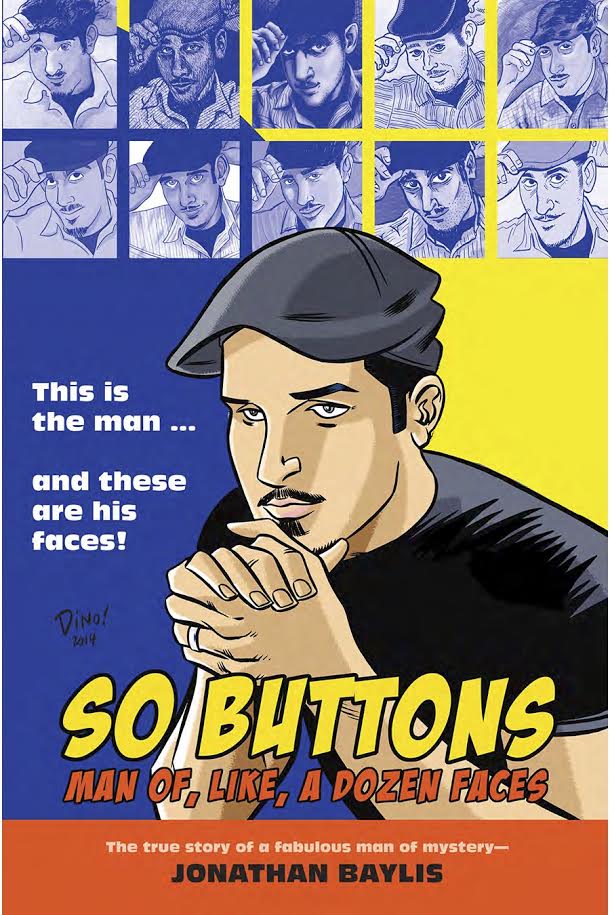 Friday Oct 28, 2016
7:00 pm - 9:00 pm
POWERHOUSE @ the Archway
28 Adams Street (Corner of Adams & Water Street @ the Archway)
Brooklyn , NY 11201
For more information, please call 718.666.3049
RSVP appreciated: RSVP@powerHouseArena.com
-or-
Please fill out the "Bookings" form at the bottom of this page.
---
Comic auteur
Jonathan Baylis
celebrates the launch of his book
So Buttons: Man of, Like, a Dozen Faces
. In the tradition of Harvey Pekar, this graphic novel is a raw, funny, and fascinating account of personal stories.
About the Book:
In the tradition of Harvey Pekar, So Buttons comix are full of funny and fascinating, real-life personal stories written by critically-acclaimed indie auteur, Jonathan Baylis and illustrated by many well-known artists, including Noah Van Sciver (The Hypo, Fante Bukowski), Joseph Remnant (Harvey Pekar's Cleveland), and Fred Hembeck with a cover by fan-favorite, Dean Haspiel (The Fox, Beef With Tomato). A selection of supporting art includes covers of the original issues by Jay Lynch (Garbage Pail Kids), Jim Steranko (Nick Fury Agent of S.H.I.E.L.D, Captain America), Ed Piskor (Hip Hop Family Tree, Wizzywig) and Tom Scioli (G.I. Joe vs. Transformers, Godland).
About the Author: 

Jonathan Baylis has written and self-published seven issues (and a holiday special) of So Buttons (www. sobuttons.com & sobuttons.tumblr.com), a series of autobiographical comics peppered with pop culture ruminations and illustrated by a choice bevvy of indie comics luminaries. Previously, he interned at Marvel, Valiant/Acclaim, and was an Associate Editor at Topps Comics. His comics have been published in literary anthologies like The Florida Review and Wild River Review, and in comics anthologies such as I Saw You… Missed Connections, Side B, Fluke, Hive, and Digestate. Jonathan Baylis lives in Brooklyn, NY.
RSVP
Bookings are closed for this event.