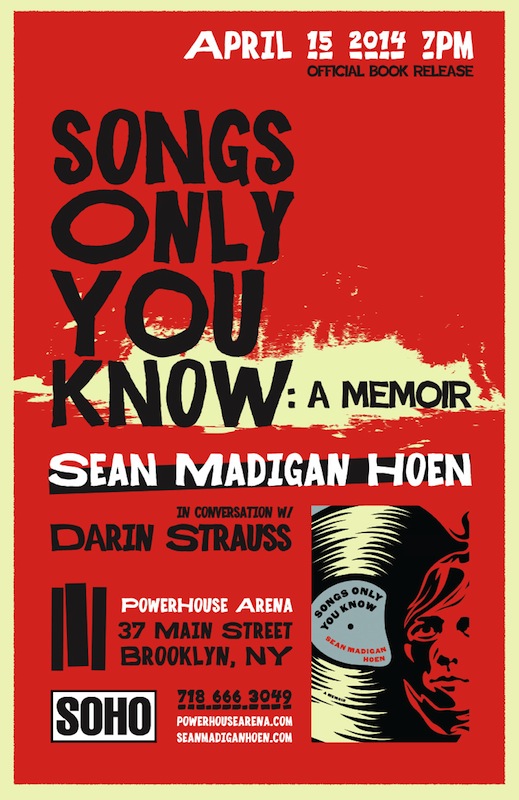 Tuesday Apr 15, 2014
7:00 pm - 9:00 pm
THE POWERHOUSE ARENA [Dumbo]
37 Main Street
Brooklyn, NY 11201
For more information, please call 718.666.3049
RSVP appreciated: RSVP@powerHouseArena.com
-or-
Please fill out the "Bookings" form at the bottom of this page.
---
A former member of the Detroit hardcore scene reflects on the chaos of his family life in this powerful memoir. Darin Strauss (Half a Life) moderates.
About Songs Only You Know:
Eighteen-year-old Sean Madigan Hoen was struggling to keep his involvement in the city's hardcore punk scene a secret from his family. Then he learned that his father, too, had a second life—as a crack addict.
 
Songs Only You Know begins in the '90s and spans a decade during which the family fights to hold itself together. Sean's father cycles from rehab to binge, his heartsick sister spirals into depression, and his mother works to spare what can be spared. Meanwhile, Sean seeks salvation in a community of eccentrics and outsiders, making music Spin magazine once referred to as "an art-core mindfuck." But the closer Sean comes to realizing his musical dream, the further he drifts from his family and himself.
By turns heartbreaking and mordantly funny, Songs Only You Know is a fierce, compassionate rendering of the chaos and misadventure of a young man's life.
About the Author and Moderator:
Sean Madigan Hoen was raised in Dearborn, Michigan and spent his young adulthood touring and recording in several Detroit-based music groups, including Thoughts of Ionesco, The Holy Fire and Leaving Rouge. His fiction has appeared in numerous publications, including BOMB Magazine, where he was awarded the 2011 Fiction Award. He has taught creative writing at Columbia University and currently resides in Brooklyn, New York. Songs Only You Know: A Memoir is his first book.
A recipient of the Guggenheim Fellowship and a winner of the American Library Association's Alix Award and The National Book Critics Circle Award, the internationally-bestselling writer Darin Strauss is the author of the novels Chang & Eng, The Real McCoy, and More Than It Hurts You, and the NBCC-winning memoir Half a Life. These have been New York Times Notable Books, Newsweek, Los Angeles Times, San Francisco Chronicle, Amazon, Chicago Tribune, and NPR Best Books of the Year, among others. Darin has been translated into fourteen languages and published in nineteen countries, and he is a Clinical Associate Professor at NYU's creative writing program.
---
For more information, please contact
Justin Levine
email: justin@powerhousearena.com
powerHouse Arena, 37 Main Street, Brooklyn, NY 11201
tel: 212-604-9074 x109
RSVP
Bookings are closed for this event.