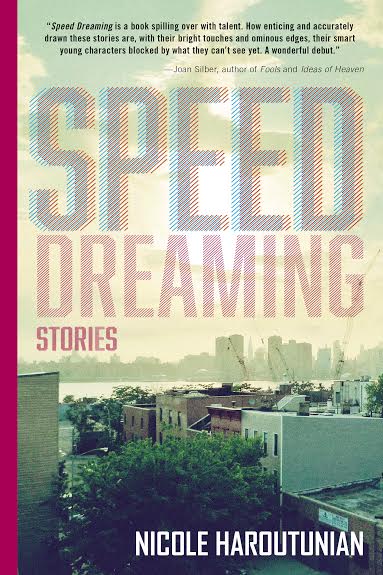 Thursday Mar 26, 2015
7:00 pm - 9:00 pm
THE POWERHOUSE ARENA [Dumbo]
37 Main Street
Brooklyn, NY 11201
For more information, please call 718.666.3049
RSVP appreciated: RSVP@powerHouseArena.com
-or-
Please fill out the "Bookings" form at the bottom of this page.
---
Haroutunian's debut short story collection features twelve tales that chronicle the lives of young women in contemporary America as they encounter house fires, kidnappings, and a child's birthday party.
About Speed Dreaming:
"A bowler hat, a volleyball net, a pig tattoo: Nicole Haroutunian's stories all have unexpected details that attract the eye and alert the mind. Those details glitter on the surface while something else entirely goes on underneath: dark tides of life, death, illness, and love, and people who are carried away by them during the course of otherwise normal lives."—Ben Greenman, author of The Slippage
In Nicole Haroutunian's debut collection of stories, Speed Dreaming: Stories, young women negotiate friendship and marriage, art and commerce, and the possibility that their lives might not work out as planned. Often on the brink of decision, these women grapple with the great ineffable questions: How do you move on after you've lost everything? How long do you hold on to a marriage? How do you be an artist? When do you decide to give it up? Or how do you decide to stick with it? Do you believe in ominous harbingers or do you ignore them? Should we all move to Poughkeepsie like Patti Smith said?
Speed Dreaming is a collection of a dozen stories filled with the steady precision of acutely observed emotions and relationships – every sentence is necessary, every calamity a turning point. A trio of linked stories—including the title story—follows Meg and Dax, a curator and a butcher who married impulsively, from their eerie honeymoon in rural Wales through Meg's identity crisis when the museum where she works is destroyed, to early parenthood, when a coyote's spectral presence at their child's birthday party in a Queens park suggests deeper threats.
In the award-winning story "Youse," two teenage girls are the targets of an attempted kidnapping. After the house of the young couple in "A Cane, an Anchor" goes up in flames, they're unsure of what they lost in the fire and what they'd lost long before it. "The Living" asks, how would you arrange your life if you had only six months left? From Whales to Poughkeepsie and New York City, Haroutunian's fiercely observed characters search for meaning in the mundane, in their surroundings, in their relationships and in their art.
About the Author and moderator:
Nicole Haroutunian's short fiction has appeared in the Literarian, Tin House Flash Fridays, Vol. 1 Brooklyn, Two Serious Ladies, Day One, and other publications. Her short story "Youse" was the winner of the Center for Fiction's 2013 Short Story Contest. She is coeditor of the digital arts journal Underwater New York, works as a museum educator, and lives with her husband in Woodside, Queens.
Saïd Sayrafiezadeh is the author of the story collection, Brief Encounters With the Enemy, a finalist for the 2014 PEN/Robert W. Bingham Fiction Prize, and the critically acclaimed memoir, When Skateboards Will Be Free.  His work has appeared in The New Yorker, and The Paris Review, among others.
RSVP
Bookings are closed for this event.