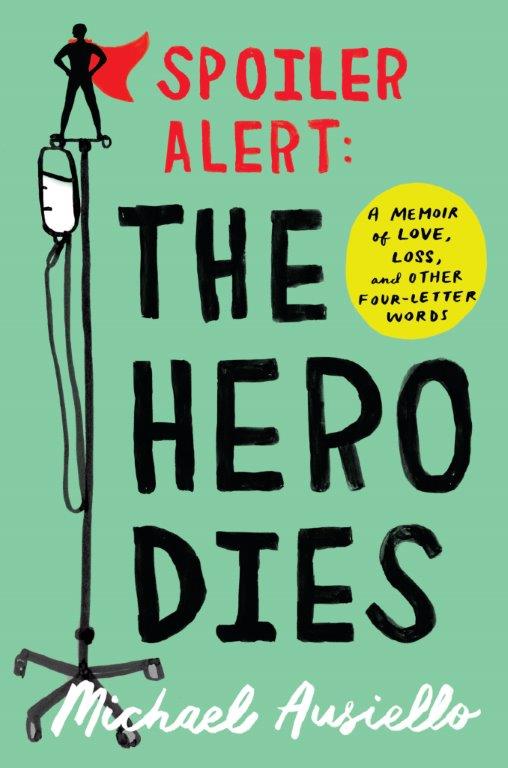 Tuesday Sep 26, 2017
7:00 pm - 9:00 pm
POWERHOUSE @ the Archway
28 Adams Street (Corner of Adams & Water Street @ the Archway)
Brooklyn , NY 11201
RSVP appreciated:
Please fill out the "Bookings" form at the bottom of this page.
-or-
Send the name of the event and number of attendees to our RSVP email.
*Disregard the notification that will appear after Booking.*
---
Candid, poignant – and at times darkly hilarious – Michael Ausiello's SPOILER ALERT: THE HERO DIES: A Memoir of Love, Loss, and Other Four-Letter Words chronicles a fourteen-year love affair that culminated in a final year of illness, resilience, and, tragically, death. Ausiello, founder and editor-in-chief of TVline.com, and one of the most respected journalists working the TV beat, pulls no punches as he recounts his husband Kit Cowan's battle with a rare cancer. Far more than an account of a harrowing medical ordeal, however, SPOILER ALERT: THE HERO DIES is a classic love story filled with humor, empathy, and inspiration.
About the Book:
It was basically love at first sight when Michael and Kit Cowan met, and after thirteen years together their lives had settled into a comfortable familiarity that was not without its unconventional aspects. Having sold their Manhattan apartment, the two men were keeping separate addresses, but remained a committed couple, still living together for all intents and purposes. Road trips to New Jersey to shop at Target and Ikea—where Kit could indulge his love of clean design and bargains—were still de rigueur, and the two cherished each other's idiosyncrasies as only a long-together couple can. Even through rough patches, Michael and Kit had always enjoyed an honest and comfortable relationship. Michael recounts, for instance, how any insecurities about his body, a holdover from his chubby youth, evaporated when he was with Kit.
When Kit was diagnosed with a rare and very aggressive form of neuroendrocrine cancer, Michael would become his fierce advocate. Navigating the medical system, often told conflicting things by different doctors, the two bravely faced the last eleven months of Kit's life. In many ways, Kit's illness reignited their romance. Although they had long stood for marriage equality, they had felt no particular need to marry themselves. Three days before Kit began chemo, however, they went downtown to City Hall and, amid a raucous comedy of errors, became husband and husband. As the months of treatment progressed, the cancer metastasized, and the prognosis grew worse, Michael and Kit faced each new obstacle with as much grace and humor as they could muster. Kit died on February 5, 2015.
SPOILER ALERT: THE HERO DIES is a deeply personal story. Ausiello revisits and shares his poignant social media posts from throughout the ordeal, and with hindsight writes with tender honesty about his emotions through the darkest year of his life. This extraordinary memoir, marked by candor and bravery, is a gift to anyone facing equally hard times. But it also will speak to anyone who has experienced the complicated, messy, imperfect course of love and the inevitable loss that often accompanies it.
About the Author:
Michael Ausiello is the Founder and Editor-in-Chief of TVLine.com, a television entertainment website owned by Penske Media that launched in 2010. Ausiello began his publishing career in 1997 as a senior news editor at Soaps in Depth magazine before moving over to TV Guide in 2000. During his eight-year tenure there, he wrote for both the magazine and its website. Ausiello's columns at TV Guide included "The Ausiello Report" – a weekly print column that expanded into a regularly updated blog online – and "Ask Ausiello," an exclusively online weekly Q&A that he also conducted after moving over to Entertainment Weekly in 2008. Ausiello has also contributed commentary to media outlets such as Today, Good Morning America, Entertainment Tonight, Inside Edition, Extra, and Access Hollywood. He lives in New York City.
About the Moderator:
Patrick S. Fischler is an American actor best known for his roles as Jimmy Barrett on the drama series Mad Men, Duncan Todd on the drama series Twin Peaks, Dharma Initiative worker Phil on the drama series Lost and Detective Kenny No-Gun on the police drama Southland.
RSVP
Bookings are closed for this event.