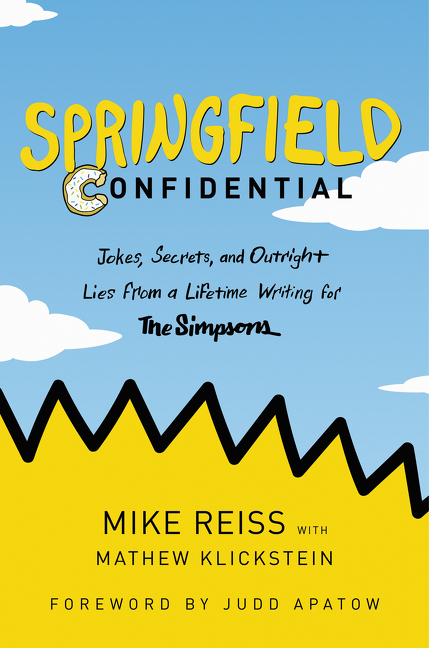 Monday Jun 11, 2018
7:00 pm - 9:00 pm
POWERHOUSE @ the Archway
28 Adams Street (Corner of Adams & Water Street @ the Archway)
Brooklyn , NY 11201
RSVP appreciated. Please fill out the form at the bottom of this page if you plan on attending.
PLEASE NOTE: Submitting an RSVP for this event DOES NOT guarantee entrance. This is a free-access event — entrance will be on a first-come, first-served basis.
---
About the Book.
In celebration of The Simpsons thirtieth anniversary, the show's longest-serving writer and producer offers a humorous look at the writing and making of the legendary Fox series that has become one of the most revered artistic achievements in television history.
Four-time Emmy winner Mike Reiss—who has worked on The Simpsons continuously since episode one in 1989—shares stories, scandals and gossip about working with America's most iconic cartoon family ever. Reiss explains how the episodes are created, and provides an inside look at the show's writers, animators, actors and celebrity guests. He answers a range of questions from Simpsons fans and die-hards, and reminisces about the making of perennially favorite episodes.
In his freewheeling, irreverent comic style, Reiss reflect on his lifetime inside The Simpsons—a personal highlights reel of his achievements, observations, and favorite stories. Springfield Confidential exposes why Matt Groening decided to make all of the characters yellow; dishes on what it's like to be crammed in a room full of funny writers sixty hours a week; and tells what Reiss learned after traveling to seventy-one countries where The Simpsons is watched (ironic note: there's no electricity in many of these places); and even reveals where Springfield is located!
Like Cary Elwes' As You Wish, Jennifer Keishin Armstrong's Seinfeldia, and Chris Smith's The Daily Show: An Oral History, Springfield Confidential is a funny, informational, and exclusive look at one of the most beloved programs in all of television land.
About the Authors.
Mike Reiss is a multi-Emmy Award-winning writer of television, film, children's books, and theater. He's spent three decades writing for The Simpsons; he ran the show in Season Four, which Entertainment Weekly called "the greatest season of the greatest show in history". He's been a contributing writer to two dozen animated films, including the Ice Age and Despicable Me franchises. He is the author of eighteen children's books including the bestselling How Murray Saved Christmas. Reiss has also written jokes for such comedy legends as Johnny Carson, Joan Rivers, Garry Shandling . . . and Pope Francis! For his comedic contributions to the charitable group Joke with the Pope, in 2015 Pope Francis declared Reiss "A Missionary of Joy."
Mathew Klickstein's writing has appeared in such publications as Wired, New York Daily News, and Splitsider. He is the author of SLIMED! An Oral History of Nickelodeon's Golden Age, the screenwriter of Sony Pictures' Against the Dark, and director/producer of the Marc Summers documentary, On Your Marc. He currently hosts the podcast NERTZ (based on his book Nerding Out), and is developing a new television series.
RSVP
Bookings are closed for this event.