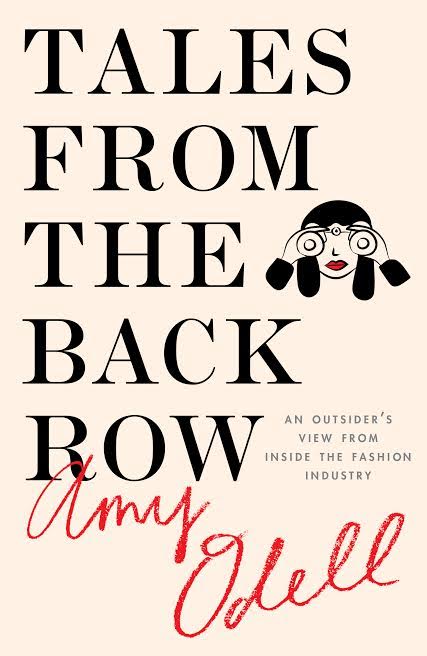 Wednesday Sep 09, 2015
7:00 pm - 9:00 pm
THE POWERHOUSE ARENA [Dumbo]
37 Main Street
Brooklyn, NY 11201
For more information, please call 718.666.3049
RSVP appreciated: RSVP@powerHouseArena.com
-or-
Please fill out the "Bookings" form at the bottom of this page.
---
In Tales from the Back Row, Cosmopolitan.com editor Amy Odell gives readers a behind-the-runway look at one of New York's most secretive, sometimes absurd, and ever alluring industries: Fashion.
About Tales from the Back Row:
Hilarious, insightful and smart. A must-read for anyone who wears clothes." – Chelsea Handler
In this playful and fearless debut, Amy is a girl after our own hearts. A journalist who prefers wearing jeans with t-shirts, Amy's day job has her teetering into Fashion Week in sky-high designer glitter booties (that may secretly double as devices of self-torture), practically risking her life in the middle of Fifth Avenue traffic to pose for the perfect street-style shot, and is seemingly always flinging herself into celebrities' personal space to ask them important questions like "what do you smell like?"
From her vantage point in the back row, Amy has the perfect perspective on both the industry, and its prominent figures. From Alexander Wang's runway show to Karl Lagerfeld's photography exhibition; from an intense job interview with Anna Wintour to a tipsy lunch with Chelsea Handler, Amy tells it straight and funny. Her sharp observations, combined with her dry and self-deprecating sense of humor make for a uproarious read about what it's really like to be a normal twentysomething woman writing about one of the world's most cut-throat and intriguing industries.
But as she moves from journalism novice to editor, from outsider to (almost) insider, Amy begins to understand how these larger-than-life characters have come to define the fashion world. As humorous a reading experience as it is, Tales from the Back Row ultimately is an examination of a powerful social hierarchy, as well as the desire to climb it. This is a book about our longing to make a mark, to be included, to belong.
Amy Odell is a rising star in her field. She began her career in journalism as a party reporter for New York magazine. She soon joined the staff as the founding blogger of The Cut, where within a year she turned it into the number-one fashion news source on the Internet. After four years at The Cut, Amy moved on to start the women's interest section at BuzzFeed. Now, as the editor of Cosmopolitan.com, Amy has expanded coverage to include a wide range of feminist, political, and LGBTQ topics alongside celebrity news, and relationship and style advice, while boosting the site's traffic to its highest numbers ever.
About the Author and Moderator:
Amy Odell is the editor of Cosmopolitan.com, the largest community of millennial women on the Internet. In 2015, Odell was named to Forbes' list of "30 Under 30" in media and featured in Adweek as a "New Publisher," one of fifteen young innovators who will change the magazine business. In 2014, she appeared in Crain's "40 under 40." Prior to Cosmopolitan.com, Odell was an editor at BuzzFeed from 2012 through 2013. Odell began her journalism career in 2007 as a party reporter for New York magazine, where she ultimately became the founding blogger of the magazine's fashion blog, The Cut, in 2008. A native of Austin, Odell graduated from New York University and lives in Tribeca with her husband and very sassy cat.
Christene Barberich is the Editor-in-Chief and a founding partner of Refinery29, as well as the New York Times best-selling author of Style Stalking. Prior to launching Refinery29 in 2005, she held posts at Gourmet Magazine, The Daily, and The New Yorker. She was also founding Editor of the ASME-nominated fashion and design magazine, CITY. In addition to her editorial and digital media work, Christene has written for the New York Times, New York Magazine, Elle Decoration, Dwell, and other publications. She lives in Brooklyn.
RSVP
Bookings are closed for this event.