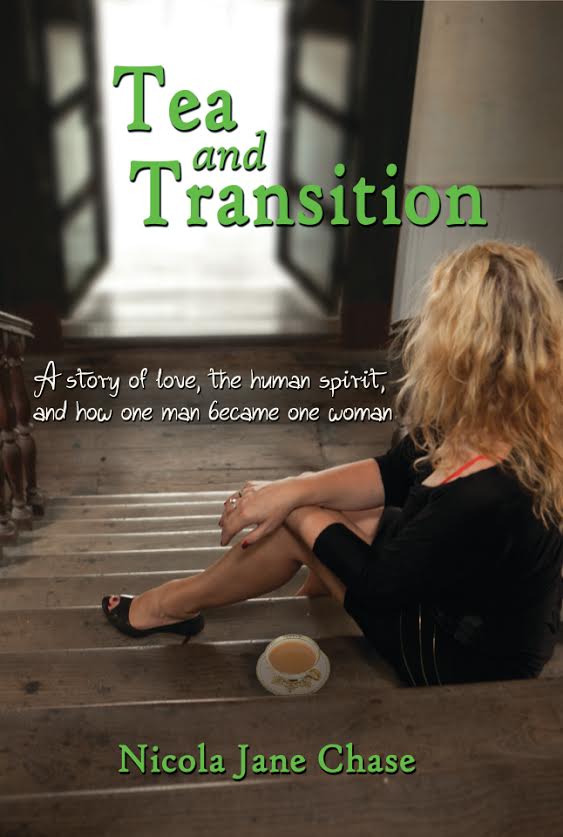 Wednesday Aug 12, 2015
7:00 pm - 9:00 pm
THE POWERHOUSE ARENA [Dumbo]
37 Main Street
Brooklyn, NY 11201
For more information, please call 718.666.3049
RSVP appreciated: RSVP@powerHouseArena.com
-or-
Please fill out the "Bookings" form at the bottom of this page.
---
In this candid memoir of gender and acceptance, Chase uncovers inner and outer recognition through dating debacles, painful family discussions, and trips to Victoria's Secret.
About Tea and Transition:
Nobody anticipated a change from heterosexual man to heterosexual woman least of all the author herself.
Challenges of pesky pronouns, passport humiliation and underwhelming cup sizes test her spirit yet her charismatic wit never wanes. There are laugh out loud moments, heart-wrenching ones too as she tussles with the balance between he and she, and how gender is perceived for herself and for those around her.
Back in the 80s and 90s Chase was a globe-trotting DJ who played exotic clubs in the Middle East and southern China, then an indie music radio host in Hong Kong. However, having played at rooftop parties for sheiks, been a maestro in the clubs, and a household name on the airwaves, it was only after relocating to New York that the real journey began.
Why was he feeling like a she? The feeling wouldn't t go away. Then the first cross-dressing steps into Manhattan as a woman. Embarrassing wigs, stares on the subway, and heels an inch from respectability. Through painful, unexpected, and hilarious experiences, a tipping point of gender was reached. But how to tell those who knew her as a man before?
Friends were both won and lost, but the biggest announcement was over a cup of Earl Grey: the excruciating moment of disclosure with her 80-year old mother. The devolution and rebuilding of that amazing relationship is one of the most heart-rending threads of this book.
Humor drives her forward as she explores the New York dating life as a woman. She gets thrown out of a strip club as a perceived threat to business, initiates her first bikini moment, and has a love match at the US Open Tennis Championships. Puberty happens for a renewed time in a different gender, and with that, dodgy fashion choices and overzealous make-up. She was a 16 year old girl in her 40s.
As she considers life changing surgery, one moment of epiphany ensues, yet clarity comes with a kick. What would be next?
There are martinis on top of the world, the pyramids at dawn, and high-speed motorbike rides through Asian back streets, but Tea and Transition is far more than a globetrotting travelogue or another tale of a right-soul-in-the-wrong-body. This is a wonderfully personal journey through places beyond the physical. Of change and the human spirit, love and family values, and how one man became one woman.
About the Author and Moderator:
Nicola Jane Chase grew up in the suburbs of Liverpool, northwest England, as a passionate music lover–and as a man. The first of many changes was quitting a stable career in retail management for the more adventurous, if insecure, life of a globetrotting club DJ playing dance tracks for the international jet set. She (albeit then still a he) then shifted direction and spent a decade on the airwaves of Hong Kong delivering cool indie tunes to a dedicated fan base. In 2008 she relocated to New York, the city she now calls home.
Music has since taken a back seat, yet her knowledge of 1980s tracks remains impressive, and her pleasure from listening to them rarely wanes. Now unreservedly she, her focus these days is on fostering greater transgender understanding and acceptance. To that end, she is a popular speaker at public and private events, and welcomes media inquiries.
An avid tennis player, she lives for the warmer days of summer when she can play on the outside courts in New York City. When not writing, speaking, flicking through rare 12″ vinyl, or working on her backhand slice, she can often be found in her Queens back yard tending rhubarb and arguing with her gooseberry bushes.
Frank Zagottis has been involved in many aspects of the entertainment business over the last 25 years from stage actor and director to film producer and director. He spent 15 years at HBO, where he produced original material for key DVD releases including Sex and The City, The Sopranos, and Six Feet Under. He has also conducted interviews with great talents such as Billy Crystal, Alan Ball, and Michael Patrick King. Frank is an adjunct faculty member in the Department of Speech & Theater Arts at Borough of Manhattan Community College, Queensborough Community College, Nassau Community College and Long Island University, where he teaches courses in Documentary Film, Media Theory, Film Appreciation, Mass Media, and Public Speaking. He holds an M.A. in Media Arts and Production from Long Island University where he is completing his MFA in new form seriality and online television.
RSVP
Bookings are closed for this event.