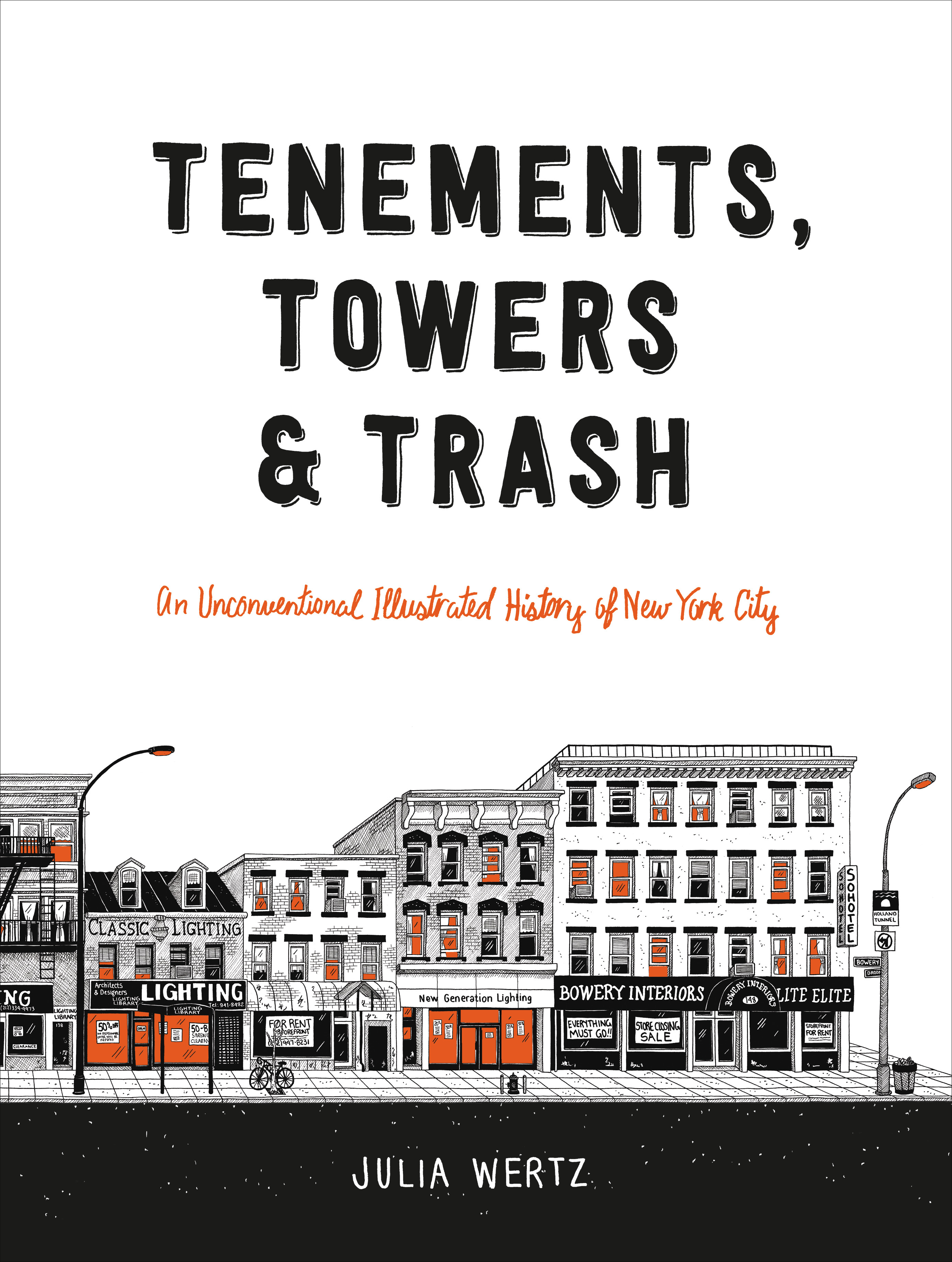 Thursday Oct 05, 2017
7:00 pm - 9:00 pm
POWERHOUSE @ the Archway
28 Adams Street (Corner of Adams & Water Street @ the Archway)
Brooklyn , NY 11201
RSVP appreciated:
Please fill out the "Bookings" form at the bottom of this page.
-or-
Send the name of the event and number of attendees to our RSVP email.
*Disregard the notification that will appear after Booking.*
PLEASE NOTE: Submitting an RSVP for this event DOES NOT guarantee entrance. This is a free-access event — entrance will be on a first-come, first-served basis.
---
About the Book:
From Times Square and the Empire State Building to Greenwich Village and the South Street Seaport, New York City is one of the most iconic cities in the world. But any true New Yorker knows that the best parts of the city lay beyond the glare of neon lights, hidden between the landmarks and in the shadows of the characteristic neighborhoods and boroughs that define it. In her new book New Yorker cartoonist Julia Wertz brilliantly unearths the history behind many of these treasures. TENEMENTS, TOWERS & TRASH: An Unconventional Illustrated History of New York City, is a quirky, charismatic, and hilarious illustrated history of New York City, rendered in captivating drawings and comics in Julia's singular style.
Through "then and now" drawings and tales of New Yorkers past, TENEMENTS, TOWERS & TRASH paints a raw, unconventional, and often hilarious portrait of New York in all its neurotic glory. From an extensive underground pneumatic tube system build by the New York Postal System in the late 1800's to the pizzeria that fronted for mafia activity; from beloved bookstores to outlaw abolitionists to a bottle-filled beach where horse carcasses were once sent to rot, Wertz illuminates the stories behind some of the city's most famous and infamous mainstays and provides little-known backstories to its not-so-secret gems. It's a New York you won't find in any guidebook, one where the bustling bodegas, crumbling corners, and hideaway hotspots are not just part of its charm but integral to its character. In TENEMENTS, TOWERS & TRASH we come to see how the city's dirtiest, ugliest, most eccentric areas are ultimately what make it so beautiful and extraordinary.
Wertz's refreshing and charismatic voice brings to life the world within these pages, making the book perfect for the millions of New York natives, transplants, history buffs, and those who have always been intrigued by the city of dreams. Meticulously detailed and side-splittingly funny, TENEMENTS, TOWERS & TRASH offers a unique glimpse into the inimitable weirdness that makes New York City the greatest in the world.
About the Cartoonists:
Julia Wertz is a professional cartoonist and amateur historian. She has published five graphic novels and does monthly history comics for The New Yorker and Harper's Magazine.
Emily Flake is a cartoonist, writer, and illustrator living in Brooklyn, NY. Her cartoons appear regularly in the New Yorker, as well as on the Nib and, when she can manage it, MAD Magazine. She is the author and illustrator of a book called Mama Tried, which is essays and comics about parenthood. She is also the creator of a strip called Lulu Eightball, which ran in alt-weeklies, when those were still a thing.
Liana Finck's cartoons appear regularly in The New Yorker, The Awl, and Catapult, and on her Instagram feed. Her first book, A Bintel Brief, was published by Ecco Press in 2014. Her second, Light and Shadow, is forthcoming from Random House.
RSVP
Bookings are closed for this event.