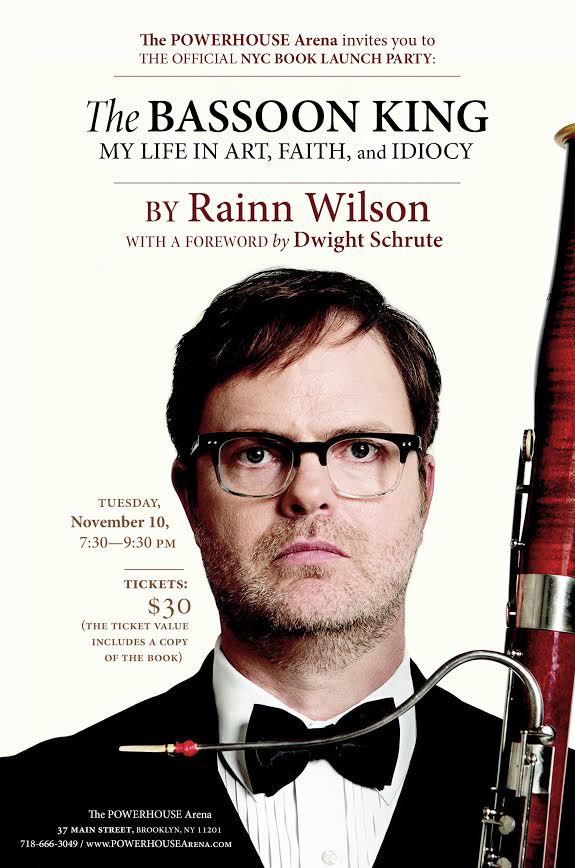 Tuesday Nov 10, 2015
7:30 pm - 9:30 pm
THE POWERHOUSE ARENA [Dumbo]
37 Main Street
Brooklyn, NY 11201
For more information, please call 718.666.3049
Tickets are $30 and can be purchased here. The ticket value includes a copy of the book. Book signing to follow.
Can't make it to the event? Pre-order a signed copy here.
---
Now for the first time, in a memoir at once fascinating, hilarious, and profound, Wilson chronicles his journey from drama geek, to his career-defining role as Dwight Schrute on The Office, and beyond.
About The Bassoon King:
Long celebrated for his quirky, comedic talent—particularly as everyone's favorite work nemesis and beet farmer Dwight Schrute on the blockbuster show The Office—Rainn is also known for being the founder of the popular website and media company Soulpancake.com, which went on to become a bestselling book of the same name, and among many other accomplishments, discovered and nurtured the internet phenomenon "Kid President."
From the very beginning, Rainn (the real first name given to him by his hippie parents) had well-established nerd cred—and not the commercially acceptable kind celebrated by today's entertainment industry. In school, he was a member of the chess team, Model United Nations, computer club, pottery club, and played bassoon in the orchestra—after his band teacher pulled a fast one and convinced Rainn it was cooler than playing the saxophone. Outside of school he played Dungeons and Dragons and attended NorWesCon, a yearly sci-fi convention in western Washington.
The Bassoon King chronicles Rainn's journey from nerd to drama geek, his years of mild debauchery and struggles as a young actor in the drug-fueled 1980's New York City, and how he landed the defining role of his career on The Office.  As soon as he was cast, Rainn knew he was about to receive "the worst haircut of my entire life"—and he knew the show had the potential to be huge.  The Bassoon King details his many adventures and insights behind the scenes of the show's epic nine-season run.
Rainn also opens up about becoming a husband and father ("of all the adventures Holiday and I have had, the most horrific and transcendent was the birth of our son Walter in 2004"), and finally, his achievement of success and satisfaction, both in his career and spiritually, reconnecting with the artistic and creative values of the Baha'i faith he grew up in.
The book also includes:
A hilarious forward written in the voice of Dwight Schrute

An explanation of Rainn's strange, and sometimes horrifying, history with the varmints of Nicaragua

A series of fun, witty lists, including A COMPENDIUM OF COMIC SIDEKICKS, SHITTY JOBS I HAVE WORKED, and OFFICE MEMORIES

Stories from the sets of

Almost Famous, Galaxy Quest,

and

Sahara

A section comparing British

Office

fans to U.S. fans

An invitation for readers to take the "10 Things I Know for Sure" challenge
A moving, provocative, and laugh-out-loud funny read, The Bassoon King is a unique memoir that will delight old and new fans alike.
About the Author and Moderator:
Rainn Wilson is best known for his Emmy-nominated role as Dwight Schrute on NBC's The Office. Wilson is equally well known by his 4.1 million plus Twitter followers and the philosophy website he founded, SoulPancake, which launched a New York Times bestselling book of the same name in 2010.
Josh Ritter has released several critically-acclaimed studio albums and has been named one of the 100 greatest living songwriters by Paste Magazine, alongside Dylan, Springsteen, and Neil Young.  Joan Baez has covered one of his songs; Stephen King named one of Ritter's albums the best of recent years and David Letterman has requested him three times, so far.   His new album is called Sermon on the Rocks.