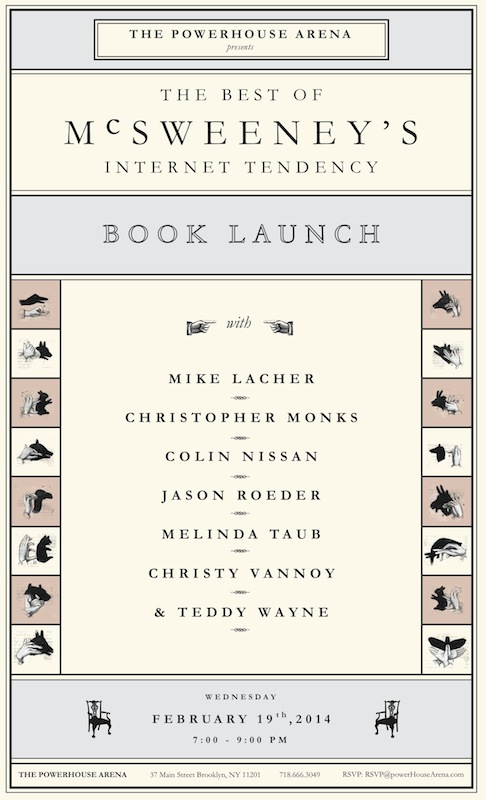 Wednesday Feb 19, 2014
7:00 pm - 9:00 pm
THE POWERHOUSE ARENA [Dumbo]
37 Main Street
Brooklyn, NY 11201
For more information, please call 718.666.3049
RSVP appreciated: RSVP@powerHouseArena.com
-or-
Please fill out the "Bookings" form at the bottom of this page.
---
From their hilarious lists, to spot-on social commentary, to bizarre rants, we've all shared something from McSweeney's Internet Tendency at some point. Now, see it live as various contributors share some of the website's funniest and most popular pieces from this decidedly physical, Wi-Fi-less collection
About The Best of McSweeney's Internet Tendency:
Back in 1998, the internet was young and wild and free. Along with listservs, pornography, and listservs dedicated to pornography, there was a website that ran all its articles in the same font and within abnormally narrow margins.
This site was called McSweeney's Internet Tendency, and many dozens of people read it. Now, fifteen years later, most of those readers have died, but the Tendency still exists, publishing, every day, quasi-humor writing in the same font within the same abnormally narrow margins. The site has no ads, and no revenue prospects, and thus, every year or so, we collect some of the site's better material and attempt to trick readers into paying for a curated, glued-together version of what is available online for free. This collection is the best and most brazen of such attempts. Please enjoy it, after you have paid for it.
About the Contributors:
Luke Burns lives and writes in New York City. You can read more of his writing at lukevburns.com. His work was also included in The McSweeney's Book of Politics and Musicals.
Kate Hahn is a journalist and humor writer in Los Angeles. She studied comedy at both Second City and Groundlings.
Mike Lacher is a writer and developer in New York City. You can find more of his work at mikelacher.com.
Christopher Monks edits McSweeney's Internet Tendency and is the author of the book The Ultimate Game Guide to Your Life.
Colin Nissan is a humor writer and regular contributor to McSweeney's Internet Tendency. He has also written for The New Yorker and is a headline contributor for The Onion. You can follow his writing @cnissan.
Jason Roeder is a writer for adultswim.com and a former senior writer for The Onion. He is also the author of the satirical self-help manual Oh, the Humanity!: A Gentle Guide to Social Interaction for the Feeble Young Introvert.
Melinda Taub is a writer in New York City. Her work has appeared in The Onion, Billy on the Street, and at the Upright Citizens Brigade. Her first novel, Still Star-Crossed, was published last summer. Follow her on Twitter @melindataub.
Christy Vannoy lives in New York City. Her writing has appeared on McSweeney's Internet Tendency and in The Best American Essays of 2011.
Teddy Wayne is the author of the novels The Love Song of Jonny Valentine and Kapitoil. A Whiting Writers' Award recipient, his work regularly appears in The New Yorker, The New York Times, and his McSweeney's column, "Teddy Wayne's Unpopular Proverbs."
---
For more information, please contact
Justin Levine
email: justin@powerhousearena.com
powerHouse Arena, 37 Main Street, Brooklyn, NY 11201
tel: 212-604-9074 x109
RSVP
Bookings are closed for this event.