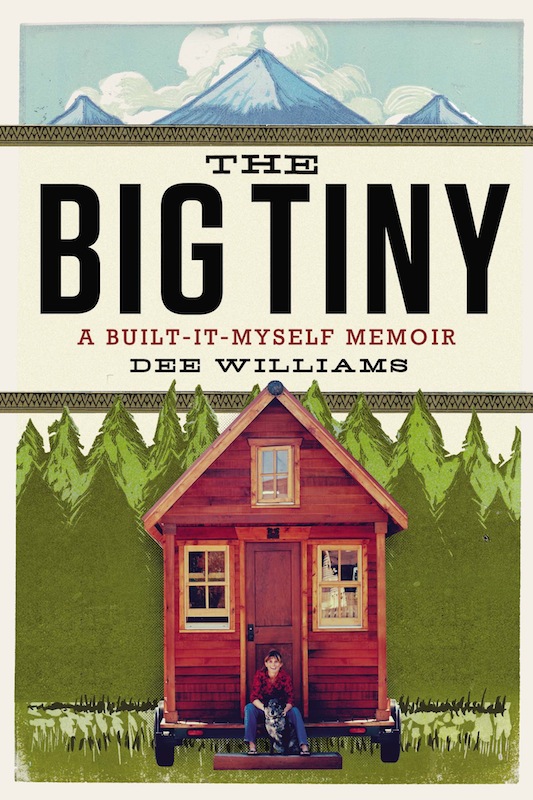 Wednesday Apr 23, 2014
7:00 pm - 9:00 pm
THE POWERHOUSE ARENA [Dumbo]
37 Main Street
Brooklyn, NY 11201
For more information, please call 718.666.3049
RSVP appreciated: RSVP@powerHouseArena.com
-or-
Please fill out the "Bookings" form at the bottom of this page.
---
How did Dee Williams figure out how to have monthly bills totaling only $8 dollars a month? Find out her simple secrets of The Big Tiny! The New Yorker's Alec Wilkinson joins Williams in conversation.
About The Big Tiny:
After a heart condition diagnosis ten years ago, a new sense of clarity took hold for Dee Williams. As she looked around her overpriced, oversized house, Williams thought: What was all this stuff for? So she downsized, building a new life in 84 square feet.  Now a pioneer in sustainable living and an accomplished teacher and lecturer on tiny house-building, Williams has achieved a happy balance and created a model for simple, sustainable, practical living.
THE BIG TINY is a touching personal memoir of a woman rebuilding her life from scratch, as well as an account of the DIY tiny house movement. From suburban properties to city apartments, and from HGTV to local communities across the country, people are rethinking what it means to be a homeowner and how to build sustainable lives for themselves and their families. Williams offers practical and philosophical guidance for aspiring tiny homeowners and for those just looking to have less stuff. (Williams can list all of her belongings on a single sheet of paper.)
Part how-to and part why-to, THE BIG TINY is a graceful and inspired meditation on what it means to build the good life and the right life.
About the Author and Moderator:
Dee Williams is a teacher and sustainability advocate. She is the co-owner of Portland Alternative Dwellings (www.padtinyhouses.com), where she leads workshops focused on tiny houses, green building, and community design. Her story has been featured on Good Morning America and NBC Nightly News, and on NPR, PBS, MSNBC, CNN, and CBC. She has also been profiled or featured in hundreds of online blogs and articles, and in print media including Time, The New York Times, and Der Spiegel. Williams lives in Olympia, Washington, with an overly ambitious Australian shepherd, in the shadow of the house of dear friends.
Alec Wilkinson began writing for The New Yorker in 1980. Before that he was a policeman in Wellfleet, Massachusetts, and before that he was a rock-and-roll musician. He has published nine other books in addition to The Ice Balloon – two memoirs, two collections of essays, three biographical portraits, and two pieces of reporting, most of which first appeared in The New Yorker. His honors include a Guggenheim Fellowship, a Lyndhurst Prize, and a Robert F. Kennedy Book Award. He lives with his wife and son in New York City.
---
For more information, please contact
Justin Levine
email: justin@powerhousearena.com
powerHouse Arena, 37 Main Street, Brooklyn, NY 11201
tel: 212-604-9074 x109
RSVP
Bookings are closed for this event.