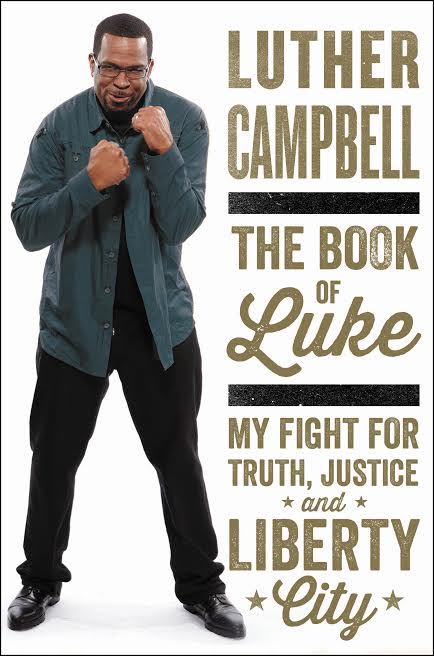 Wednesday Aug 05, 2015
7:00 pm - 9:00 pm
THE POWERHOUSE ARENA [Dumbo]
37 Main Street
Brooklyn, NY 11201
For more information, please call 718.666.3049
RSVP appreciated: RSVP@powerHouseArena.com
-or-
Please fill out the "Bookings" form at the bottom of this page.
---
At a time when our communities are under attack from police brutality, abysmal public education, and poverty, Luther's amazing life story The Book of Luke shows how one person can change a community and a country.
About The Book of Luke:
You may think rapper Luther Campbell (formerly of 2 Live Crew) is the kind of guy you would find in a dance club or on a crazy reality show. But the truth is that these days, he is likely to be found coaching football to inner-city kids, or at a city council meeting, fighting to get more funding for education, housing, or youth programs.
It may be surprising to some, but Luther has been fighting for justice for himself and others his entire life.  Born in Miami's notorious Liberty City neighborhood, Luther saw poverty, despair, and crime firsthand. His Uncle Ricky didn't want him to get trapped by the "invisible chains" of systemic racism, and schooled him on the necessity of a man "owning his own ass"—controlling his own livelihood and owning property (land and/or home).
Embracing this line of thinking, Luther discovered his gift for entrepreneurship. Starting out in a shed in his mom's backyard, he built a multi-million dollar company, Luke Records, which was the first hip hop music label. As a rapper on his own label, Luther became known as the "King of Dirty Rap" who pioneered the worldwide phenomenon known as the Miami Bass sound. While Luther and his fans saw his music as wildly funny, not obscene, his popularity infuriated the establishment, and Luke became Public Enemy #1 when hip hop crossed the color line into white America. Luther spent over a million dollars of his own money fighting cops and prosecutors all the way to the Supreme Court to protect his—and every other artist's—right to free speech, setting landmark legal precedents that continue to shape the entertainment industry today.
Twenty years later, this one time King of Dirty Rap is better known as "Coach" to Miami high school students, and leads his players to state and national championships on the gridiron. He is a columnist for the Miami New Times, where he holds politicians accountable for their silence on important issues. He has even run for mayor of Miami on those same issues. Luther Campbell has taken his fame and fortune and returned to the streets of Liberty City, where he works tirelessly every day to save young men from the street corners. And The Book of Luke is a passionate call to action for us all to embrace community and never give up the fight for justice. I hope you'll strongly consider introducing this book to your audience.
About the Author:
Luther Campbell is a record label owner and rap artist. He was the leader of 2 Live Crew, whose music was at the center of landmark Supreme Court decisions. Campbell still mentors in Liberty City, Miami, and coaches with his Liberty City Optimist Program. He has coached football at Miami Central and Miami Northwest—one of the top football schools in the country—and now coaches at Miami Norland High School.
RSVP
Bookings are closed for this event.