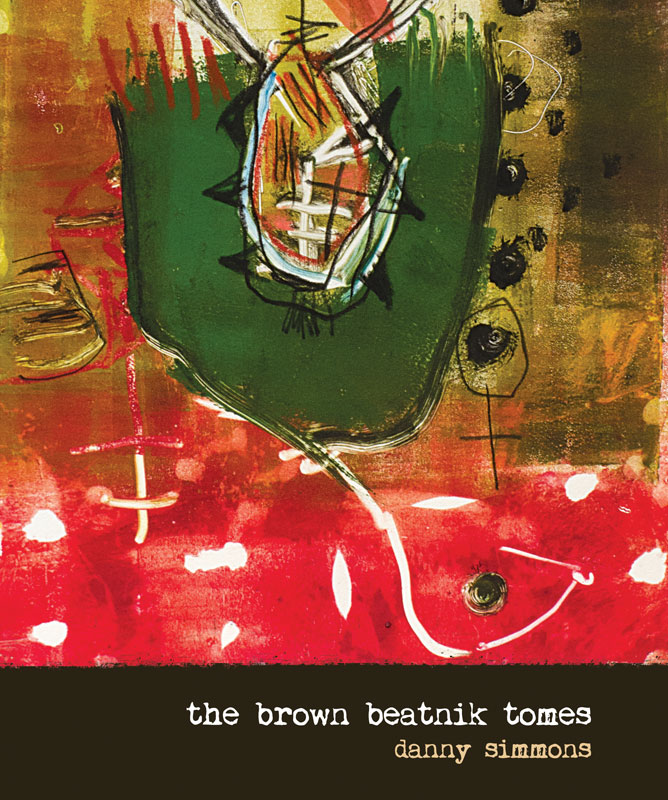 Thursday Jun 26, 2014
7:00 pm - 9:00 pm
THE POWERHOUSE ARENA [Dumbo]
37 Main Street
Brooklyn, NY 11201
For more information, please call 718.666.3049
RSVP appreciated: RSVP@powerHouseArena.com
-or-
Please fill out the "Bookings" form at the bottom of this page.
---
This unique spiral bound collection features the artist/poet's strikingly powerful prose and neo-African Abstract Expressionist paintings. Ron Carter will play bass to accompany the reading.
About The Brown Beatnik Tomes:
"Danny has captured a world that easily could have been lost forever, a world of conked hair, pointy toed boots, nickel bags, baby blue suits and red light parties…A world where it wouldn't be strange to dream you saw, "Bob Dylan pay homage to an effigy of Leroi Jones on burning Newark streets rattling a necklace of harmonicas at passengers on slave ships roaring streets of history buck dancing for loose change selling lines of tomes for pittance sake." -Russell Simmons
In the tradition of Romare Bearden and Langston Hughes, KMW studio publishing is proud to present The Brown Beatnik Tomes, a unique spiral bound collection of strikingly powerful prose and neo-African Abstract Expressionist paintings from artist and poet Danny Simmons.
The Brown Beatnik Tomes is a harmonious blend of Simmons' voice and vision. His words are gritty and startlingly real, juxtaposed with the vivid colors of his paintings, creating a world that is completely fresh and original, yet reminiscent of an era past.
This is Simmons' third volume of art and poetry, his most wide reaching and multi-disciplined project to date.
About the Author:
Danny Simmons is a contemporary abstract-expressionist artist, poet and author from Queens, NY. His art work can be seen all over the world in such prominent establishments as Chase Manhattan Bank, The Smithsonian, the United Nations, Deutsche Bank collection and more.
Among the most impressive artists of his day, The New York Times says that he "injects freshness" into his abstracts, and that they are "meticulously rendered and decoratively impressive."
Simmons is also an author of six books of art, poetry and fiction. He conceived of and co-produced the hit HBO series Def Poetry Jam, which made such an impact that Def Poetry is now offered as an elective at the University of Wisconsin, and won Simmons a Tony Award for the Broadway version of the show.
Co-founder – along with his siblings, music mogul Russell, and hip hop legend Joseph Simmons aka "Rev Run" – and president of the Rush Arts Gallery, Simmons is also founder and VP of the Rush Philanthropic Arts Foundation, a 501(c)3 organization "dedicated to providing disadvantaged urban youth with significant arts exposure and access to the arts," as well as a former board member of the Brooklyn Museum, the Brooklyn Public Library, the New York Foundation for the Arts, and the National Conference of Artists.
Danny Simmons holds a Bachelor's degree in social work from New York University, a Masters in public finance from Long Island University, and is the recipient of an honorary PhD from Long Island University. Simmons sits on the Boards of Long Island University, Brooklyn Academy of Music, Brooklyn Bridge Park National Conference of Artists, Hampton University Museum and remains an adviser to the Brooklyn Museum.
He currently lives in Brooklyn, NY.
---
For more information, please contact
Hal Hlavinka
email: hal@powerhousearena.com
powerHouse Arena, 37 Main Street, Brooklyn, NY 11201
tel: 212-604-9074 x109
RSVP
Bookings are closed for this event.