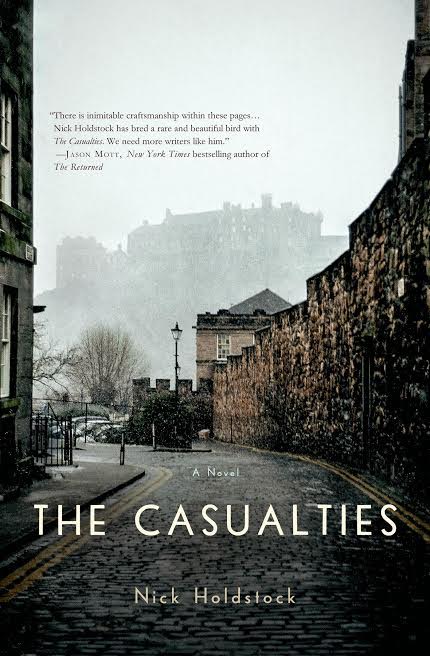 Thursday Sep 03, 2015
7:00 pm - 9:00 pm
THE POWERHOUSE ARENA [Dumbo]
37 Main Street
Brooklyn, NY 11201
For more information, please call 718.666.3049
RSVP appreciated: RSVP@powerHouseArena.com
-or-
Please fill out the "Bookings" form at the bottom of this page.
---
In this ambitious debut novel, Holdstock explores how we see our past, our possible futures and ourselves. He asks the biggest question: How can we be saved?
About The Casualties:
With the release of his debut novel, The Casualties Nick Holdstock puts an entirely new spin on the post-apocalyptic novel. What if, instead of picking up after the rapture has already happened, the story leads up to the exact moment it occurs? Holdstock paints a piercing portrait of beautifully flawed characters as they unknowingly approach their last days. Told by an unnamed narrator from a drastically changed future, The Casualties reflects on a rich menagerie of remarkable eccentrics whose everyday struggles and triumphs are rendered deeply poignant with the knowledge that their quaint neighborhood in Edinburgh is barreling towards its doom.
This ambitious debut will remind readers of Elizabeth Strout's Olive Kitteridge with a speculative twist in the vein of Tom Perrotta's The Leftovers. Samuel Clark manages a bookstore, thriving not on the books he sells but on the ephemera he finds therein. His true interest lies in people and their secrets. There's Caitlin, who keeps the shop next door and is withdrawn and self-conscious due to a skin disorder. Alastair who lives under the bridge and offers unwanted advice to all who pass, but he can't remember who he is. Sinead, a sex addict and Toby, a morbidly obese adult-child. Fahad who owns a small grocery. They all believe, as people do, that there is plenty of time to solve their problems, confess their loves, make that change. But unbeknownst to them, on August 2, 2017 time will be up.
Holdstock interweaves bits of this fictional version of Edinburgh – photos, letters, and charts – throughout the narrative to help explore how we see ourselves, our past, and our possible futures. An unflinching look at today's ills, The Casualties asks the most important question: How can we be saved?
About the Authors and Moderator:
Nick Holdstock's fiction and essays have appeared in many US and UK publications, including The London Review of Books, The Southern Review, n+1, Dissent, Vice, and Los Angeles Review of Books. He is the author of The Tree That Bleeds (Luath Press Ltd 2011), a book about China's Xinjiang province, and the forthcoming nonfiction book, China's Forgotten People. In 2012 he was awarded a Robert Louis Stevenson Fellowship for fiction. He lives in Edinburgh.
Danniel Schoonebeek's first book of poems, American Barricade, was published by YesYes Books in 2014. A chapbook, Family Album, was released by Poor Claudia in 2013, and an EP of recorded poems, Trench Mouth, is also available from Black Cake Records. His work has appeared in Poetry, Tin House, Boston Review, Fence, BOMB, Indiana Review, jubilat, Denver Quarterly, and elsewhere. He writes a column on poetry for The American Reader, hosts the Hatchet Job reading series, and edits the PEN Poetry Series.
Antonio Aiello is the Content Director and Web Editor for PEN American Center. In 2015, Aiello founded Passages, the quarterly translation chapbook series that publishes contemporary writing from countries and regions around the world where PEN has active advocacy campaigns. Aiello also directs PEN's digitization and archival project. Before joining PEN, Aiello was the lead multimedia designer for ABC.com. His stories and essays have appeared in/on the Literary Hub, The Carolina Quarterly, Alimentum,Anderbo.com, RevolvingFloor, and Natural Home Garden, among other publications.
RSVP
Bookings are closed for this event.