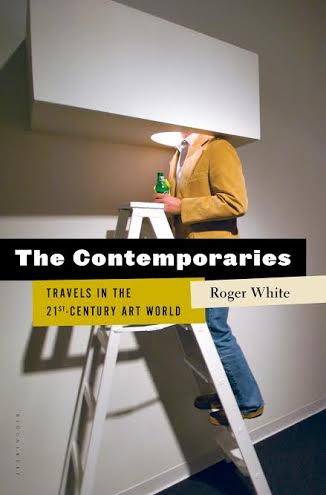 Tuesday Mar 03, 2015
7:00 pm - 9:00 pm
THE POWERHOUSE ARENA [Dumbo]
37 Main Street
Brooklyn, NY 11201
For more information, please call 718.666.3049
RSVP appreciated: RSVP@powerHouseArena.com
-or-
Please fill out the "Bookings" form at the bottom of this page.
---
Artist Roger White guides us through the world of contemporary art and grapples with a few burning questions: how does art get made, who decides what art is art, and will these artists ever be remembered?
About The Contemporaries:
"In this revealing book, White, artist and cofounder of the art journal Paper Monument, takes the pulse of the contemporary U.S. art industry and explores the 'profound tensions within the whole churning apparatus'… his narrative insightfully interprets the history of art education, revealing connections between the art studios of the Renaissance and those of today." —Publishers Weekly
Almost everyone has an opinion when they look at a piece of art. Maybe they see a painting as a masterpiece of color; maybe they see it as a nonsensical cacophony of color. But few people realize that there is no better way to understand art than through the artists and the tides of their communities. While the contemporary art market is surging forward again, with multiplying audiences, it is also diverging with various forms of art work, art careers, and art scenes.
In The Contemporaries: Travels in the 21st Century Art World, painter, critic, and co-editor of the hipster art bible Paper Monument, Roger White maps today's art scene in an exuberant, but discerning manner. White takes us through the halls of RISD, where art drives discourse and vice versa; to New York, to pull back the curtain on the strange economy of art assistantship; to Milwaukee, to see a group of young artists trying to envision the possibilities of a local scene.
White also gives comprehensive portraits on three select artists, whose careers reveal true variations in today's art world: the emerging star who's reinvigorating painting; the former conceptual wunderkind who has either drastically limited or expanded his ambitions, depending on who you ask; and the roving artist who sits on the edge of feminist art and social practice, but firmly outside the market.
The Contemporaries conveys what artists are thinking and making this minute, and the multiple meanings and possibilities of the "contemporary" in contemporary art.
About the Author and Moderator:
Roger White splits his time between Middlebury, Vermont and Brooklyn, New York. He received an MFA in painting from Columbia University. His work is represented by the Rachel Uffner Gallery in New York, and he has exhibited his paintings in New York, Los Angeles, Chicago, and Tokyo. He co-founded the art journal Paper Monument, and has co-edited two Paper Monument pamphlets: I Like Your Work and Draw It With Your Eyes Closed.
Prem Krishnamurthy is a New York-based designer and curator. He is a founder of design studio Project Projects, which is a two-time finalist for the Cooper Hewitt Museum's National Design Awards. Prem is also the Associate Editor of the art journal Paper Monument and serves on the Board of Directors of the online journal Triple Canopy.
RSVP
Bookings are closed for this event.