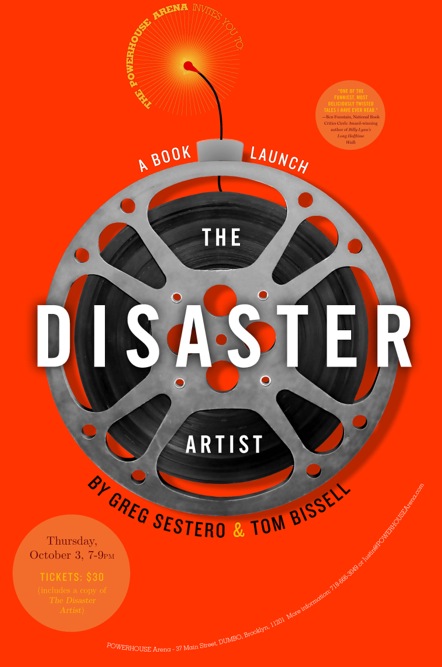 Thursday Oct 03, 2013
7:00 pm - 9:00 pm
THE POWERHOUSE ARENA [Dumbo]
37 Main Street
Brooklyn, NY 11201
For more information, please call 718.666.3049
Tickets: $30 (includes copy of The Disaster Artist)
Available for purchase here.
PLEASE NOTE: Tickets are no longer available for purchase online. A select number of tickets will be available for purchase in-store before the event. Doors will open at 6:30. 
---
Actor/writer Greg Sestero recounts his experience of working with Tommy Wiseau on The Room, the film that went from box office failure to nationwide cult phenomenon. The author will discuss his revealing, open-hearted memoir with co-author Tom Bissell, who also profiled the film for Harper's. The program will also feature clips from The Room as well as exclusive interview footage shot by Sestero. Tickets are $30 and include a copy of The Disaster Artist.
About THE DISASTER ARTIST:
In 2003, an independent film called The Room—written, produced, directed, and starring a very rich social misfit of indeterminate age and origin named Tommy Wiseau—made its disastrous debut in Los Angeles. Described by one reviewer as "like getting stabbed in the head," the $6 million film earned a grand total of $1,800 at the box office and closed after two weeks. Now in its tenth anniversary year, The Room is an international phenomenon to rival The Rocky Horror Picture Show. Thousands of fans wait in line for hours to attend screenings complete with costumes, audience rituals, merchandising, and thousands of plastic spoons.
Readers need not have seen The Room to appreciate its costar Greg Sestero's account of how Tommy Wiseau defied every law of artistry, business, and interpersonal relationships to achieve the dream only he could love. While it does unravel mysteries for fans—who on earth is "Steven," and what's with that hospital on Guerrero Street?—The Disaster Artist is more than just a hilarious story about cinematic hubris. It is ultimately a surprisingly inspiring tour de force that reads like a page-turning novel, an open-hearted portrait of an enigmatic man who will capture your heart.
About the Authors:
Greg Sestero is a French-American actor, producer, and writer. He costarred in the cult phenomenon The Room.
Tom Bissell is the author of several books and a winner of the Rome Prize and a Guggenheim Fellowship. He writes frequently for Harper's and The New Yorker.
---
For more information, please contact
Justin Levine
email: justin@powerhousearena.com
powerHouse Arena, 37 Main Street, Brooklyn, NY 11201
tel: 212-604-9074 x109