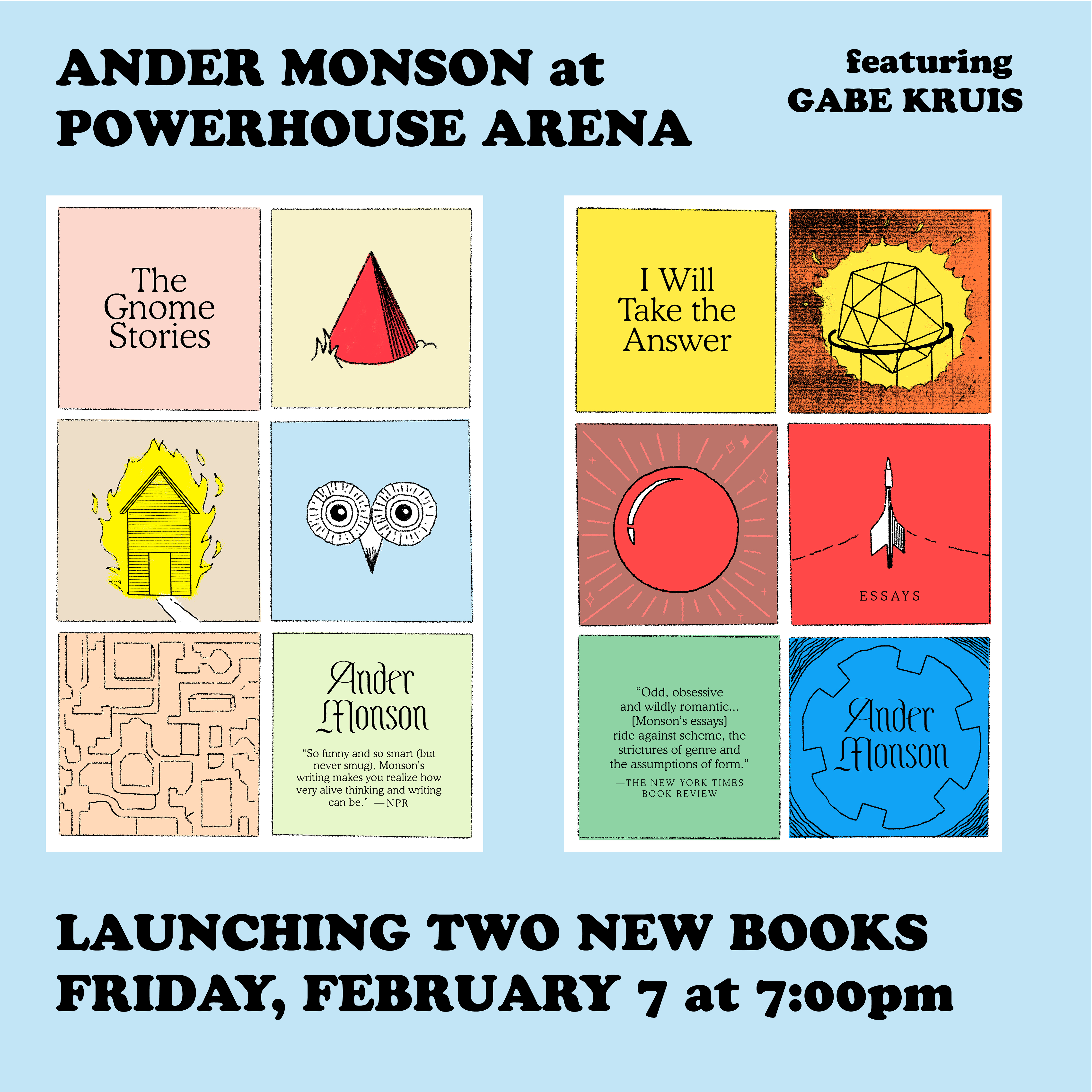 Friday Feb 07, 2020
7:00 pm - 9:00 pm
POWERHOUSE @ the Archway
28 Adams Street (Corner of Adams & Water Street @ the Archway)
Brooklyn , NY 11201
RSVP encouraged & appreciated.
Please fill out the form at the bottom of this page if you plan on attending. Facebook event found here.
PLEASE NOTE: Submitting an RSVP for this event DOES NOT guarantee entrance. This is a free-access event — entrance will be on a first-come, first-served basis.
---
About the Books.
In The Gnome Stories, Ander Monson presents eleven unforgettable stories about oddly American situations. His characters are loners in the truest sense; in the process of recovering from mental, physical, or emotional trauma; finding solace—or at least a sense of purpose—in peculiar jobs and pursuits. A man whose wife has left him is robbed, so he decides to start doing his own breaking and entering into his neighbors' homes. When another man's girlfriend is cryogenically frozen by her family after a car accident, he becomes a maintenance worker at the cryogenic facility, eavesdropping on visitors as they whisper secrets to their frozen loved ones. A woman serves as an assistant to the Starvationist, whose methods to help clients lose large amounts of weight are unorthodox, sadistic—and utterly failproof. Another woman and her robot assistant have been hired to tinker with the troubling memories inside a celebrity's brain. Monson's Gnome Stories are as surreal as an urban legend and at the same time perfectly mundane.
In I Will Take the Answer, Ander Monson's fourth book of utterly original and intelligent essays, Monson grapples deeply with the idea of connection. In the opening essay, which extends across the book in brief subsequent pieces, a trip through a storm sewer in Tucson inspires Monson to trace the city's relationship to Jared Lee Loughner, the gunman who shot Gabrielle Giffords and killed six bystanders, along with how violence is produced and how we grieve and honor the dead. With the formally inventive "I in River," he ruminates on water in a waterless city and the structures we use to attempt to contain and control it. Monson also visits the exuberantly nerdy kingdom of a Renaissance Faire, and elaborates on the enduring appeal of sad songs through the lens of March Sadness, an online competition that he cofounded, an engaging riff on the NCAA basketball tournament brackets in which sad songs replace teams.As personal and idiosyncratic as the best mixtape, I Will Take the Answer showcases Monson's deep thinking and broad-ranging interests, his sly wit, his soft spot for heavy metal, and his ability to tunnel deeply into the odd and revealing, sometimes subterranean, worlds of American life.
About The Author.
Ander Monson is the author of Letter to a Future Lover and Vanishing Point, a finalist for the National Book Critics Circle Award, as well as the collection The Gnome Stories. He lives in Tucson, where he teaches at the University of Arizona.
About The Moderator.
Gabriel Kruis is a New Mexican poet and educator living and writing in Brooklyn. His work has been published in the PEN America Poetry Series, OmniVerse, The Brooklyn Rail, Atlas Review, Frontier Poetry, Southword, and Poor Claudia, among others. He is a cofounder of Wendy's Subway and was a 2018-2019 fellow at the Fine Arts Work Center in Provincetown. His book Acid Virga is forthcoming from Archway Editions, an imprint of powerHouse Books.
RSVP
Bookings are closed for this event.