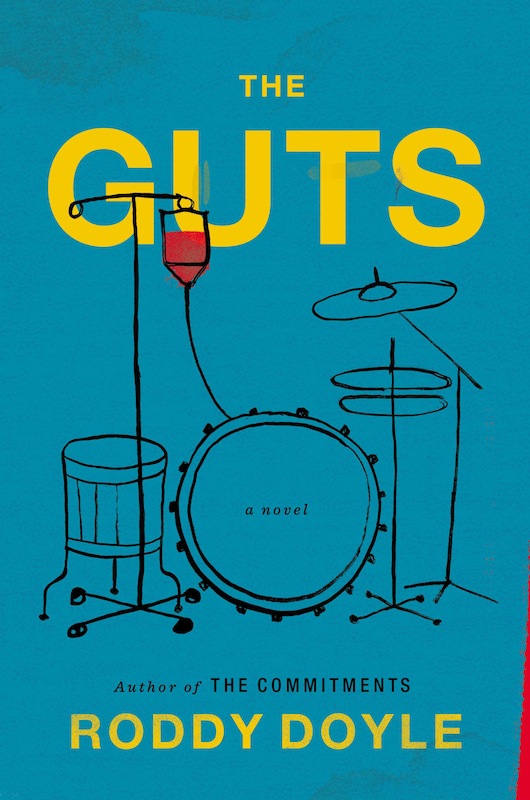 Wednesday Feb 05, 2014
7:00 pm - 9:00 pm
THE POWERHOUSE ARENA [Dumbo]
37 Main Street
Brooklyn, NY 11201
For more information, please call 718.666.3049
RSVP appreciated: RSVP@powerHouseArena.com
-or-
Please fill out the "Bookings" form at the bottom of this page.
---
Booker Prize-winning author Roddy Doyle brings back Jimmy Rabbitte of The Commitments for his latest, triumphant novel! This program is being co-sponsored by the Irish Arts Center.
About THE GUTS:
More than twenty years after his debut as a fiction writer, Booker Prize-winning author Roddy Doyle returns to the man who started it all: Jimmy Rabbitte. THE GUTS  is a triumphant follow-up to Doyle's beloved first novel, The Commitments—which opened this past October as a musical on London's West End.
In the 1980s Jimmy Rabbitte invented the Commitments, a band of ragtag working class Irish youths determined to bring soul music to Dublin. In 2012, Rabbitte is forty-seven and has a happy marriage, the love of his four children, and, as we learn as the novel opens, bowel cancer. The diagnosis leaves him feeling shattered and frightened. He isn't dying, he thinks, but he might be. Deciding to live more in the moment, Jimmy tracks down his long-lost brother, Leslie, learns to play the trumpet, reconnects with his children, and on the way runs into Commitments guitarist Liam "Outspan" Foster—whose own cancer is terminal—and the ever-alluring Imelda Quirk, the band's former backup vocalist.
This may be a text-sending, Facebook-using, modern day Jimmy Rabbitte, but some things never change. Jimmy still loves his music, and he still loves to hustle. He's built a fairly successful business in kelticpunk.com, where fans pay for singles and albums of the old Irish bands Rabbitte has tracked down and set up with reunion gigs across the country. He can't escape the recession however, or the fact that most people now pirate their music collections, and in an effort to save his business he embarks upon a quest to resurrect Ireland's lost soul past, which climaxes with Jimmy, Outspan, Leslie, and Jimmy's trumpet instructor Des camping out at the Electric Picnic Rock Festival, watching Sigur Rós, Grizzly Bear, and Jimmy's son Marvin's band Moanin' at Midnight. The band is pretending to be Bulgarian and playing a song called "I'm Going to Hell," which supposedly hasn't been heard since 1932.Why? You'll have to read THE GUTS to find out.
Doyle's distinct wit and unique talent for lively, authentic dialogue has never been sharper in this humorous, tender exploration of family and friendship, of middle-age and masculinity, of facing death and opting for life. There is a lot of heart in THE GUTS, and—as can be counted on whenever Jimmy Rabbitte is involved—plenty of soul.
About the Author:
RODDY DOYLE is the author of nine novels, two short story collections, and a nonfiction book. In 1993 he won the Booker Prize for his novel Paddy Clarke Ha Ha Ha. His 1991 novel, The Van, was a Booker Prize finalist. He lives in Dublin.
About the co-sponsor:
Founded in 1972, Irish Arts Center is a New York-based arts and cultural center dedicated to projecting a dynamic image of Ireland and Irish America for the 21st century, building community with artists and audiences of all backgrounds, forging and strengthening cross-cultural partnerships, and preserving the evolving stories and traditions of Irish culture for generations to come.
Our multi-disciplinary programming is centered around three core areas: performance – including live music, dance, theatre, film, literature, and the humanities; exhibition – including visual arts presentations and cultural exhibitions that tell the evolving Irish story; and education – with dozens of classes per week in Irish language, history, music, and dance.
Located in New York City, a global capital of arts and culture, Irish Arts Center serves as a dynamic platform for top emerging and established artists and cultural creators to reach a New York, national, and global audience, and as a gateway for other institutions to access first-rate Irish and Irish American culture.
---
For more information, please contact
Justin Levine
email: justin@powerhousearena.com
powerHouse Arena, 37 Main Street, Brooklyn, NY 11201
tel: 212-604-9074 x109
RSVP
Bookings are closed for this event.