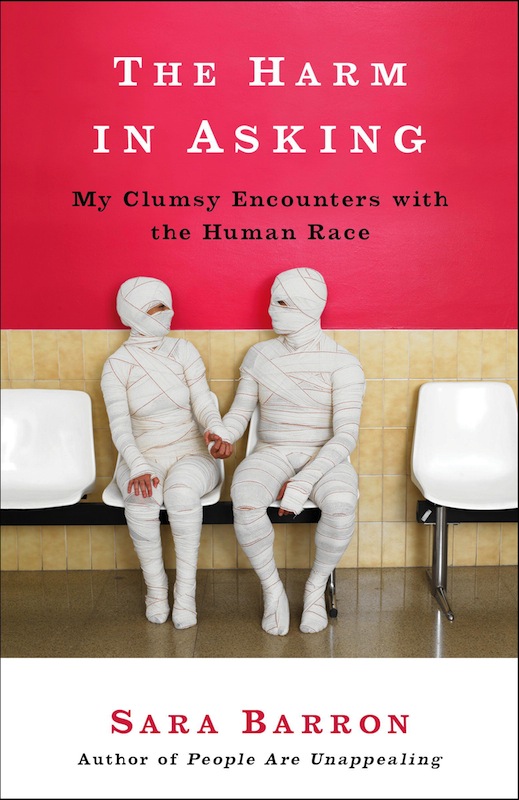 Wednesday Mar 26, 2014
7:00 pm - 9:00 pm
THE POWERHOUSE ARENA [Dumbo]
37 Main Street
Brooklyn, NY 11201
For more information, please call 718.666.3049
RSVP appreciated: RSVP@powerHouseArena.com
-or-
Please fill out the "Bookings" form at the bottom of this page.
---
A follow-up to her acclaimed collection, People Are Unappealing, the hilarious essayist and stand-up comic, and former Moth host, addresses the perils of dating, the indignities of female hair loss, and life's various mortifications in her latest collection.
About The Harm in Asking:
Sara Barron would like you to know that she is Complex of Character. She has Suffered and Endured. A broken ankle, a crippling passion for beef jerky, a romantic rendezvous at the 42nd Street Chipotle—you name it, she's been through it all. Now the author of People Are Unappealing is back and baring it all in a brand new collection of hilarious essays entitled THE HARM IN ASKING: My Clumsy Encounters with the Human Race.
Author Sloane Crosley called Barron's first book, "A wickedly funny and dirty treasure trove of modern day oddballs," and The Los Angeles Times said, "Sara Barron's essays….are, dare we say it, as funny as David Sedaris's…When you aren't squirming, you're laughing out loud." The perfect blend of humor and humiliation, Barron's delightfully cringe-inducing stories are hard to stomach—but even harder to resist.
Now with her new book, THE HARM IN ASKING, Barron tackles life's difficult questions. What happens when your Polish housekeeper catches you with your pants down…and talking to your imaginary friends? Was washing your elderly roommate's back part of the lease agreement? And is it a hazard to bike and belt Liz Phair at the same time? Whether she's writing about feeding her imaginary bulldog or being propositioned by a male escort, Barron is fiercely witty and unflinchingly self-aware. Life's indignities, embarrassments, and missteps have never been funnier.
THE HARM IN ASKING explores the absurdities of the human condition, with occasionally raunchy, often mortifying, and always entertaining results. Through tales of her quirky childhood and haphazard adulthood, Sara Barron reminds us that it's important to laugh at your mistakes—because there's always someone else laughing harder.
About the Author:
Sara Barron's work has appeared in Vanity Fair, on Showtime's This American Life, NPR's Weekend Edition, Today, and at HBO's Comedy Festival in Aspen, Colorado.
---
For more information, please contact
Justin Levine
email: justin@powerhousearena.com
powerHouse Arena, 37 Main Street, Brooklyn, NY 11201
tel: 212-604-9074 x109
RSVP
Bookings are closed for this event.