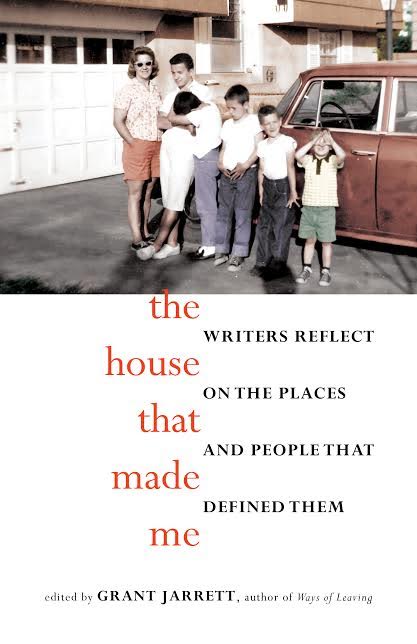 Tuesday May 10, 2016
7:00 pm - 9:00 pm
THE POWERHOUSE ARENA [Dumbo]
37 Main Street
Brooklyn, NY 11201
For more information, please call 718.666.3049
RSVP appreciated: RSVP@powerHouseArena.com
-or-
Please fill out the "Bookings" form at the bottom of this page.
---
Acclaimed authors reflect on the concept of home and the experiences that helped shape them and their work.
About The House that Made Me:
Home— the place where we are born, where our first dreams were realized or reluctantly discarded, where family was defined. The very notion evokes powerful feelings, feelings as individual as our fingerprints, as enduring as the universe and as inescapable as gravity. In this candid, evocative collection of essays, a diverse group of acclaimed authors reflect on the homes, neighborhoods, and experiences that helped shape them. Moving and life-affirming, this poignant anthology gives fresh insight into the concept of Home. This anthology includes 19 essays by an array of award-winning authors, including Jeffery Renard Allen, Alice Eve Cohen, Pamela Erens, Ru Freeman, Roy Kesey, Porochista Khakpour, Tim Johnston, Paul McVeigh, Ellen Meister, Julie Metz, Jen Michalski, Laura Miller, Justine Musk, Kris Radish, Meg Tuite, Lee Upton, and Patricia Jabbeh Wesley.
---
About the Editor and Contributors:
Grant Jarrett grew up in Northwestern Pennsylvania and currently lives in Manhattan, where he works as a writer, musician, and songwriter. He has written for magazines including FOW and Triathlon, and is the author of More Towels and an International Book Awards Winner for his latest novel Ways of Leaving. He is an avid cyclist and a reasonably competent flosser. Connect with Grant at www.grantjarrett.com
Alice Eve Cohen— Alice Eve Cohen is a playwright, solo theatre artist, and award- winning author of two memoirs, The Year My Mother Came Back and What I Thought I Knew, which was winner of theElle Magazine Literary Grand Prix for Nonfiction, O: the Oprah Magazine's 25 Best Books of Summer, and Salon's Best Books of the Year. Cohen has written for Nickelodeon & CTW and has toured her solo plays internationally. She received a B.A. from Princeton and an M.F.A. from The New School. She teaches playwriting and creative writing at The New School.
Porochista Khakpour— Porochista Khakpour is a novelist, essayist, journalist, and pro-fessor. She is the author of the forthcoming memoir Sick (Harper- Perennial, 2017) and the novels The Last Illusion(Bloomsbury, 2014)—a 2014 "Best Book of the Year" according to NPR, Kirkus, Buzzfeed, Popmatters, Electric Literature, and more—and Sons and Other Flammable Objects (Grove, 2007), which was the 2007 California Book Award winner in "First Fiction," one of the Chicago Tribune's "Fall's Best," and a New York Times "Editor's Choice." Born in Tehran and raised in Los Angeles, she lives in New York City.
Julie Metz— Julie Metz is the author of Perfection, a New York Times bestseller and a Barnes & Noble Discover New Writers Selection. In addition to her work as a graphic designer for Sparkpoint, she has written on a variety of women's issues for publications such as The New York Times, Salon, Dame, Redbook, Huffington Post, Glamour, Coastal Living, and mrbellersneighborhood.com. A born and raised New Yorker, she currently lives and works in the Hudson River Valley. You can find out more at: www.juliemetz.com.
Jeffery Renard Allen— Jeffery Renard Allen is Professor of Creative Writing at the University of Virginia. Allen is the author of five books, most recently the novel Song of the Shank (Graywolf Press, 2014), which is loosely based on the life of Blind Tom, a nineteenth- century African-American piano virtuoso and composer who was the first African-American to perform at the White House. The novel was a finalist for the IMPAC Award, and featured as the front-page review of both The New York Times Book Review and San Francisco Chronicle. Allen has received other accolades for his work, including a Whiting Writers' Award, a grant in Innovative Literature from Creative Capital, and most recently a Guggenheim Fellowship. His website is www.jeeryrenardallen.com.
RSVP
Bookings are closed for this event.