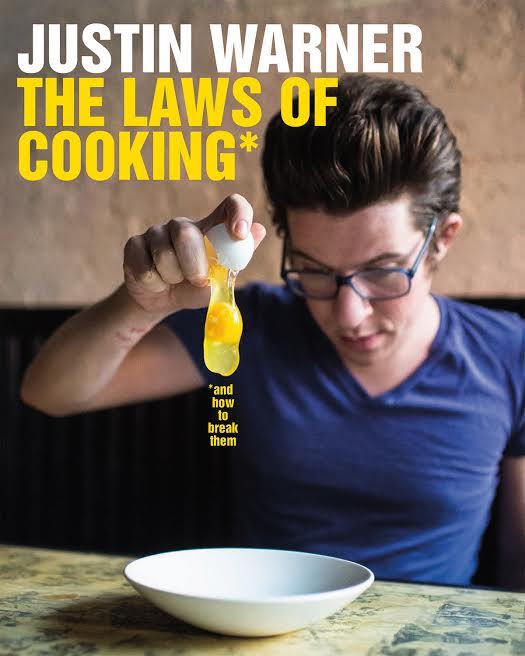 Thursday Oct 15, 2015
7:00 pm - 9:00 pm
THE POWERHOUSE ARENA [Dumbo]
37 Main Street
Brooklyn, NY 11201
For more information, please call 718.666.3049
RSVP appreciated: RSVP@powerHouseArena.com
-or-
Please fill out the "Bookings" form at the bottom of this page.
---
This all-star chef explains his unique ideas about "flavor theory" and demonstrates his philosophy in 110 inventive recipes.
About The Laws of Cooking…And How to Break Them:
"Warner's focus is on the food, and encouraging readers to stretch their palates and skills to create something truly unique. This is a refreshingly new take from an author to watch."
– Publishers Weekly, starred review
In his first cookbook, The Laws of Cooking…and How to Break Them, cutting-edge chef and Food Network star Justin Warner shows how he has reduced all of cooking to eleven basic (yet surprising) laws that lay the groundwork for creating amazing recipes, each and every time. Justin's book encourages improvisation and creativity in the kitchen, all while explaining the "flavor theory" of why certain flavors combine so magically together.
It was Justin's brainy kitchen confidence that made a lasting impression on Alton Brown, the brilliant and beloved Food Network personality. As Alton writes in the book's foreword, "The Laws of Cooking…and How to Break Them is exactly what I expected…the unexpected." From its playful but totally rational organization (by Law rather than simply ingredient or course) to its playfully mouthwatering images by acclaimed food photographer Daniel Krieger to Justin's prose-like recipes, stories, and explanations, this is a cookbook unlike any other.
In the process of writing his book, Justin researched, tested, and pulled apart some of our most classic and beloved food combinations in order to devise his foolproof flavor systems, which he dubbed the "Laws of Cooking." Justin says, "As with Legos, Social Security, and the Genetic Sequence, there is a system that governs what makes food tasty." He goes on to explain, "We know that rich, salty peanut butter (a fat) is complemented by grape jelly (sweet and fruity), and the combination is best experienced when spread evenly between two pieces of bread (the canvas). This primal truth is the Law of PB&J."
This clever and highly-cultivated cooking philosophy is what led to Justin's final culinary magnum opus: the eleven laws of cooking. Each of his eleven laws are aptly named after a classic dish we all know and love – "Law of Pesto" (herbs meet fat), "Law of General Tso's Chicken" (spicy meets sweet), "Law of Lemonade" (sour meets sweet), and the "Law of Cheese Fries" (sharp meets mellow), to name a few.
Each chapter features dishes that embody the magic that happens when each flavor law is at play. That "Law of Peanut Butter and Jelly" (fat meets fruit) translates to Arugula Salad with Pan-Roasted Duck Breast & Figs or Justin's famous Foie Gras Doughnuts. And the "Law of Coffee, Cream, and Sugar" (bitter meets fat and sweet) is used to temper and manipulate the bitter taste in some foods, which leads to well-balanced dishes like an Endive Gratin with Tallegio and Raisins, and Coffee-Rubbed Flank Steak with Cauliflower Puree.
In addition to the brilliantly conceived dishes in each chapter, The Laws of Cooking…and How to Break Them is a standout cookbook thanks to Justin's distinct and humor-inflected voice, his quirky illustrations, and how he lays out each recipe with what gear you'll need, how to plate the finished dish, suggestions for breaking the rules with tasty variations, and tricks for stepping up your game in the kitchen.
Looking to add something savory to the sour meets sweet Lime Zest French Toast Sticks? Take Justin's advice and use leftover jerk chicken from a previous recipe to assemble an epic Jerk French toast sandwich. If you want to add even more oomph to Justin's recipe for Banana Split for Sophisticates, "Step Your Game Up" with Justin's hack for making sparkling ginger whipped cream by charging your cream whipper with both CO2 and N2O cartridges.
It's without a doubt that Justin Warner is on the rise as one of the culinary scene's most distinguished personalities. His first book, The Laws of Cooking…and How to Break Them, is a look inside the trailblazer's head, and why thinking outside the box is the only way Justin knows how to cook. It's Justin's uncommon approach to cooking that also inspired Alton Brown to write, "This kid has a touch of a Mozart, a kind of crazy genius that doesn't come around very often."
About the Author and Moderator:
Justin Warner is the winner of the eighth season of Food Network Star and is the chef/owner of Michelin-rated Do or Dine restaurant in Bed-Stuy, New York. His first Food Network appearance was on 24 Hour Restaurant Battle in 2010, which he also won. Warner was a waiter at Danny Meyer's acclaimed restaurant The Modern prior to starting his own career as a chef.
Chris Stang is the Co-Founder and CEO of The Infatuation. Stang was nominated in 2014 for a James Beard Award for "Underfinger," a review of a fake restaurant that became real for one night in the form of a pop up dinner, hosted by Justin Warner and Do or Dine. Outside of eating and writing, he spends most of his time long distance running and coming up with names for the dog he doesn't have.
RSVP
Bookings are closed for this event.