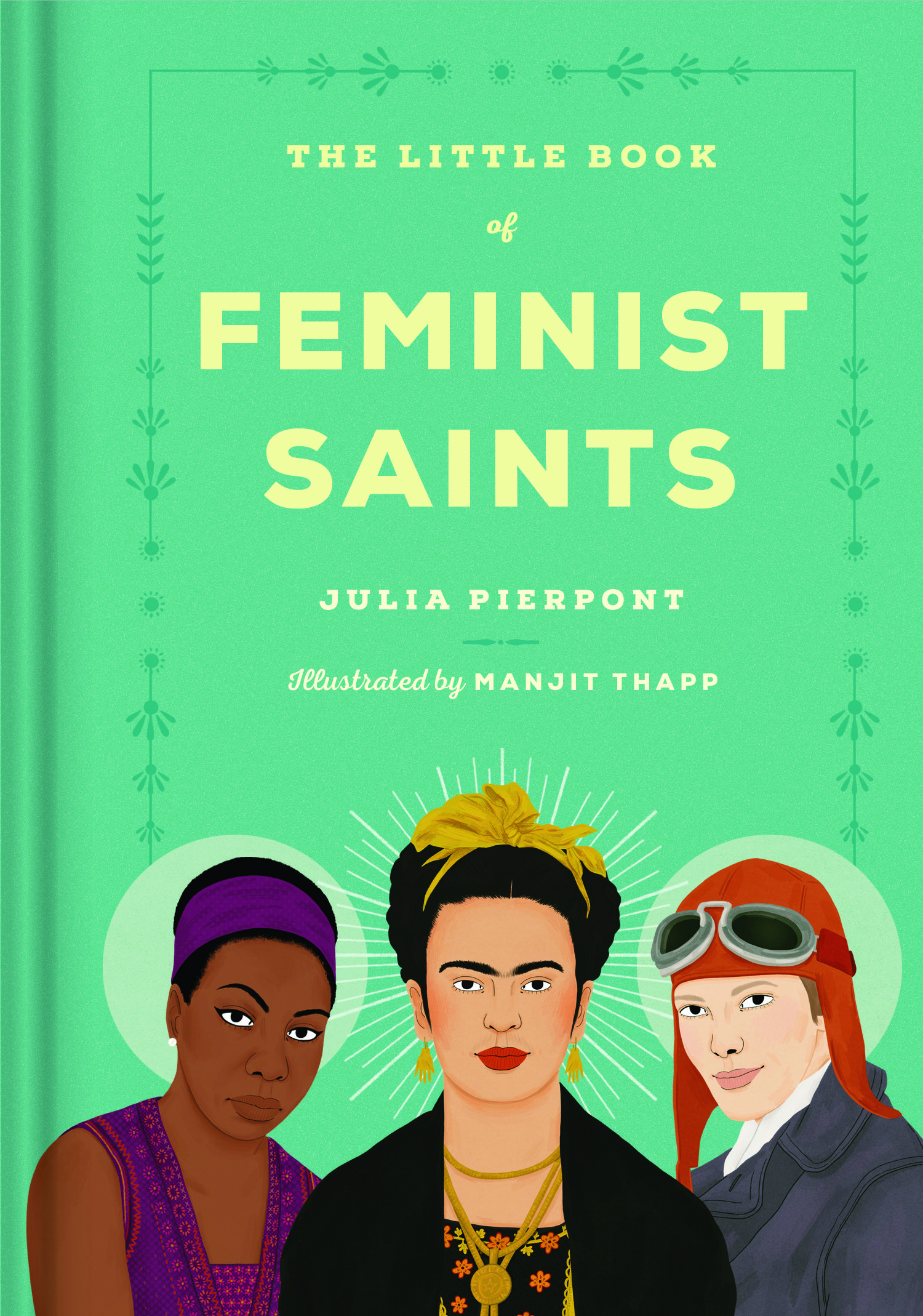 Tuesday Mar 06, 2018
7:00 pm - 9:00 pm
POWERHOUSE @ the Archway
28 Adams Street (Corner of Adams & Water Street @ the Archway)
Brooklyn , NY 11201
RSVP appreciated. Please fill out the form at the bottom of this page if you plan on attending.
PLEASE NOTE: Submitting an RSVP for this event DOES NOT guarantee entrance. This is a free-access event — entrance will be on a first-come, first-served basis.
---
About the Book.
Just in time for International Women's Day 2018: The Little Book of Feminist Saints. In this luminous volume, New York Times bestselling writer Julia Pierpont and up-and-coming artist Manjit Thapp match short, vibrant, and surprising biographies with stunning full-color portraits of one hundred secular female "saints": exceptional women throughout history and around the world. These women broke ground, broke ceilings, and broke molds—including:
Maya Angelou • Jane Austen • Ruby Bridges • Rachel Carson • Shirley Chisholm • Marie Curie & Irène Joliot Curie • Isadora Duncan • Amelia Earhart • Artemisia Gentileschi • Grace Hopper • Dolores Huerta • Frida Kahlo • Billie Jean King • Audre Lorde • Wilma Mankiller • Toni Morrison • Michelle Obama • Sandra Day O'Connor • Sally Ride • Eleanor Roosevelt • Margaret Sanger • Sappho • Nina Simone • Gloria Steinem • Kanno Sugako • Harriet Tubman • Mae West • Virginia Woolf • Malala Yousafzai
The Little Book of Feminist Saints came about when author Julia Pierpont and her editor, Caitlin McKenna, began compiling lists of the women who'd inspired and challenged them. Then they crowdsourced, asking friends and colleagues for their suggestions. When UK illustrator Manjit Thapp came on board, she brought a fresh international perspective to the list. Though not all the feminist saints were Catholic—or even religious at all—the shape this book takes is a devotional saint-of-the-day book, with each woman assigned a particular day. Oprah Winfrey's "feast day," for example, is her birthday, January 29th. This book is a companion guide to modern feminists, a daily source of delight, comfort, and joy.
About the Author.
Julia Pierpont is the author of the New York Times bestseller Among the Ten Thousand Things, winner of the Prix Fitzgerald in France. She is a graduate of Barnard College and the MFA program at New York University. Her writing has appeared in The Guardian, The New Yorker, The New York Times Book Review, and Guernica. She lives and teaches in New York. Follow her on Instagram @thejuliapierpont.
About the Illustrator.
Manjit Thapp is an illustrator from the United Kingdom. She graduated with a BA in illustration from Camberwell College of Arts in 2016. Her illustrations combine both traditional and digital media, and her work has been featured by Instagram, Dazed, Vogue India, and Wonderland Magazine. Follow her on Instagram @manjitthapp.
About the Moderator.
Julie Buntin is from northern Michigan. Her first novel, Marlena, came out in 2017. Her work has appeared in The Atlantic, Cosmopolitan, O, The Oprah Magazine, Slate, Electric Literature, and One Teen Story, among other publications. She teaches fiction at Marymount Manhattan College, and is the director of writing programs at Catapult. She lives in Brooklyn, New York.
RSVP
Bookings are closed for this event.