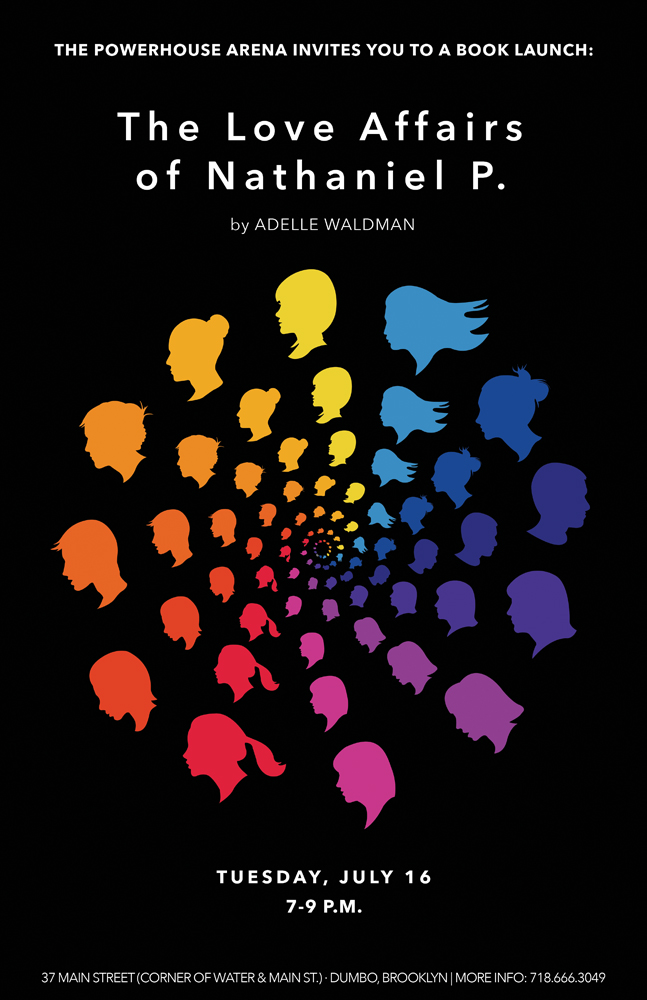 Tuesday Jul 16, 2013
7:00 pm - 9:00 pm
THE POWERHOUSE ARENA [Dumbo]
37 Main Street
Brooklyn, NY 11201
For more information, please call 718.666.3049
RSVP appreciated: RSVP@powerHouseArena.com
-or-
Please fill out the "Bookings" form at the bottom of this page.
Drinks will be served. 
---
Adelle Waldman's debut novel chronicles the romantic escapades of a rising young Brooklyn literary star. Teddy Wayne joins her in conversation.
About THE LOVE AFFAIRS OF NATHANIEL P.:
After several lean and striving years, Nate Piven has his pick of both magazine assignments and women: Juliet, the hotshot business reporter; Elisa, his gorgeous ex-girlfriend, now friend; and Hannah, "almost universally regarded as nice and smart, or smart and nice," who is lively and fun and holds her own in conversation with his friends. And yet…
"A laugh-out-loud treatise on why he didn't call" (Allison Amend), The Love Affairs of Nathaniel P. plunges into the psyche of a modern man: a guy who thinks of himself as beyond superficial judgment, yet constantly struggles with his own status anxiety; who is drawn to women, yet has a nasty habit of letting them down. And as brought to life by Adelle Waldman, Nate is neither demonized nor lionized, but opened up for moral judgment by the reader. The literary debut of a brilliant young woman, about the coming-of- age of a brilliant young literary man, The Love Affairs of Nathaniel P. is both bold and touching. With tough-minded intelligence and wry good humor, this is an absorbing tale of a man's search for happiness— and an inside look at how he really thinks about women, sex, and love.
About the Author:
Adelle Waldman's writing has appeared in The New York Times Book Review, the New Republic, The Wall Street Journal, Slate and other publications. A graduate of Columbia University's journalism school, Waldman worked as a reporter at the New Haven Register and the Cleveland Plain Dealer, and wrote a column for the Wall Street Journal's Web site before turning to fiction. This is her first novel.
Teddy Wayne is the author of the novels The Love Song of Jonny Valentine (Free Press) and Kapitoil (Harper Perennial), for which he was the winner of a 2011 Whiting Writers' Award and a PEN/Bingham Prize, New York Public Library Young Lions Fiction Award, and Dayton Literary Peace Prize finalist. The recipient of an NEA Creative Writing Fellowship, his work regularly appears in The New Yorker, the New York Times, McSweeney's, and elsewhere. He has taught at Washington University in St. Louis and Marymount Manhattan College, and he lives in New York.
---
For more information, please contact
Justin Levine
email: justin@powerhousearena.com
powerHouse Arena, 37 Main Street, Brooklyn, NY 11201
RSVP
Bookings are closed for this event.