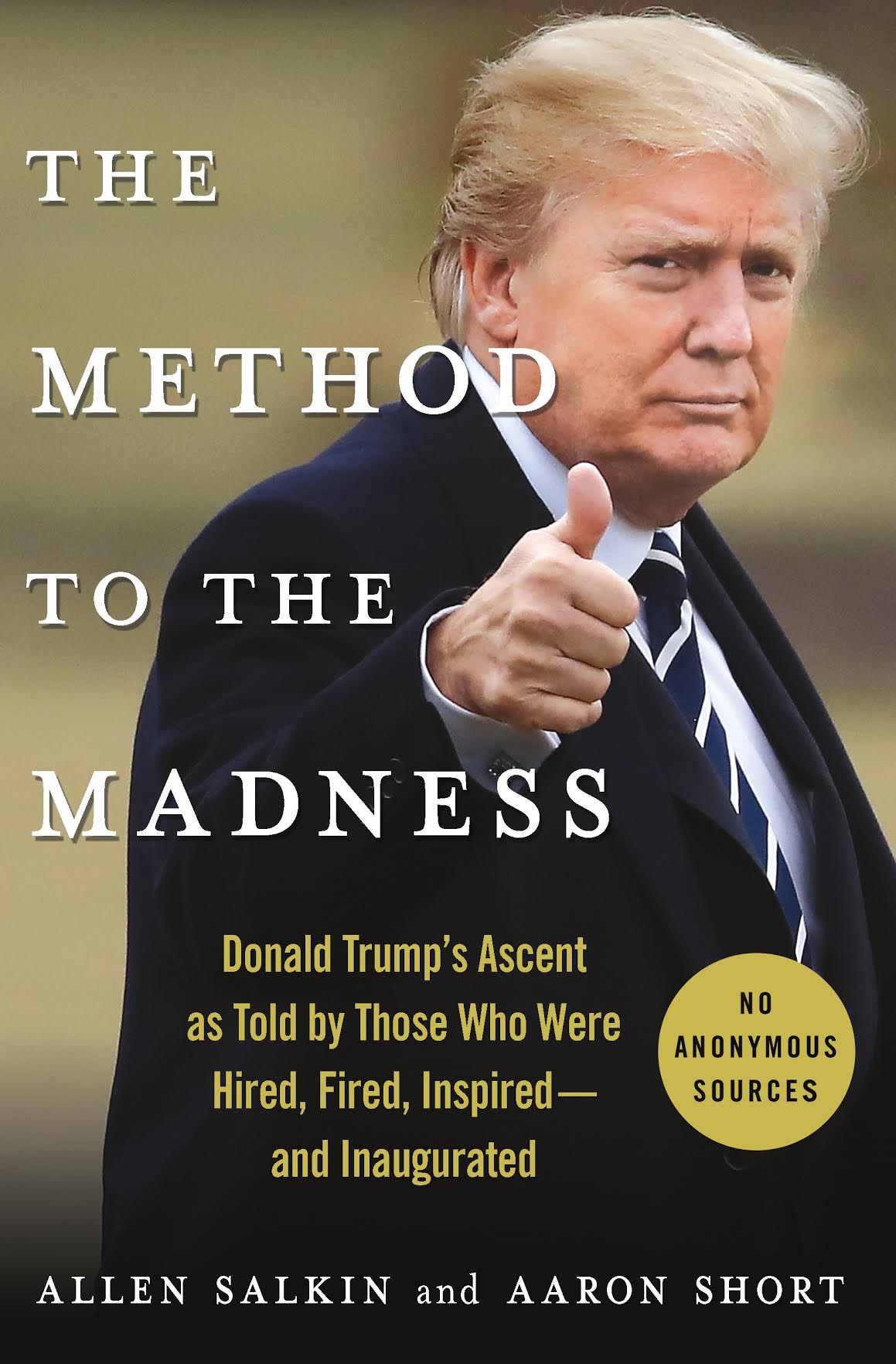 Monday Jul 15, 2019
7:00 pm - 9:00 pm
POWERHOUSE @ the Archway
28 Adams Street (Corner of Adams & Water Street @ the Archway)
Brooklyn , NY 11201
RSVP encouraged & appreciated.
Please fill out the form at the bottom of this page if you plan on attending. Facebook event found here.
PLEASE NOTE: Submitting an RSVP for this event DOES NOT guarantee entrance. This is a free-access event — entrance will be on a first-come, first-served basis.
---
About the Book.
A major Trump book that is a Rosetta Stone for understanding Donald Trump's mindset and every action, made up of over one hundred interviews with his closest associates over the last 15 years—all sources named and on the record
To his critics, Donald Trump is an impulsive, undisciplined crackpot who accidentally lucked into the presidency. But in THE METHOD TO THE MADNESS: Donald Trump's Ascent as Told by Those Who Were Hired, Fired, Inspired–and Inaugurated, reporters Allen Salkin and Aaron Short reveal that nothing could be further from the truth. This objective, nonpartisan oral history devoid of anonymous sources shows that Trump had carefully planned his bid for the presidency since he launched what many considered to be a joke candidacy in 1999.
Who is Donald Trump? What is it like to work beside him, to be screamed at by him? How does he develop his ideas, and how did he learn Twitter in his 60s? How was it, between 2000 and 2015, when Donald Trump announced his candidacy in the lobby of Trump Tower, that he was able to identify an unserved political constituency, hone a persuasive message that appealed to their needs, and deliver it effectively, despite intense media opposition? THE METHOD TO THE MADNESS answers these questions.
Through candid conversations with more than 100 subjects close to the President, Salkin and Short make the case that Donald Trump's ostensibly erratic, shockingly brash approach to politics is consistent with his carefully honed personal and professional style of information gathering, opinion seed-planting, and exercising power. His business, media, and political dealings from this era serve as a guide for understanding the man, his mindset, and his every action.
THE METHOD TO THE MADNESS chronicles tensions in Trump's inner circle while offering the first accounts some confidantes have given, including from one of Trump's most valuable and volatile political aides, Sam Nunberg. Meanwhile, Roger Stone refers to two key Trump staffers as "dumb and dumber," top producers of The Apprentice dish on horrifying backstage behavior, Steve Bannon analyzes Trump's psychology, and journalists dish on profane phone calls from Trump. Salkin and Short even reveal how Trump arrived at his campaign rally playlist, explaining how "You Can't Always Get What You Want" came to be.
THE METHOD TO THE MADNESS is an accessible and unbiased oral history that brings readers into the private rooms where decisions are made, confidences are broken, strong words fly, and not all eye-witnesses see the same scene in quite the same way. Full of scoops, both large and small, THE METHOD TO THE MADNESS is the first book to bring Trump, the politician, into focus.
About The Authors.
ALLEN SALKIN covered Donald Trump and Jared Kushner as a reporter for the New York Times and the New York Post over two decades. He has reported on media and culture for Vanity Fair, The Washington Post and New York magazine. He currently lives in Los Angeles.
AARON SHORT has reported on Donald Trump's political aspirations for over a decade. He is a Brooklyn-based journalist whose work appears in the New York Post, the Daily Beast, and Vice.
About The Panelists.
SAM NUNBERG is an American public affairs consultant based in Manhattan. He was a political advisor to Donald Trump's 2016 presidential campaign.
JESSICA PROUD is a Republican strategist and founding partner of The November Team.
SURYA YALAMANCHILI was the Democratic nominee in Ohio's 2nd Congressional district in 2010. He was a contestant on The Apprentice: Los Angeles and released the book Decoding the Donald: Trump's Apprenticeship in Politics prior to Trump's election.
DICK MORRIS is an American political author and commentator who has worked as a pollster and political consultant.
RSVP
Bookings are closed for this event.