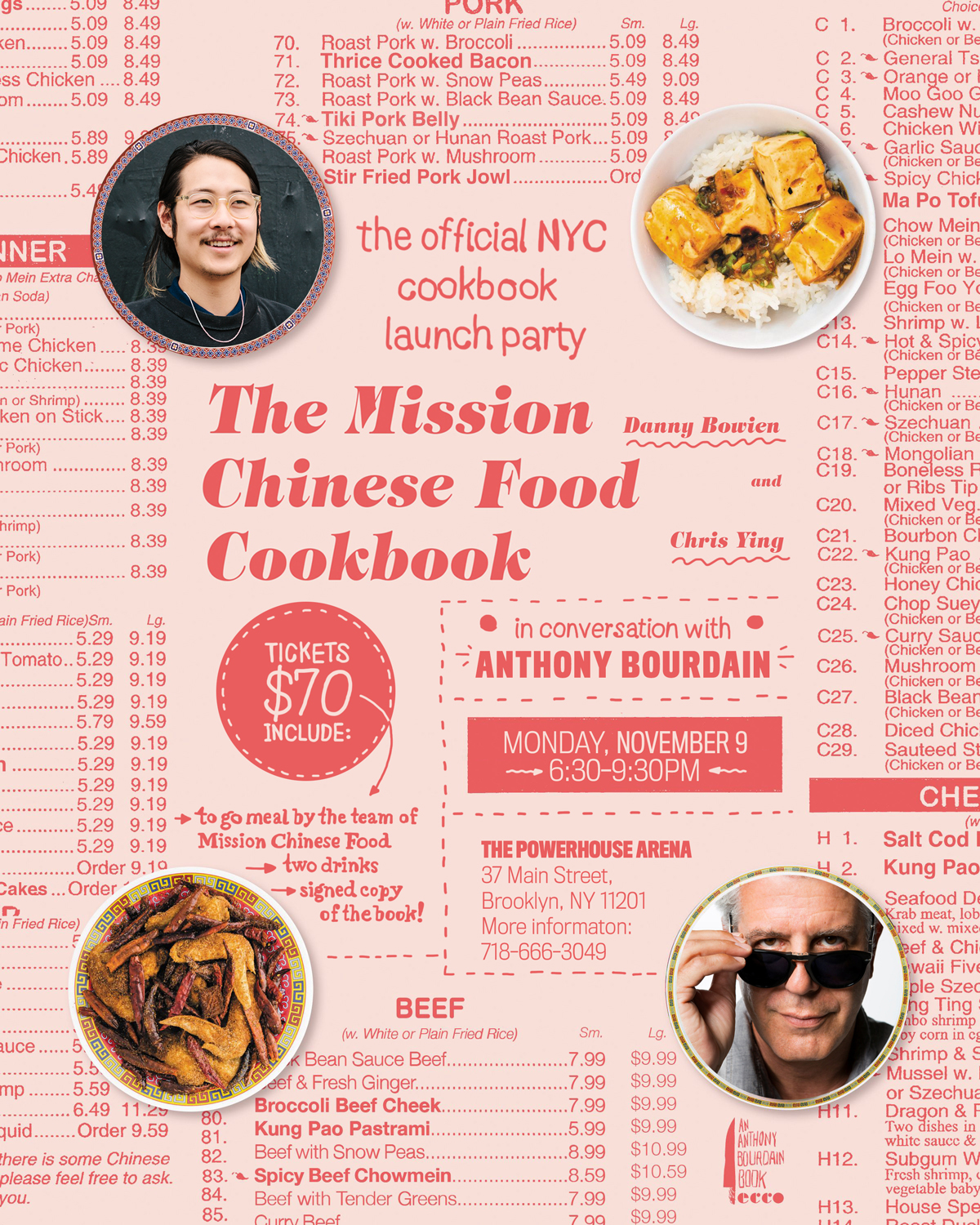 Monday Nov 09, 2015
6:30 pm - 9:30 pm
THE POWERHOUSE ARENA [Dumbo]
37 Main Street
Brooklyn, NY 11201
For more information, please call 718.666.3049
Tickets are $70 and include admission, a tasty to go meal curated by the Mission Chinese Food team, two drinks, and a signed copy of the book. Purchase tickets here.
---
From the star chef and founder of the restaurant Mission Chinese Food comes a riotous cookbook packed with recipes that embody his signature mash-up of "Chinese" food and American classics. Danny Bowien will be joined in conversation by guest host Anthony Bourdain.
About The Mission Chinese Food Cookbook:
"Bowien dares to go far beyond the recipes to reveal his own mind and spirit — the mercurial and creative force behind it all — making for an immersive and personal read… His candid writing serves as inspiration for peers and a true page-turner for his many fans." (Eater)

"In his new cookbook, [Bowien] again defies expectation." (Tasting Table)

"The young culinary star chronicles his unconventional rise in a "cookbook in conversations" that combines raucous storytelling with his addictive – and often surprisingly simple – recipes." (Food Republic)
From Danny Bowien, chef and cofounder of the tremendously popular Mission Chinese Food restaurants, comes an exuberant cookbook that tells the story of an unconventional idea born in San Francisco that spread cross-country, propelled by wildly inventive recipes that have changed what it means to cook Chinese food in America
Mission Chinese Food is not exactly a Chinese restaurant. It began its life as a pop-up: a restaurant nested within a divey Americanized Chinese joint in San Francisco's Mission District. From the beginning, a spirit of resourcefulness and radical inventiveness has infused each and every dish at Mission Chinese Food. Now, hungry diners line up outside both the San Francisco and New York City locations, waiting hours for platters of Sizzling Cumin Lamb, Thrice-Cooked Bacon, fiery Kung Pao Pastrami, and pungent Salt-Cod Fried Rice.
The force behind the phenomenon, chef Danny Bowien is, at only thirty-three, the fastest-rising young chef in the United States. Born in Korea and adopted by parents in Oklahoma, he has a broad spectrum of influences. He's a veteran of fine-dining kitchens, sushi bars, an international pesto competition, and a grocery-store burger stand. In 2013 Food & Wine named him one of the country's Best New Chefs and the James Beard Foundation awarded him its illustrious Rising Star Chef Award. In 2011 Bon Appétit named Mission Chinese Food the second-best new restaurant in America, and in 2012 the New York Times hailed the Lower East Side outpost as the Best New Restaurant in New York City.
The Mission Chinese Food Cookbook tracks the fascinating, meteoric rise of the restaurant and its chef. Each chapter in the story—from the restaurant's early days to an ill-fated trip to China, to the opening of the first Mission Chinese in New York—unfolds as a conversation between Danny and his collaborators, and is accompanied by detailed recipes for the addictive dishes that have earned the restaurant global praise. Mission Chinese's legions of fans as well as home cooks of all levels will rethink what it means to cook Chinese food, while getting a look into the background and insights of one of the most creative young chefs today.
About the Author and Moderator:
Danny Bowien is the chef and cofounder of three restaurants in San Francisco and New York:  Mission Chinese Food in San Francisco and New York and Mission Cantina in New York. In 2008 he improbably won the Pesto World Championship in Genoa, Italy, and in 2013 the James Beard Foundation named him Rising Star Chef of the Year.  He was born in Korea, raised in Oklahoma, and now lives in New York with his wife, Youngmi, and their son, Mino.
---
Anthony Bourdain is the author of Kitchen Confidential: Adventures in the Culinary Underbelly, and in 2005 he began hosting the Travel Channel's culinary and cultural adventure programs Anthony Bourdain: No Reservations and The Layover. In 2013, he joined CNN to host Anthony Bourdain: Parts Unknown.