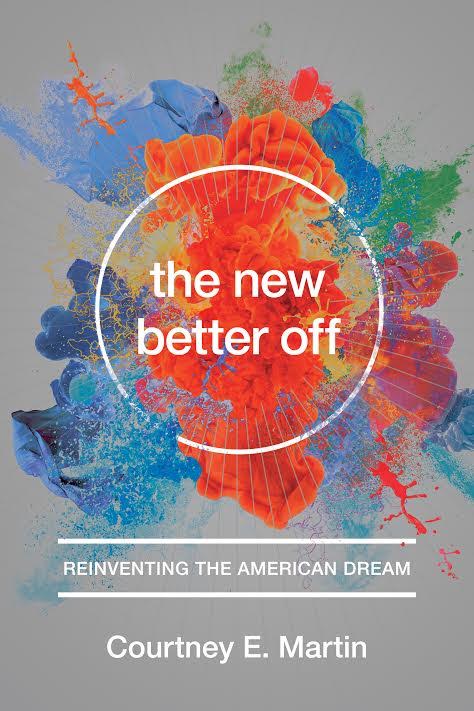 Tuesday Sep 27, 2016
7:00 pm - 9:00 pm
POWERHOUSE @ the Archway
28 Adams Street (Corner of Adams & Water Street @ the Archway)
Brooklyn , NY 11201
For more information, please call 718.666.3049
RSVP appreciated: RSVP@powerHouseArena.com
-or-
Please fill out the "Bookings" form at the bottom of this page.
---
This event is co-sponsored by The Op-Ed Project and The Solutions Journalism Network!
The New Better Off is a groundbreaking exploration of the ways Americans are reinventing success and redefining "better off," through lives that reject traditional status symbols in lieu of fulfillment and value relationships over money. 
About The New Better Off:
For the first time in history, the majority of American parents do not believe that their kids will be better off than they were. While some may see this as sad, Courtney E. Martin reads it as a provocation: better off based on whose standards?
Americans today are constructing a completely different framework for success than their parents' generation, using new metrics that TED speaker, author, and On Being columnist Martin has termed collectively the "New Better Off." 
The New Better Off: Reinventing the American Dream defines the growing American phenomenon of rejecting the traditional dream of a 9-to-5 job, home ownership, and a nuclear family structure—and illuminates the alternate ways Americans are seeking happiness and fulfillment today, in the wake of the Great Recession.
Through profiles of people from every walk of life—home health care attendants to inventors to philosophers—and in-depth research and reporting, Martin paints a vivid picture of a new America, one where being better off is more about community and creativity than dollars and cents.
From how we view work, to customs and community, marriage, money, technology, living arrangements, and spirituality, The New Better Off uses personal stories and social analysis to explore the trends shaping our country today. Martin highlights how people are realizing that there is safety and joy in numbers—whether that's in a co-working space, a shared house, or a men's group. They're also realizing that our most precious resource isn't money, but time. They're asking, "How much money is enough money?" 
About the Author and Panelists:
Courtney E. Martin is an author, entrepreneur, and weekly columnist for On Being. She has authored five books, including Do It Anyway: The New Generation of Activists, and Perfect Girls, Starving Daughters: How the Quest for Perfection is Harming Young Women, and her work appears frequently in national publications such as The New York Times and the Washington Post. Martin speaks widely at colleges and conferences, including TED, and has appeared on TODAY, Good Morning America, MSNBC, and The O'Reilly Factor. She is the co-founder of the Solutions Journalism Network and The Secret Society for Creative Philanthropy and a recipient of the Elie Wiesel Prize in Ethics. She lives with her family in Temescal Commons, a co-housing community in Oakland.
Andrew Marantz, writer/editor at The New Yorker
Chris Roan, Director of Business Development @ Mother New York
Ramin Hedayati, Supervising Producer, The Daily Show with Trevor Noah
Dena Simmons, educator and TED speaker
Jessi Arrington, designer and co-founder of the Brooklyn-based experience design studio WORKSHOP
Courtney Baxter, "Chief of Staff, The OpEd Project"
Felice Belle, poet, playwright, pop culture enthusiast
Rachel Simmons, Recovering Overachiever, Author & Educator
RSVP
Bookings are closed for this event.